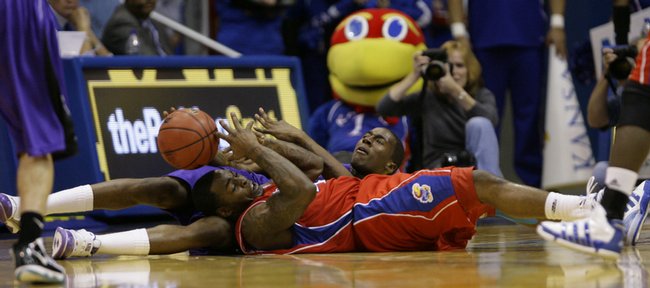 Collins: I'm fine
Sherron Collins sprained his right ankle early in the second half.
"It was painful. I thought I hurt it worse than I did. I got up, and it felt a lot better. I'm fine," said Collins, who left for the trainer's room and a few minutes later re-entered the game.
He finished with 12 points, three assists and three steals in 25 minutes.
Twins trade places
Marcus Morris started in place of his brother, Markieff, who had started KU's two exhibition and regular-season games.
"To me, it gave us a chance to play Thomas (Robinson) more if Marcus started because in the first half we subbed him, but when Marcus came back in he played on the perimeter," Kansas coach Bill Self said of Marcus, who started at power forward, then switched to small forward, with Robinson playing power forward. "I thought it'd be better for our group to get Thomas more minutes. I don't know if we'll stick with it. We'll wait and see how it plays out. I could care less who starts. You guys (media) think it's important. I could care less."
Stats, facts
Tyshawn Taylor had no turnovers after suffering seven against Memphis. … KU wore red uniforms for the first time since Dec. 30 of last season versus Albany. … KU extended its homecourt win streak to 43 games. … KU outscored the Bears, 23-0, during a 12-minute span in the first half. During that stretch, Central Arkansas missed 15 straight shots. … UCA scored 15 points the first half, the lowest total by a KU foe in one half since Florida Gulf Coast's 13 in the opening half on Nov. 16, 2008. … The 50-point margin of victory was largest since a 51-point win over Dartmouth on Nov. 28, 2007. … UCA hit 25.5 percent of its shots. KU has held 77 straight foes under 50 percent. It was the lowest percentage by a foe since Dartmouth in that 2007 game. … KU's 87.5 three-point percentage (7-for-8 in second half) is the team's best since making seven of eight against Texas on Jan. 10, 1998. … Chase Buford scored a career-high four points. … KU's seven turnovers were fewest since it had seven versus Texas A&M; on March 8, 2008. … Cole Aldrich had four blocks and Robinson three. … UCA's 7.1 percent three-point shooting (1-14) was lowest by a foe since Albany went 0-for-15 on Dec. 30, 2008.
Dunk denial
In the second half, Robinson tried a spectacular one-handed slam in which he took off several strides from the goal, but was fouled.
"I tried to put one down. He (UCA player) grabbed me," Robinson said.
Can he dunk from the free-throw line?
"I don't know. I never tried it," he said.
More like this story on KUsports.com