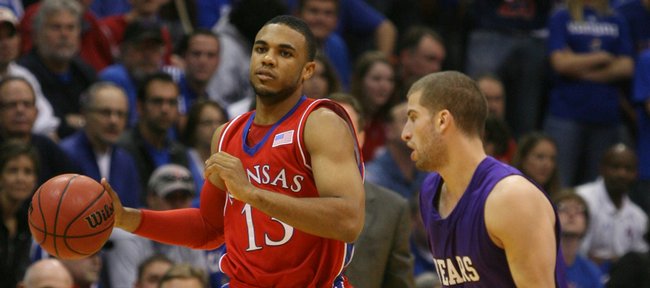 Perhaps intentionally, C.J. Henry didn't tell his mother, Barbara, that he was going to play in his first game for Kansas University on Thursday night.
"She'll probably want to take pictures and stuff," C.J. said with a grin after KU's 94-44 victory over Central Arkansas.
There's good reason that Barbara might have wanted to celebrate Thursday night like it was the first day of school or graduation.
C.J. logged his first minutes in an official basketball game since his senior year of high school — a state semifinal game against Edmond Santa Fe all the way back in 2005.
"I wasn't nervous. Maybe a little bit anxious," Henry said. "I was just excited."
Henry, who has been battling a knee injury, told KU coach Bill Self before the game that his knee was 80 percent.
Self suggested that the guard try it out against UCA.
Henry said he became emotional when watching KU's pregame video.
"I was like, 'Man, my dad played here. My brother played here. My mom played here. My aunt played here. Man, this is crazy. We all played here,'" Henry said. "It's indescribable for your whole family to do one thing."
Henry showed some of his offensive potential in his nine minutes, scoring eight points on 3-for-4 shooting. He also went 2-for-3 from the three-point line.
"I thought he moved pretty good. He said his knee felt good out there," Self said. "It was good to see him get a couple down. He is a good shooter."
So what does Henry see his role as on this year's team?
"It's going to take time. I think I'll definitely be in the rotation," Henry said. "I just have to work hard every day to get my reps in. That is the first game I've played in four years. I understand that. I've got to get used to playing with everybody. That's the main thing this team needs is chemistry."
So far, Henry said the knee was holding up just fine.
"It's healing, which is good, and it's almost healed completely," Henry said. "I'll just be glad when I'm 100 percent."
He said the last few weeks had been a challenge. The guard first aggravated the knee injury in Boot Camp.
"I had some fluid in there, and it kind of stayed," Henry said. "I got it drained, and the swelling's been down for about a week, so I've been practicing."
Henry said he didn't plan to tell his mom that he was going to play in KU's next game, Wednesday against Oakland.
"I hope to be playing from now on now," Henry said with a laugh. "I won't have to tell her."
More like this story on KUsports.com