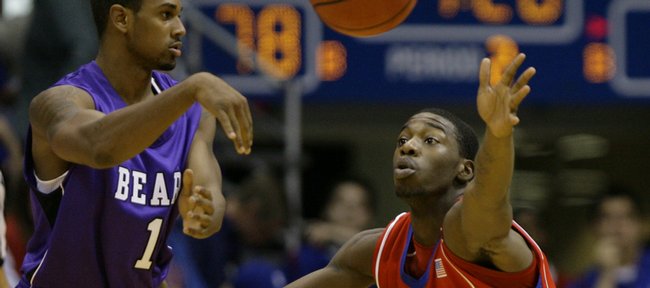 Tuesday night, when the University of Central Arkansas men's basketball team watched No. 1 Kansas University take on Memphis in a nationally televised showcase, its players had two thoughts.
First: "We watched Memphis real close and tried to come up with a game plan off of that," UCA junior Tadre Sheppard said.
And second: "When we watched that game (a two-point victory by Kansas), we were kind of like, 'Ah, man,' we wished they would've played a little better," said senior guard Mike Pouncy. "Because we knew playing close like that was only going to make them come out tougher against us."

Indeed.
Blitzed by a 23-point Kansas run early and hindered by scoreless streaks of 11:47 (first half) and 4:35 (second half), Central Arkansas fell to top-ranked Kansas, 94-44, Thursday at Allen Fieldhouse.
"We've been to Connecticut, been to Kentucky and Vanderbilt, and I think this one is right at the top," UCA coach Rand Chappell said. "It's a great experience for our guys. Some older gentlemen pay $10,000-$15,000 for a weekend to go to fantasy camp and play in something like this."
At those, the old guys typically get to score. Thursday, that was a huge problem for the Bears, who shot 19 percent from the floor in the first half and 25 percent for the game. UCA didn't crack double digits until 1:36 remained in the opening half, and the 44 total points marked the team's lowest since March 4, when they scored 39 against Stephen F. Austin.
"Tonight, our inability to score a point really hurt us," Chappell said. "We just didn't make enough shots to stay in the game. But at the same time, a lot of that was (Kansas) because, when you make a mistake, they always capitalize."
The Jayhawks forced UCA into 10 first-half turnovers (19 for the game) and quickly turned an 8-5 lead — after a three-pointer from UCA guard Jared Rehmel — into a 31-5 advantage with transition buckets and pressure defense. The crazy thing about the Jayhawks' knockout punch was that it came despite Central Arkansas' game plan to slow things down and make the Jayhawks earn everything.
Although KU (3-0) scored several easy points throughout the night, Chappell said they didn't come because of a lack of effort on his team's part.
"It's hard to say this when you got beat as badly as we did," he said. "But I thought our guys competed hard, made some positive plays here and there and showed, on any given possession, that we can compete with anybody."
One such possession came late in the second half when Rehmel found Sheppard for a backdoor alley-oop, one of two consecutive dunks for the 6-7 forward from Lubbock, Texas.
"It's a great feeling because they are the No. 1 team in the nation," said Sheppard, trying to conceal his smile. "It was just a great experience."
More like this story on KUsports.com