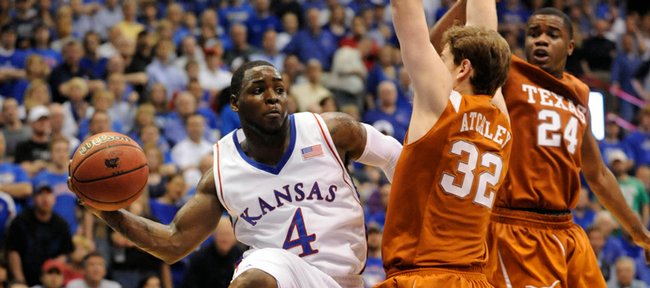 Senior sendoff
Per tradition, Kansas University seniors Brennan Bechard and Matt Kleinmann spoke to the fans after Saturday's home finale versus Texas.
They were introduced by Hall of Fame KU announcer Max Falkenstien.
"I tried to convince Max to read Sherron's accolades (instead of Bechard's)," senior walk-on guard Bechard joked of teammate Sherron Collins.
"Coach Self ... I can't thank you enough for three wonderful years. I enjoyed every minute of it, almost every minute," Bechard added. "You taught me so much, how to be a man. I appreciate it."
Kleinmann, who this weekend was accepted to the architecture-grad-school program at Washington University in St. Louis, is the first player in Big 12 history — and believed to be the first in KU history — to win five league championship rings.
"This is a dream come true to stand here and tell you thank you. Everybody talks about our leaders. Every year you've been our leader," Kleinmann told coach Bill Self. "Today at halftime you were our leader."
Kleinmann later explained Self's halftime message — one delivered with the Jayhawks down, 44-37.
"I don't know if I can repeat half of it," Kleinmann said with a smile. "He called out a lot of guys and called them out for the right reasons. A lot of guys were taking it too casual. Not often do you have a chance to play for a Big 12 title on your home court and get a ring. It was basically the message he got across, especially guys like Tyshawn (Taylor, two points first half; nine second) and Mario (Little, four points second half, good defense on Damion James). Those two really responded."
Today's the day
The Associated Press today is expected to release its all-Big 12 teams. Collins and Cole Aldrich are expected to be tapped first-team all-league, while Self is expected to be named coach of the year.
Post game flavor
The Jayhawks celebrated a bit at midcourt after the final horn, with Collins fake-punching Travis Releford in the stomach. Kleinmann held a 2009 Big 12 Champions sign high in the air. The players stood arm-in-arm on the free-throw line extended as a Big 12 title video played on the center scoreboard.
Also, Collins had the league title trophy tucked beneath his legs, patting it at times as the seniors gave their speeches.
"I just wanted to soak it in as much as I could, to get the experience. I think I had a little bit more to do with this one than last year. I was holding it until all the seniors got done with their speeches so I could give it to them," Collins said.
One more year
The fans chanted "One more year" as Collins shot free throws in the closing moments. They want him to return for his senior year and not head to the NBA.
"I heard 'em. I thought it was funny. I'm not thinking about it (NBA) right now," Collins said.
First title
Taylor on winning the Big 12 title as a freshman:
"It feels good for all the newcomers, the transfers and freshmen to have our own title, so now nobody can say we didn't earn anything," Taylor said. "They've been saying that a little bit. Now we've earned it."
It's Baylor or Nebraska on Thursday
KU will meet either Baylor or Nebraska in a first-round Big 12 tournament game at 11:30 a.m. Thursday at Ford Center in Oklahoma City. BU and NU meet in a first-round game at 11:30 a.m. Wednesday.
"I don't think it means much at all," Self said of landing the No. 1 seed. "We'll either play a Nebraska team that gives us fits or a Baylor team that's good enough to beat anybody."
Stats, facts
James had 20 points the first half. It was reminiscent of the KU-UT game on March 3, 2007, when Kevin Durant had 25 in the first half. Durant finished with 32 points in a losing cause; James finished with 26 ... James scored eight first-half field goals, the most since Durant drained 10 in 2007. ... James was held without a field goal the second half. ... James' 26 points were the most points scored by an opposing player this season at Allen Fieldhouse. ... Releford started the second half in place of Taylor. ... KU has won five straight conference championships for the first time since the Jayhawks won six straight from 1921-1927. It is the first time that this feat has been accomplished in Big Eight and Big 12 history. ... KU's seven-point halftime deficit was the largest overcome by the Jayhawks all season. ... Aldrich had three blocks and moved into 13th on the KU's blocked shots list (111). ... UT hit 20 of 22 free throws, KU 23 of 26. ... Aldrich recorded his 18th double-double, which is tied for fourth most in a single-season. He has recorded a double-double in five of the past six games. ... KU's bench outscored Texas' 39-9. ... KU's 10 turnovers tied the season-low mark for fewest turnovers in the game. ... Collins has scored over 20 points in five of the last six games.
More like this story on KUsports.com