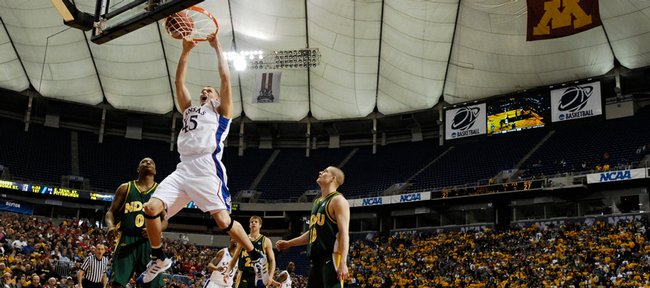 Audio clips
2009 KU-NDSU
Feature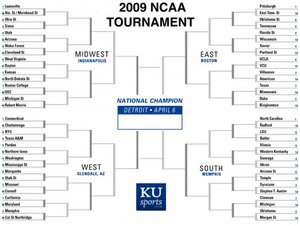 Get yer bracket on! Browse all brackets, check out out KUsports.com staff brackets, and check to see how your bracket's holding up after each match up is complete.
KU vs. NDSU
Minneapolis — Bill Self congratulated his Kansas University basketball players as they filed into a Metrodome locker room after Friday's hard-earned, 84-74, first-round NCAA Midwest Regional victory over North Dakota State.
"Great road win. Great road win," Self, KU's sixth-year coach, said.
He realized that though they were heavily favored, his No. 3-seeded Jayhawks showed true grit in outlasting the No. 14-seeded Bison, who were energized playing in a building full of yellow- and green-clad fans.
"That should go down as a road win on our RPI because they had to have had close to 12 to 15,000 easy (out of announced crowd of 15,794)," Self said.
"They were very vocal."
The Bison fans, who were especially enamored with the 37-point effort of senior sensation Ben Woodside, cheered wildly before, during and after the game.
They rewarded their Summit Conference champions with a standing ovation as the Bison left the court for the final time in a wildly successful 26-7 season.
"Everybody from the whole state of North Dakota was probably here today," KU sophomore center Cole Aldrich said.
He and junior guard Sherron Collins combined for 55 of KU's 84 points. They were the ones most responsible for the Jayhawks advancing into Sunday's second-round clash — tipoff is 1:30 p.m. — against No. 11-seed Dayton, a 68-60 winner over No. 6-seed West Virginia.
"I'd say three-fourths of the crowd was NDSU. They definitely brought their crowd. It was a great atmosphere," added Aldrich, who scored 23 points off 9-of-12 shooting.
Eight of his hoops were vicious slam dunks. He also hit five of six free throws and grabbed 13 rebounds in the first game he ever played in his hometown Metrodome.
Collins was good for a career-high 32 points off 12-of-26 shooting (two of six threes). He had eight assists against just two turnovers with four rebounds.
One of Collins' misses was put back hard by Aldrich, who dunked, was fouled and hit a free throw, upping a 73-67 lead to 76-67 with 1:53 left.
KU's team leaders and fast friends — Collins said they have hung out off the court together a lot more this season than last — visited on the court after that bucket.
"I told him, 'That's how you go up and dunk. That's how you finish at the rim. He whispered in my ear, 'Da da da, da da da,''' Collins added, singing the theme song from ESPN's SportsCenter.
Aldrich's version?
"He always says some of the goofiest things," he said of Collins. "He said, 'Good follow (shot), way to go crash the boards.' I think I just smiled at him."
Aldrich's rim-rattling performance — he had 15 points the second half — was so impressive that one local writer asked him if he'd leave KU after this season if the Minnesota Timberwolves promised that they'd take him in the first round.
"I have no idea. I'm just having a lot of fun right now," Aldrich said.
"I think my record for dunks is probably 12 or 13. I had that in high school sometime," the former Bloomington (Minn.) Jefferson High player said. "That follow dunk was just one of those energy plays that hurts another team, and really helped us."
The Jayhawks, who held a game-high lead of 11 points (47-36) early in the second half, never could breathe easily in this one because of the play of 5-foot-11 Woodside.
The man who scored 60 points in a game earlier this season, hit seven of 10 shots (two of three threes) the first half, good for 16 points (to Collins' 17 and Aldrich's eight) as N.D. State lagged, 43-34, at intermission.
By game's end, he had both Self and Collins hugging him in the handshake line, congratulating him for his 13-of 23 floor shooting (three of seven threes) and 8-of-10 free throwing. He had six turnovers, two assists.
"I told him I respected him. He's one of the toughest players I guarded all year," Collins said of Woodside, whose outburst was believed to be the third-best against KU in NCAA Tournament history. Purdue's Glenn Robinson had 44 points in 1994 and Cincinnati's Oscar Robertson 43 in 1960.
"I told him to keep his head high. He told me to keep it going and go as far as we could," Collins added.
Self doesn't often stop to pause in the handshake line.
He did this time, giving Woodside a pat on the back.
"I told him he's as good a guard as we played this year and that I've ever coached against," said Self, who used Collins, Tyrone Appleton, Tyrel Reed, Brady Morningstar and Tyshawn Taylor on him defensively. "I told him I was really impressed and 'Congratulations.'''
Self also praised his own point guard publicly.
"I would think that while I was actually coaching them, I would put Sherron at the top of the list," Self said, when asked to name the No. 1 point guard he has coached in his career.
Self did say former Illinois guard Deron Williams — because of his emergence as an NBA star — currently rates as best, but that Collins was more advanced in college.
"You go back to Deron and Frank Williams (Illinois) and Aaron Miles (KU) and guys we've had recently, but nobody I've coached impacts a college game more than Sherron, nobody," Self added.
Somebody also asked Self where Aldrich ranks.
"He's a terrific young man. He has a chance to be one of the best big men in the country next year," Self said. "He may be the best true center I've coached. The best college player I've coached is Wayne Simien. If he (Simien) is classified as a big guy, he's the best.
"Cole is the best true center I've worked with ... other than Big Country (Bryant Reeves, Oklahoma State). He was pretty good, too.
"Cole can be All-America good."
As far as his own team, Self said, "I leave here today feeling we played pretty well.
He wants his 26-7 Jayhawks, who played clean basketball in committing just five turnovers, to build on this and play their best game to date versus Dayton on Sunday.
"Coach told us every team needs a game like this, to grind one out," noted KU freshman Taylor, who according to Collins did the best job defensively on Woodside. "He told us it was a good win because it was grind-it-out, and we showed some toughness to win the game. We know we can play better. We hope this is just a start."
More like this story on KUsports.com