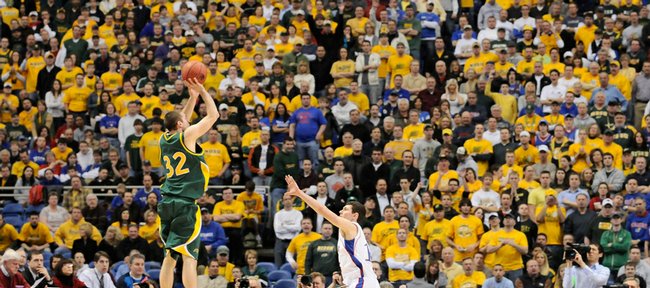 Audio clips
2009 KU-NDSU
Feature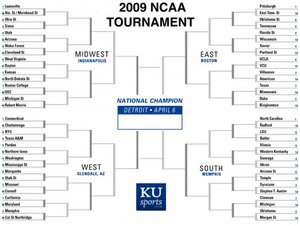 Get yer bracket on! Browse all brackets, check out out KUsports.com staff brackets, and check to see how your bracket's holding up after each match up is complete.
KU vs. NDSU
He's good, real good
Kansas University junior guard Tyrone Appleton, who guarded Ben Woodside two minutes the first half and four the second, was mighty impressed with the Bison guard, who scored 37 points.
"I didn't realize how good he was until today," Appleton said. "Luckily I guard Sherron every day at practice. I felt it prepared me for guarding their guy today. Coach (Bill Self) told me I did a great job of guarding him. That made me feel good," added Appleton, who admits he was surprised Self turned to him in the first half.
"I didn't know if I'd be called on especially since I haven't played (much) all year," Appleton said. "I was surprised, but I was ready. Coach said to stick to him, guard him and bring energy."
Appleton grinned when asked if his hometown of Gary, Ind., was shocked he hasn't played meaningful minutes in his first year out of Midland College.
"Everybody wonders what is going on because I was highly recruited out of juco," Appleton said. "I tell everybody I'm new to it too, just like a freshman. Everything I do is new."
He reiterated he has no plans to transfer.
"I'm a KU guy. I'm committed to this," he said.
Tyrone's D
Self was asked why he turned to Appleton on Friday.
"Because of Woodside," he said. "I almost put Travis (Releford) in. I thought, 'Tyrone is our best defender in that situation, why not give him a shot?' He did a good job."
Better than seed
N.D. State might be the best No. 14 seed in some time.
"They are so good. It's crazy how good they are," Appleton said. "They are a hard-to-guard team. They shoot so many threes (10 of 24). That's the best team we played this year, I think."
"I'd put them up against any 14 seed," KU sophomore Brady Morningstar said after his eight-point, 29-minute effort.
Morningstar on Woodside
"That dude can play. He can shoot the ball with a hand in his face. He has different speeds, a great change of pace. It was his night."
Cole coming back?
KU coach Self was asked if he thought Cole Aldrich would return to KU for a third season.
"I think I have a feel (which way Aldrich will go). There's no pressure now (to make a decision). If he keeps improving at this rate, why settle for being a first (round) pick when you can be a top five (after junior or senior year)?''' Self asked.
Bison faithful impressive
Self was impressed the N.D. State fans (maybe 12,000 out of crowd of 15,794) stuck around to cheer the Bison as they exited the court after the game.
"It's the way it should be," Self said of college athletics. "That team making the tournament ... it's a big deal. It was cool. Everybody respected them so much.
"If you really are objective, looking at their situation, the first time they are eligible (for NCAAs) and first time in (school history), that was a cool setting. Unfortunately we were the team that had to play them in that setting. It was good for us. Today we had to be tough."
Stats, facts
KU is 6-1 in domes in the Self era. ... KU has won 10 of its last 11 NCAA Tourney games. ... KU has won 24 first-round games in its last 26 tries. ... KU is 7-3 all-time as a No. 3 seed. ... KU is 13-4 in the NCAA Tournament in the Self era. ... KU had a season-low five turnovers. The Jayhawks had 10 four different times. ... KU hit 16 of 20 free throws. ... The Jayhawks had a pair of 7-0 runs in the first half, one giving KU a 21-17 lead, the other giving KU a 34-27 lead. KU closed the first half on a 16-7 run. ... KU's bench scored just five points in the game (Markieff Morris two, Tyrel Reed three) for the fewest by the reserves this season. ... Sherron Collins had a career-high 32 points. His previous high was 26 three times. ... Collins was the first Jayhawk to score 30 since Mario Chalmers hit for 30 against Texas on March 16, 2008. ... Aldrich moved into a tie for seventh place on the KU season rebounding list with Bill Bridges (353 in 1961). He entered the game with 340 and grabbed 13 on Friday for 353 on the season. .. Marcus Morris dished four assists to match his second most this season (had six vs. Syracuse and four at Kansas State). Morris also had eight points and seven rebounds.
More like this story on KUsports.com