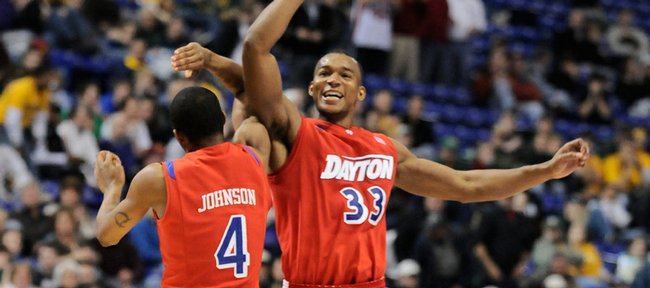 Feature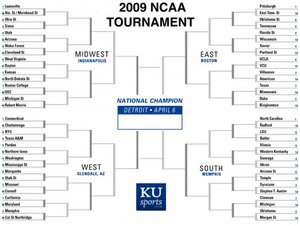 Get yer bracket on! Browse all brackets, check out out KUsports.com staff brackets, and check to see how your bracket's holding up after each match up is complete.
Minneapolis — Kansas University assistant basketball coach Kurtis Townsend is not surprised the Jayhawks will be playing No. 11 seed Dayton, not No. 6 West Virginia, in Sunday's second-round NCAA Midwest Regional game in the Metrodome.
"I was talking to somebody from their league (Atlantic 10) before the game who told me they were really good, that they'd win," said Townsend, who, like KU aides Joe Dooley and Danny Manning, scouted the Flyers' 68-60 victory over Bob Huggins' favored Mountaineers.
"I was really impressed. They are quick, athletic. Wright is as good a 4-man as we'll play all year," Townsend added.
Chris Wright, a 6-8 sophomore from Trotwood, Ohio, scored 27 points off 10-of-16 shooting and grabbed 10 rebounds in Friday's victory. Charles Little, a 6-6 senior guard/forward from Cleveland, had 18 points.
"They guard hard and run motion," Townsend said, noting the Flyers prefer man-to-man defense.
He was asked what team in the Big 12 resembles Dayton (27-7).
"In our league, they are a bit undersized but play hard like Nebraska," Townsend said. "They are really, really good."
Dayton's Wright was asked what the win over a Big East team meant for Atlantic 10 school Dayton.
"It means we are in the second round against Kansas," he said. "We are happy to win, but now we have to turn around and play Kansas on Sunday. We've got to do a good job of preparing."
More like this story on KUsports.com