Audio clips
2009 KU-NDSU
Feature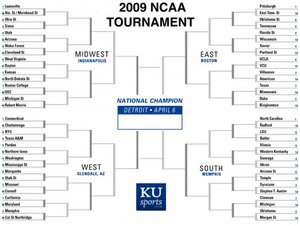 Get yer bracket on! Browse all brackets, check out out KUsports.com staff brackets, and check to see how your bracket's holding up after each match up is complete.
KU vs. NDSU
Minneapolis — Some 438 miles and one world away from Gary, Ind., 6-foot-2 Kansas University junior guard Tyrone Appleton, warming a seat on the bench per usual, thought he might have heard his name called inside the Metrodome. He wasn't really sure until he heard it again.
Sherron Collins, having a tough time trying to guard North Dakota State senior point guard Ben Woodside, needed a rest. Coach Bill Self reached way down the bench to Appleton and was rewarded for doing so.
Of the five players who guarded Woodside during a fast-paced, exciting NCAA Tournament first-round game won by Kansas, 84-74, Appleton did the best job.
Of all the people in the Kansas locker room who needed something about which to smile, Appleton topped the list for a reason far more important than playing time. Appleton has been excused from today's activities to return home to attend the funeral of a friend he identified as Dennis Williams.
"I lost a really close friend," Appleton told the Journal-World after the game. "He got killed, murdered, shot three times in the chest. I'm flying back to Gary, attending the funeral (this) morning and flying back (tonight)."
Entering the game early in the first half, Appleton matched a career-high by playing six minutes. He snared two rebounds, ran the break and set up Tyshawn Taylor for a bucket in transition. According to Taylor, it wasn't the only time Appleton assisted him. He also gave him pointers on trying to slow down the 5-11 Woodside.
"Ty was telling me to use my length on him and not get too close to him because he's really fast," Taylor said. "When I tried that late in the second half, it really helped. That one possession where we got a shot-clock violation on them, I think my length bothered him there."
In many ways, deception worked in the favor of Woodside on his way to 37 points.
"He's hard to guard because he's got a lot of paces to his game," Taylor said. "He'll slow you down and speed you up. When you play defense, you're not going to play it in a defensive stance for 35 seconds. You tend to stand up. As soon as you stand up or raise a little, he's gone. He's really quick, and he's strong."
Woodside, who sports a buzz cut, doesn't like look like most players with his quickness, which also worked to his advantage.
"If you look at him, you don't think he is who he is, and I kind of think it was that way with all of us," Taylor said. "We watched tape on him so we knew what he was capable of, but we were kind of thinking he wasn't as fast as the tape shows, but he is."
Appleton, known as a defensive stopper through his junior-college career, agreed that it was Woodside's change of pace that set him apart from other players he had faced. Appleton had no way of knowing he would play, but studied tons of tape on Woodside, just in case.
"When coach called my name, I was kind of surprised, like I didn't hear him, so he had to call my name twice," Appleton said. "I just ran to the scorer's table. I was happy to get in the game, especially a big game like this, an NCAA Tournament game. I wasn't nervous at all."
Appleton, who leads all Kansas scholarship players with DNP listed next to his name 13 times, made his most important contribution of the season with a heavy heart.
"I went to school with him," Appleton said of Williams. "We played Biddy Basketball together. I played baseball with him for a little bit. Every time I'd go home, that's the guy who I'd hang out with. It was real tough for me, losing a close friend like that."
Asked how it was his friend came to be in the way of three bullets, Appleton said, "Just in the wrong place at the wrong time. Back home, it's not a good environment to be in for a lot of people, and he was just in the wrong place at the wrong time."
Gary, long burdened with the moniker "Murder Capital of the World," is not where Appleton wants to spend the rest of his life.
"I really don't want to go back there when I'm done with school," he said. "I'll go back to visit my mom and my dad, but it's not the place I want to stay."
Since he learned of the news of his friend's death, memories of Williams have dominated Appleton's thoughts. But he found a way to turn it into a positive, instead of a distraction.
"Every day he told me the same thing: When I get in the game just play my hardest, do my best," Appleton said of Williams. "Today, he was the only person I could think about. When I got out on the floor, I just tried to do my best for him and for my teammates. He gave me my motivation today. He really did."
More like this story on KUsports.com