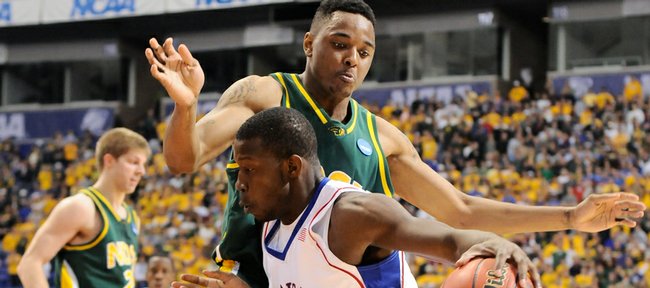 Audio clips
2009 KU-NDSU
Feature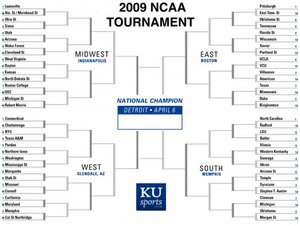 Get yer bracket on! Browse all brackets, check out out KUsports.com staff brackets, and check to see how your bracket's holding up after each match up is complete.
KU vs. NDSU
Minneapolis — North Dakota State coach Saul Phillips couldn't fault his players' effort. He couldn't fault their execution, either.
That might have been why Friday's 84-74 loss to Kansas University in the first round of the NCAA Tournament seemed disappointing but not discouraging for the coach and his players.
"I will have a hard time looking at this any other way than (KU) played well enough to win this game," Phillips said. "That wasn't too dissimilar from how well we played when we have beaten high majors. And I thought (for KU) to do it in this environment is admirable."
Though the official attendance was listed at 15,794, one could have easily believed there were at least that many Bison fans filling up the Metrodome.
NDSU fans overwhelmed the arena with their gold and green shirts and roared before the game as the Bison entered the court.
"That's something that I will never forget in my entire life," NDSU guard Ben Woodside said. "I remember walking out there and we were doing layup lines, and I couldn't even hear my teammates who were standing right next to me, it was so loud."
Still, even with a home crowd and a strong offensive effort, the Bison couldn't pull off the upset.
There were a few reasons.
For one, NDSU's defense was only able to force five KU turnovers. The Jayhawks' previous low for turnovers this season was 10.
"I don't care if you are in an empty gym — taking care of the ball like that for an entire game is going to give you a chance to win it," Phillips said.
The Bison also couldn't contain KU center Cole Aldrich. Nearly all the sophomore's points came easily; eight of his nine field goals were slams.
Phillips could only joke about it in the postgame news conference.
"Cole just walked through the back here as we were about to come on. I think he went into the fetal position thinking he was going to dunk on us again," Phillips said.
NDSU also had problems keeping KU guard Sherron Collins out of the lane. Not only did the guard score 32 points, but he also added eight assists.
Phillips said he never considered a zone defense, saying that wasn't the identity of his team.
"I was tempted six times to switch Woodside over to Collins and let it go toe-to-toe," Phillips said. "The reason I didn't is not Woodside's ability to defend him or not defend him. I just felt I was asking so much of him on the offensive end. I felt he only had so much in the tank.
"Looking back, I wish I would have done that for a couple possessions. It would have been really fun."
Woodside was the highlight for NDSU, shining in his only NCAA Tournament appearance. He scored 37 points on 13-for-23 shooting.
Woodside also had some friendly chats on the court with Collins. During one break, Woodside talked to Collins about Aldrich's length, saying, "That's a big boy right there."
Afterward, the two guards embraced, with Collins telling Woodside how much he respected him. Woodside wished the KU point guard good luck in the next round.
"You know, it was fun competing with Kansas and those guys you see on ESPN all the time," Woodside said. "We definitely enjoyed that."
More like this story on KUsports.com