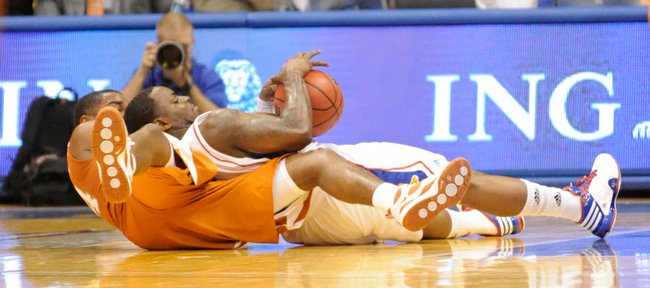 The breakdown at the conclusion of the first half? That didn't help.
The second-half foul trouble that plagued standout Damion James? Could have done without that, too.
But when it came down to it, Texas men's basketball coach Rick Barnes pinpointed something else entirely in describing his team's downfall Saturday against host Kansas University.
"If we make shots around the rim, we're right where we want to be," Barnes said. "We missed five shots at the rim that you've got to make. And to me, that's the difference in the game."
Despite a hot start, during which they led by as many as 14, the Longhorns missed 15 shots in the paint — many coming at especially inopportune times and many coming courtesy of center Dexter Pittman — and couldn't overcome a late Kansas push, falling, 83-73, at Allen Fieldhouse.
The game's most telling play — at least as far as Texas is concerned — came with 32 seconds remaining in the first half and the Longhorns ahead by 10. Pittman, finding himself in the lane with the ball and what seemed to be ample space, attempted a dunk that was blocked partially by Kansas center Cole Aldrich, but mostly by the rim.
The missed slam paved the way for a Tyrel Reed three-pointer on the Jayhawks' next possession, which cut the Jayhawks' deficit to a manageable 44-37 heading into halftime.
And while the Longhorns responded favorably after intermission, holding the lead for much of the second half, their inability to finish around the basket at crucial points proved to be their undoing.
"We were right where we needed to be," said James, who finished with a game-high 26 points on 8-of-14 shooting. "And we missed a bunch of easy shots."
As Barnes pointed out afterward, his team didn't play poorly Saturday. The Longhorns shot 91 percent from the free-throw line. They outrebounded the Jayhawks, 33-32. And they were in the game late despite a lackluster performance of leading scorer A.J. Abrams, who scored just 10 points on 2-of-11 shooting — though Abrams insisted afterward that Kansas hadn't thrown any defensive looks at him he hadn't seen already this season.
"Same old stuff every game," the 5-foot-11 guard said. "They're going to have one person not leaving me, and when I come off a screen there's somebody right there waiting. It's nothing new."
At the end of the day, however, it was the shots missed in the paint that Barnes couldn't seem to shake.
"A couple possessions here or there … " said Barnes, his words drowned out a bit by the raucous cheers coming from the court — where the Jayhawks were accepting their fifth consecutive Big 12 regular-season trophy. "It's a really fine line between winning and losing."
More like this story on KUsports.com