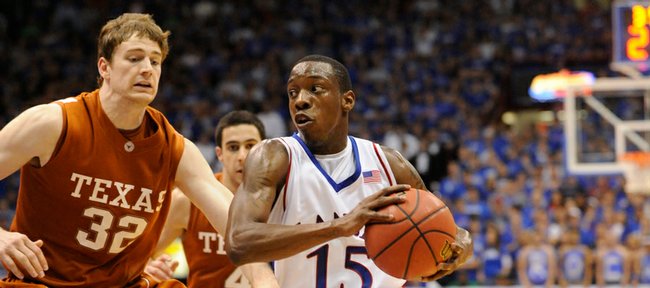 Tyshawn Taylor didn't start the second half of Kansas University's 83-73 victory over Texas on Saturday.
He understood why, too.
"I was kind of out of it. I had three turnovers in the first half," the freshman guard said. "I've just got to play better."
"Coach told me, 'I'm challenging you. I'm challenging you. What're you going to do?'"
Taylor responded by sparking the Jayhawks once he received his chance in the second half.
Before the break, Taylor went 0-for-4 from the floor with just two points and the three giveaways.
"I was mad at Tyshawn the first half. Let's call it like it is," KU coach Bill Self said. "I thought that when we really needed him to be focused and play, I didn't think he did at all the first half. I thought it was good that we didn't start him."
After entering at the 12:15 mark of the second half, Taylor didn't leave the court again. He also put up an impressive stat line after halftime: nine points, 4-for-5 shooting, two assists and no turnovers.
"I don't even know how much I would have played Tyshawn if we hadn't gotten tired, to be honest," Self said. "But when I put him in there, that's the sign of a young guy that's starting to get it. He didn't pout, he just said, 'Hey, I just want an opportunity, and I'll do better second half.'"
Taylor came through with two of the biggest momentum-changing plays for KU.
The first came at the 7:55 mark after Texas' Damion James had given the Longhorns a 63-62 lead with a pair of free throws.
Teammate Sherron Collins passed the ball back on the perimeter to Taylor, who banked in a three-pointer from the top of the circle.
"I had a taller guy on me, so when he jumped out to me, I kind of arched my shot a little more and pushed it a little harder, and it hit the bank and went in," Taylor said. "I kind of smiled because I was like, 'Man, this is crazy.'
"It felt good coming off my hand," he added with a smile.
Perhaps Taylor's best highlight, though, came with 3:07 left, after Collins came away with a steal and started the fast break.
"I knew if Sherron gave it to me, I was going to dunk it," Taylor said. "It was in my mind the whole time: If I catch it, I'm going to dunk it."
Sure enough, Collins flipped the ball back to Taylor, who threw in a one-handed slam over UT's Dogus Balbay to give the Jayhawks a 78-71 lead.
"I'm not sure what the score was at that time, but I felt like the whole momentum just changed," Taylor said. "I felt like that was the exclamation point."
Taylor said he and the other newcomers took pride in earning a Big 12 title of their own.
"I think if you ask a lot of people in this room right now if they think we could have did it at the beginning of the season, they'd have said no," Taylor said. "I feel like we kind of proved some people wrong that we can do it."
More like this story on KUsports.com