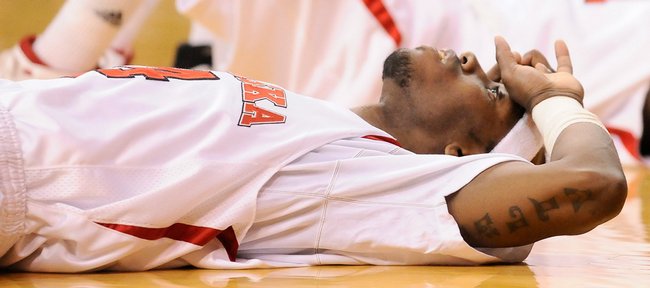 Lincoln, Neb. — With his team down three with 16 seconds remaining, Sek Henry said he was just trying to play it safe.
The inbounds play called for the pass to go to Ade Dagunduro under the basket.
"But the way the guy was defending me, when I was trying to pass the ball to him, I didn't think it was open," Henry said after Nebraska's 68-62 loss to Kansas University on Wednesday. "Cookie (Miller) was my last option."
Henry's throw to the backcourt never made it to his teammate.
Instead, KU's Sherron Collins, doing his best cornerback impression, leaped in the air to come down with the turnover, all but clinching the Jayhawks' victory.
"I didn't think he was going to get it, but he jumped up there and got it," Henry said. "I was really frustrated at that pass after, because I know that was a big play. But there ain't nothing I can do now about it."
Though Henry had some regrets, NU coach Doc Sadler said he wasn't going to criticize his team's play against KU.
"How can you get mad? The mistakes they are making are effort," Sadler said. "How many times did we dive on the floor? We dive on the floor and get a tie-up, and we don't get any of them because the arrow goes the other way. At some point, it has to turn."
Nebraska's pressure defense forced 21 turnovers — 13 of those coming in the first 20 minutes.
NU also held KU center Cole Aldrich without a point or a rebound in his 11 first-half minutes.
"We liked the way we played 'D' on Aldrich and just defense period," Henry said. "We were just on top of it."
Some of that defense slipped in the second half when KU scored 39 points and out-rebounded NU, 26-9.
"We went after them, and they came back," Sadler said. "They did what they are supposed to do."
After shooting 50 percent in the first half, NU made just nine of 30 shots in the second half (30 percent).
"They are a team that really defends well," Sadler said of KU. "They switched everything, and when they switched it, that takes away some of the easy stuff we get. I thought we got some decent looks in there, but we just didn't finish the play."
Dagunduro, a senior guard, scored a career-high 24 points on 10-for-16 shooting.
He said his team wasn't intimidated by KU.
"We're not scared of anybody," Dagunduro said. "We feel like we can win any game we play in — we're going to have a chance to beat any ballclub. We definitely wasn't scared. They were battling, but we were battling too right down to the finish."
Dagunduro, after being asked whether he thought Collins was fouled in the final minute, declined to comment — and for good reason. He was reprimanded by the Big 12 last week after questioning a no-call during his team's 76-74 overtime loss to Oklahoma State.
"We definitely played our tails off," Dagunduro said. "We deserved to win. We just didn't."
More like this story on KUsports.com