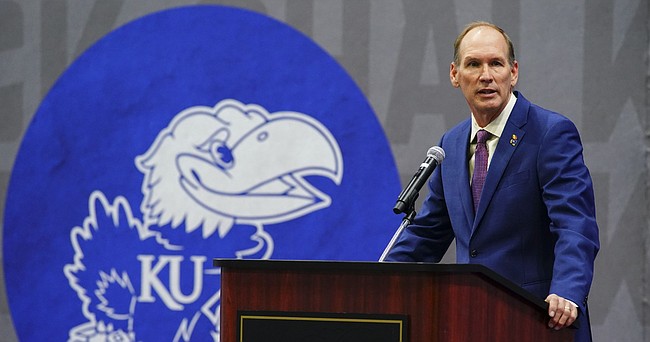 In successful runs at his previous two stops as a head coach, at Wisconsin-Whitewater and Buffalo, Lance Leipold and his staff established a winning culture.
A buzzword throughout college football and the rest of the sporting universe, culture is a concept that coaches and players alike often reference as a less tangible measure of a team's success.
Days into his first venture as a Power Five head coach at the University of Kansas, Leipold is confident that his experience putting winning values and habits in place will allow him to do the same with the Jayhawks.
Leipold — he went 109-6 at Whitewater, where he won six Division III national titles, and 37-33 at Buffalo, most recently leading the Bulls to three straight bowl appearances — described to reporters earlier this week how he goes about building a culture.
"I just think it's expectations, how you treat people and doing it right every day," KU's new head coach began.
Photo Gallery
Lance Leipold introduced as KU's new football coach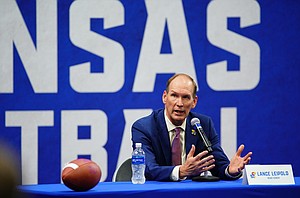 Lance Leipold introduced as KU's new football coach
"I'd like to think I try to think about how I'd want to be treated. And sometimes it's being firm and then sometimes you've got to put your arm around them," Leipold said of his interactions with players.
Now in his 15th year as a college head coach, Leipold defines culture as "a daily process of expectations and beliefs and how you do it."
When Leipold spoke with reporters shortly after his introductory press conference on Monday, KU's new coach said he wasn't sure yet what type of culture the Jayhawks had in place.
But Leipold knew one of the core concepts he wants the players to follow.
"We're not going to play at the University of Kansas," Leipold said. "We're going to play for the University of Kansas."
The coaching staff, he elaborated, will make sure the players understand the importance of such principles and take pride in representing the university.
"I think sometimes when you have that," Leipold said, "and you get your players to be the leaders and it's a player-led program, not just a coaching staff-led program, you have a great chance for success."
In an interview with Brian Hanni of the Jayhawk Sports Network that aired during halftime of the spring game this past weekend, Leipold spoke further about culture, as it applies to personnel and how it influences on-field decisions.
In order to establish a winning culture at KU, Leipold said he and his coaches will adapt their approaches and play-calling as necessary to get the most out of their players.
"It's always been our philosophy to take the talent that we have and use it to its best," Leipold said. "I think with that, though, is that we've always had flexible enough schemes that we're going to be able to play to our strengths and be able to utilize that."
In order to fulfill those plans, of course, the Jayhawks will need to be fundamentally sound, Leipold added. So football basics will be an emphasis throughout practices, film study and the like.
"When you're building a program and trying to fight your way up the standings, you've got to be detail oriented, you've got to be great in fundamentals and you've got to create turnovers and protect the heck out of the football," Leipold said.
Recently at Buffalo, Leipold's teams improved their national ranking in turnover margin per game in four straight years, going from 106th (-0.5 per game) in 2016 to 19th (0.62 per game) in 2019. This past year, the Bulls ranked 25th in the FBS in turnover margin (0.57 per game).
During the past five seasons at KU, the Jayhawks had one excellent year in terms of turnover margin (1.33 per game in 2018 ranked No. 2 in the nation).
However, in every other year from 2016-20, KU ranked 94th or worse in the category.
More reaction to KU football's hiring of Lance Leipold
---
---
• KU Sports Hour Podcast: Initial reactions to the Lance Leipold hire
• Matt Tait: Substance-over-style approach makes Lance Leipold a great fit for Kansas football
• Lance Leipold's versatility on offense was likely selling point for Kansas football
• No reason to expect KU's roster to fall apart with hiring of Leipold
• Lance Leipold aiming to rebuild KU football program after pulling off similar feat at Buffalo
• After making leap from D-III to FBS, Lance Leipold not intimidated by latest jump to KU football
• Lance Leipold plans to make best of 'unique' timing as he takes over KU football program
• Lance Leipold open to retaining some KU assistants as he assembles staff
• New KU football coach Lance Leipold says wife Kelly knew early that Kansas was 'the place to be'
• Matt Tait: The fit for Kansas and new football coach Lance Leipold appears to be a two-way street
• Lance Leipold signed 6-year contract with KU worth $16.5 million
• Three things that stood out about Buffalo O.C. Andy Kotelnicki after watching his coaching clinic
• Three things to know about Buffalo defensive coordinator Brian Borland
• Report: Numerous Buffalo assistants set to join Lance Leipold at KU
• Lance Leipold introductory press conference video