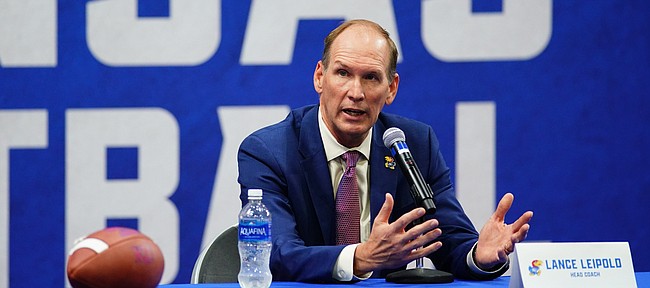 Head coaching changes in college football happen all the time — or at least plenty take place every year in November and December, when the regular season is wrapping up or already over.
And transitioning from one regime to another is nothing new at the University of Kansas, where the Jayhawks in 2021 will open their season with a new head coach for the fifth time since 2010.
But hiring a new coach, Lance Leipold, at the end of April, just as spring football practices were concluding, was atypical — even at KU.
"Unique is a good word," Leipold said of the timing. "But it is what it is at the moment. So we're going to make the best of it."
After his introductory press conference Monday, Leipold told reporters that KU Athletic Director Travis Goff called to officially offer him the job on Friday morning, the same day that Leipold agreed to make the leap from Buffalo and flew into Lawrence.
Photo Gallery
Lance Leipold introduced as KU's new football coach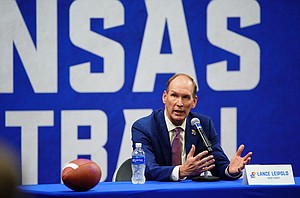 Lance Leipold introduced as KU's new football coach
Meanwhile, the players who were led by interim head coach Emmett Jones all spring, were wrapping up a crucial portion of the offseason just as Leipold was taking over.
Although coming in as the new coach at such an abnormal time is likely to come with some inherent disadvantages, such as having less time to install plays, Leipold chose to focus on the positive possibilities when asked about navigating this transition.
"You didn't get the chance to be around spring ball and evaluate in person. But there's going to be some freshness," Leipold said. "I think a lot of players, when you look at a roster, there's a lot of guys who want to have a fresh set of eyes on them, too."
Before long, Leipold expects to have his first coaching staff in place. Some position coaches — and reportedly both of his coordinators from Buffalo — will be new to the KU football program.
Leipold viewed even the staff changes as "a great opportunity" for players to compete.
"And when you have internal competition in your program for positions, and they're coming out to show and there's a little bit extra to that, hopefully it's going to get them to reach their maximum potential and ability sooner," KU's new head coach said.
"So we'll find ways to definitely make a unique situation a positive," Leipold added.
Between now and when preseason camp starts late in the summer, much of Leipold's evaluation will come from watching game footage from the 2020 season and practice footage from this spring, just before he arrived.
Even though Leipold was at David Booth Kansas Memorial Stadium for this past weekend's spring game, it wasn't exactly a setup conducive to assessing personnel.
"Watch?" Leipold replied, when asked about getting the chance to observe the scrimmage, adding it would be using that term loosely to call what he was doing watching.
"I don't know if we ever got six plays watched without another handshake," Leipold said of a busy Saturday night for him, as he met numerous people associated with the program and KU.
Still, Leipold saw enough to say he thinks the roster he's inheriting has "a lot of young talent," even if the spring game also included obvious aspects "they weren't happy with," the coach said, bringing up the offense's turnovers.
"But there's a lot of guys out there playing hard, through some unknown times. I'm excited to get the chance to work with them," he said.