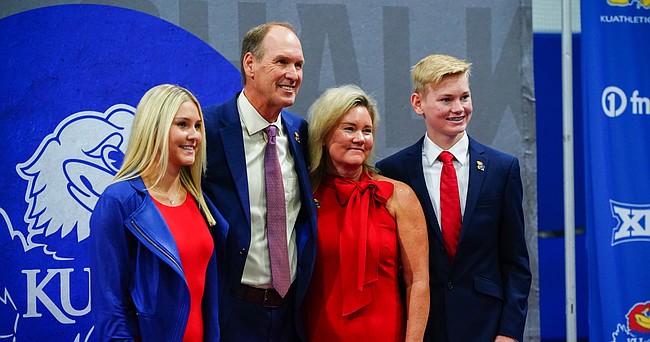 Listed in her Twitter bio as the "head coach" of Team Leipold, Kelly Leipold, the wife of new Kansas football coach Lance Leipold, played an important role in her husband's decision to make the jump to KU.
Just how important was not fully known publicly until Monday, at Leipold's introductory press conference, when he explained to the crowd of nearly 200 people who gathered at KU's indoor facility that Kelly told him, in no uncertain terms, that taking the Kansas job was the right next step for her husband and their family.
"She knew from the start that this was the place to be," Leipold said during his opening remarks on Monday.
Following Kelly's intuition is nothing new for the Leipold family. She told the Journal-World after Monday's press conference that she helped make the call on every job her husband had ever taken. And she pointed out that she had told him to pass on a few, as well.
Photo Gallery
Lance Leipold introduced as KU's new football coach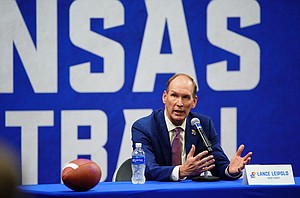 Lance Leipold introduced as KU's new football coach
"As they say, coaches' wives have a fast pass to heaven," Leipold said in his opening remarks. "It's been a journey. A lot of tough times, a lot of tough decisions and a lot of sacrifices. Like most opportunities that come, she's the one that's the rock and the advice-giver."
The reasons behind Kelly's strong feelings about this job, at this time, had everything to do with their Midwestern roots. KU's new coach grew up in a small town between Milwaukee and Madison, Wisconsin. And Kelly was born and raised in Omaha, Neb.
"Coming back to the Midwest after living in the northeast was appealing, especially with our son (Landon) entering high school," Kelly told the Journal-World. "Getting him back to what I grew up and what Lance grew up with in the Midwest, the culture, the people, the friendliness.
"We love Buffalo," she added. "It was a great city to live in. Our children enjoyed it. But this was home. And it felt like home from the get-go."
Kelly has extended family in the Kansas City area — Lenexa and Lee's Summit — and her parents, who are now retired in Fort Meyers, Fla., are from Carrollton, Mo., which sits a little more than 100 miles northeast of Lawrence.
Kelly said the plan was for the family to move to Lawrence "as quick as possible," and that there already had even been talk of their daughter, Lindsey, who just completed her junior year at Stetson University in DeLand, Fla., coming to KU for graduate school.
"There are a lot of emotions involved in it," Kelly said of relocating and starting over again. "Emotions of happiness, emotions of sadness, of saying goodbye. But we are very excited."
Part of the reason for the family's excitement is their track record of success. At each of Leipold's stops, even during his days as an assistant coach, he was a part of winning programs who improved throughout his time with them.
Kelly believes the same will happen for Leipold at KU — "we're on track for this one to work out, as well," she said Monday — and her faith in her husband has a lot to do with the way she has seen him operate.
"He brings the best out in everyone and you don't even know that he's doing it," Kelly told the Journal-World. "He does that with me, he does that with our children. He'll challenge you and you don't even know that he's doing it."