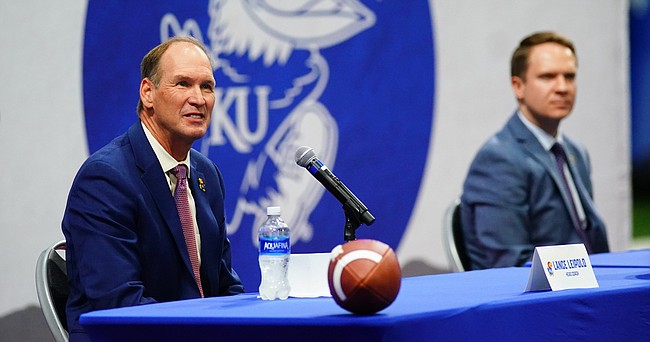 The word "fit" was used at least a couple dozen times during Monday's introduction of Lance Leipold as the new Kansas football coach at KU's indoor facility.
But the most noteworthy thing about its prominence was the belief from both sides that the idea of KU finding the right man to lead its struggling football program was not a one-way street.
Leipold fits KU and what the Jayhawks need to start the long process of climbing back toward respectability.
But KU fits Leipold, too. He's humble, hard-working, a Midwesterner and a man who values living in the moment and not looking to skip steps.
Those things all come through in his tone and voice, which carries a pronounced Wisconsin accent that enhances his hard-working reputation.
And he highlights his approach by the way he answers questions about very basic concepts of how to lead a football program with obvious affirmations like, "Well, yeah" and, "Of course."
The past decade of Kansas football and the number of times this program has been burned by empty promises and talk instead of action are the reason Leipold found himself answering questions about player development, the importance of continuity and the expectation of giving one's best.
Photo Gallery
Lance Leipold introduced as KU's new football coach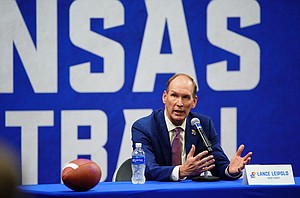 Lance Leipold introduced as KU's new football coach
The fact that those things have been hard to come by at Kansas are the reason he's here.
And after numerous conversations with people tied to the KU program — Mark Mangino and Glen Mason included among them, who both told him simply, 'You can win' — Leipold saw that the challenge of taking over at Kansas landed right in his wheelhouse.
He had close friends tell him he fit Kansas.
"And I felt that on many different levels," he said.
He listened to others tell him why Kansas — and the timing of this particular move — fit him.
And, in visiting Lawrence and meeting people associated with the university and the football program, he discovered, rather quickly, that all of the things that have been present in his past were here, too.
"Fit, for us, is when you're happy in the community and you have a chance to dig in and do what you want to do," Leipold said.
He believes it's critical for his coaching and everyone who works in the football facility to feel that same connection. And he's confident he can create that at KU the way he did at Wisconsin-Whitewater and again at Buffalo.
That's what allowed him to look past KU's dismal record and coaching turnover during the past 11 seasons to jump head first into another rebuilding project that offers no guarantees of success.
"There were a lot of people who told me not to take the Buffalo job," he noted. "We did a lot there, and it was time for another one. That's what I want to do."
Asked why he seems so comfortable operating under the label of a program builder, Leipold said simply, "it's about fit and expectations."
There's one other element to the idea of Leipold fitting Kansas and Kansas fitting him that played to KU Athletic Director Travis Goff's advantage during the three-week coaching search.
"To partner with someone at the beginning of this was an extra bonus," Leipold said. "When this job opened, the athletic director (job) was not. I was interested. When the athletic director job opened, I was more interested."
For better or worse, the first-year KU AD and first-year KU football coach will forever be tied together. One man's success will be a credit to the other's vision. One man's misstep will be just as much the other man's fault.
That's how these things tend to go whenever a new hire is made. But it's rare, in major college athletics, to see two high-profile hires with so much riding on them be made so close together.
Wins and losses and the support they're able to drum up together will be the most important evidence of whether the two men, along with Leipold and his new program, truly fit one another.
But it doesn't take long to see that, at least at the outset, they're very much aligned.
"One part of leadership," Leipold explained. "Is you better take in as much information as you can, give people a voice and then you make a decision, everyone agrees upon it and we all move forward."
Kansas and Goff have done that in hiring Leipold. And for the first time in a long time, it really feels like what lies ahead for this program is something worth paying attention to.