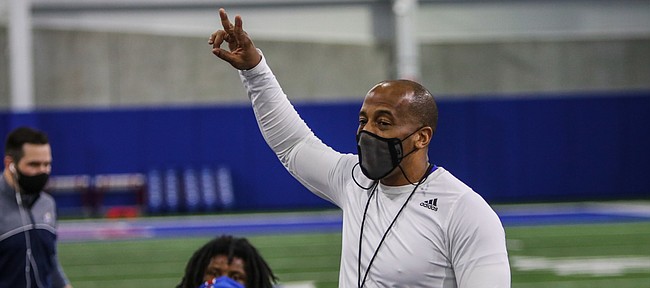 Lance Leipold capped his first weekend as the head football coach at the University of Kansas meeting with most of the assistant coaches from the previous regime who had just led the Jayhawks through the entirety of the spring practice schedule. While Leipold won't retain all of them, he said he's open to keeping at least some of the coaches who were on staff when he arrived.
One of Leipold's conversations came with Emmett Jones, the popular receivers coach who served as the interim head coach for the previous several weeks.
"I thanked him for all his efforts. We talked a little bit in general terms and we talked some about where we'd like to talk about the future, where it's moving, and we'd like to continue those talks," Leipold said Monday, following his introductory press conference.
As he spoke with the media, Leipold on numerous occasions brought up the importance of having continuity and consistency with a coaching staff.
It appears he might try to make that happen for himself, as well as the players, if he retains a number of KU assistants and brings in at least seven of the coaches with whom he worked at Buffalo.
Photo Gallery
Lance Leipold introduced as KU's new football coach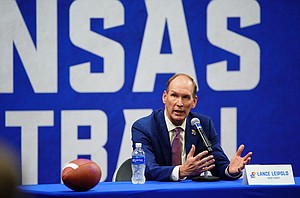 Lance Leipold introduced as KU's new football coach
While KU has yet to announce anything regarding Leipold's assistants, the new head coach said he anticipates getting his staff in place "really quickly."
A source with knowledge of Leipold's plans told the Journal-World defensive coordinator and linebackers coach DJ Eliot will not be retained.
The Journal-World also learned current KU assistants Chevis Jackson (defensive backs) and Kwahn Drake (defensive line) remain in the mix to stick around on Leipold's staff. It's possible Jackson, Drake and/or other assistants, including Jones, could ultimately stay at KU.
Reports began to surface Monday about a number of Buffalo assistants following Leipold to KU to join the staff. But some of those UB assistants could end up taking on non-coaching roles with the Jayhawks.
Additionally, Football Scoop reported Leipold is expected to keep outside linebackers coach and special teams coordinator Jacob Schoonover (hired earlier this offseason by Les Miles, before his departure), and "is expected or working to retain" Jones. Football Scoop also reported running backs coach Jonathan Wallace and tight ends coach and recruiting coordinator Josh Eargle could possibly be retained.
Leipold said Monday that when he took the job, KU Athletic Director Travis Goff didn't set any parameters about how many assistant coaches he needed to keep.
"Obviously everything's going to be important in a lot of different directions. But like I said, it needs to be the right fit and right for the long haul, not just short term," Leipold said.
Generally, KU's new coach said his series of one-on-one meetings with the assistants that were in place when he arrived went well.
"Those aren't always easy conversations, and we're looking at getting things put together," Leipold said. "And I think that's going to come together here really quickly."
While Leipold didn't reveal the names of any assistants who will be leaving, he alluded to that being the case for some. As he's assembling his staff, some of the decisions he is making, Leipold said, aren't based on what was happening on the field.
For example, KU's defense looked far superior to the Jayhawks' offense in the spring game, but Leipold isn't retaining former defensive coordinator Eliot.
"So as we look at putting our staff together, it's not just to get us through season one. That happens sometimes in college football," Leipold said. "Part of the success is having consistency in the room, day in and day out for our (players). So as I evaluate our situation, that's going to be first and foremost — is fit, holistic."
One reported new KU assistant will be Leipold's longtime defensive coordinator, Brian Borland. Leipold and Borland first worked together at Wisconsin-Whitewater and Borland followed the head coach to Buffalo.
In fact, out of the seven UB assistants reportedly heading to KU, four of them worked with Leipold at both Buffalo and Wisconsin-Whitewater.