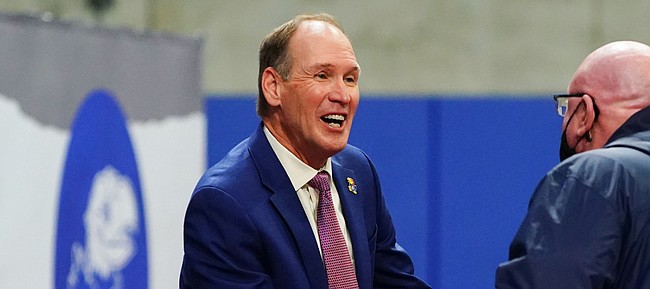 When Lance Leipold arrived in Buffalo to take over its football program a little more than six years ago, some wondered whether a Division III coach could make the leap up to the FBS level successfully.
The jump from the MAC to the Big 12 might not cover such a chasm as the one Leipold cleared going from Wisconsin-Whitewater to Buffalo, but the new head football coach at the University of Kansas is landing at one of the toughest Power Five jobs out there.
Leipold explained earlier this week why his latest bound up the coaching ranks didn't scare him.
"Because I think at a higher level there were some parallels that they said about the last job I took," Leipold shared, referencing when he left Wisconsin-Whitewater, where he had won six national titles, for a Buffalo program that had never won a bowl game.
Photo Gallery
Lance Leipold introduced as KU's new football coach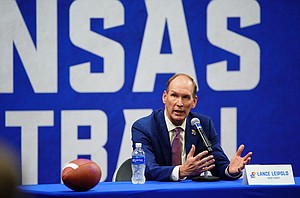 Lance Leipold introduced as KU's new football coach
"There's a lot of people that told me not to take the Buffalo job. And I felt there were parts there. We did a lot there and it was time for another one," Leipold said of leveling up from a Group of Five job to the Big 12. "That's what I want to do."
At his alma mater — Leipold played quarterback at Wisconsin-Whitewater in the mid 1980s — the Warhawks dominated during the eight years he ran the program, going 109-6 as Leipold achieved 100 career wins faster than any football coach in NCAA history.
He left a powerhouse program and a treasure trove of trophies to bypass the Division II and FCS ranks and take his first FBS job in the MAC, at Buffalo.
As Leipold mentioned, the job wasn't exactly a coveted landing spot the last time it was vacant. The Bulls had only posted two winning seasons in the 16 years before he agreed to become their head coach.
At Buffalo, Leipold rebuilt the program steadily. The Bulls went 5-7 in his first season, 2-10 in his second and then they turned a corner. Buffalo finished 6-6 in 2017, and Leipold and his staff took UB to three consecutive bowl games and went 24-10 from 2018-20.
His transition from Wisconsin-Whitewater to Buffalo came with a learning curve. At the Division III level, for example, none of the players are on athletic scholarship and resources can be scarce.
Leipold said the basic framework of directing a program is something he can take from one level to the next.
"Any new job there's new things and new ways to doing it, policies and procedures," he said. "But when it comes to staff, there's still core things that it is, expectations and direction and how you're going to go about it."
Some of the bigger differences between coaching at UB and coaching at KU, Leipold mentioned, are the advantages that come with recruiting to a Big 12 program and having more people in support staff roles.
When he first got to Buffalo, Leipold admitted while reflecting on that transition, he may not have understood all that goes into being the head coach at the FBS level.
"But definitely those years in Buffalo, what we went through and how we built it in different ways," he said, "is going to help me do this right now."
Leipold to record 1st 'Hawk Talk'
KU's new football coach, Leipold will make his debut appearance on the athletic department's radio show, "Hawk Talk," Thursday at 6 p.m.
The show will record live from Johnny's Tavern West Lawrence.
Fans interested in attending are required to wear masks as they enter the restaurant. There will be no autographs or interactions with Leipold for fans, due to COVID-19 safety measures.