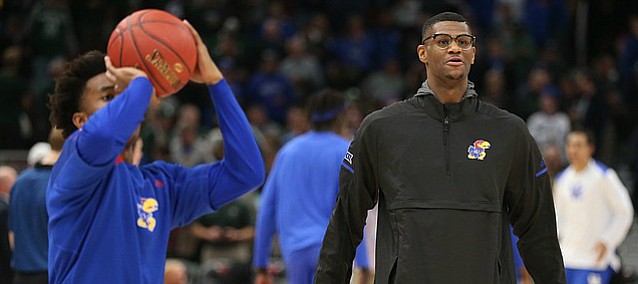 Chicago — Shortly after his team survived a scare from seventh-ranked Kentucky despite using basically just six players, Kansas coach Bill Self offered a little more information into the traffic incident that kept freshman forward Billy Preston in street clothes.
Preston, KU announced prior to tip-off, was held out because of a single-car traffic accident he was involved in on Saturday, one day after serving a one-game suspension for missing curfew and class ahead of the Tennessee State season opener.
As is protocol, the incident was reported to KU's compliance office and that's when things began to get murky.
"They started doing the checking on the car and wanted to get a clearer picture of how some things were done and we couldn't get it cleared up," Self said. "That's basically all there is to it."
Self said KU officials spent the better part of Tuesday attempting to gain clarity so Preston could play. But when that did not happen, Self had no choice but to keep his five-star freshman on the bench.
"I'm out of it," Self said, before adding, "I am confident it'll get cleared up. But I don't know the time frame and they haven't clued me in."
Photo Gallery
Kansas basketball v. Kentucky (Champions Classic)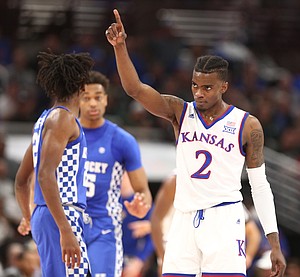 View a gallery of images from Tuesday night's game between the Jayhawks and Wildcats at United Center in Chicago.
Asked if the issue in question was something that should have been addressed prior to the accident or the start of the season, Self again said that question should be posed to KU's compliance office.
"(The car) was registered," he said. "Everything was good. But they dove into it a little bit deeper. That doesn't mean that something wrong has been done."
With the issue in limbo, Self's lineup shrunk basically to six players. Sophomore forward Mitch Lightfoot was the seventh man on Tuesday night but he played just six minutes in the KU victory.
"It did hurt," Self said of not having Preston. "I think it would've been nice if we could've played seven guys instead of six. But our guys rallied around it."
Whether Preston will be in uniform in time for KU's next game — 7 p.m. Friday at Allen Fieldhouse vs. South Dakota State — remains to be seen. But whether he is or isn't, Self said one thing already is crystal clear about the 2017-18 Jayhawks.
"We're gonna be a team, until everything gets situated and we can get to Christmas, when (we) have a chance to have two more players join the team — Sam (Cunliffe) and if Silvio graduates and qualifies, which he's on pace to do that — if that's the case that would change your depth situation and everything immediately. Until then, I can't see us being much more than an hour-and-15, an hour-and-30 practice team a day."
Rather than sulk and pout while missing what, no doubt, would have been a highlight of the season for him, Preston was active on the bench.
"We'd spent all day trying to figure out if there was a way we could get it done where he could play," Self said. "I'm proud of our guys. I'm proud of Billy. He was a great teammate on the bench and our guys will rally around him. But certainly it was disappointing, very disappointing."
Added 7-foot sophomore Udoka Azubuike of Preston's presence Tuesday night: "Yeah, yeah, yeah; he was on the bench cheering on the team and all that stuff. He was doing his part."
As for how the Jayhawks (2-0) survived without the extra big body? Azubuike grinded through a career-high 34 minutes to the tune of 13 points and eight rebounds and the KU guards gathered 31 of the team's 39 rebounds to tie Kentucky on the glass.
"In basketball, stuff happens," Azubuike said. "It happens a lot. So we've just gotta be prepared for every game. I kind of knew in the back of my head that my teammates were relying on my heavily."
---
More news and notes from Kansas vs. Kentucky