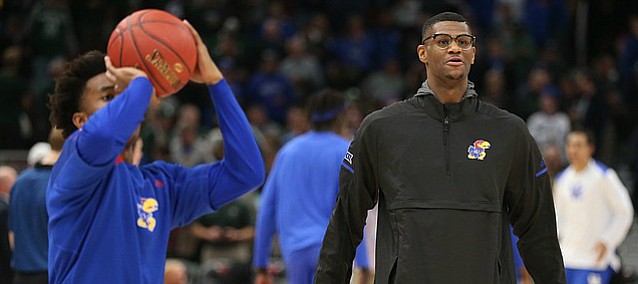 Chicago — For the second consecutive game, Kansas freshman Billy Preston did not suit up for the Jayhawks during Tuesday's Champions Classic clash with Kentucky at United Center.
Preston, who missed KU's season opener last Friday after missing curfew and class leading up to the game, was held out of Tuesday's game, a 65-61 win, because of a traffic accident over the weekend.
Self said Sunday that Preston would play against Kentucky, but that was before details of the latest incident reached his desk.
"On Saturday, Billy was involved in a single-vehicle incident on campus," KU coach Bill Self said in a statement released about an hour before tip-off. "There were no injuries but Billy's car sustained damage. After I learned about the incident, I reported it to our administration. The administration determined that we needed a clearer financial picture specific to the vehicle (so) we decided to hold him out of tonight's game and will continue to do that until the review is complete."
Self said Preston was told he would not play against the Wildcats before Tuesday's pregame meal.
"Needless to say, he was disappointed and crushed," Self said. "He was very excited to make his KU debut. We hope to have the situation resolved as soon as possible."
Preston's absence again left the Jayhawks with just seven scholarship players available for Tuesday's game, only two of which were big men.
Photo Gallery
Kansas basketball v. Kentucky (Champions Classic)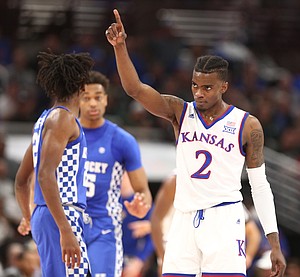 View a gallery of images from Tuesday night's game between the Jayhawks and Wildcats at United Center in Chicago.
Toughness tester
A year ago, after losing to Indiana in the season opener in Honolulu, the Kansas men's basketball team flew directly from Hawaii to New York City, and, two days later, knocked off No. 1 Duke at Madison Square Garden.
The trip from Lawrence to The Windy City for Tuesday night's showdown with No. 7 Kentucky was not nearly as far nor as exhausting. But KU coach Bill Self believes playing in another high-profile, marquee match-up so early on could have the same impact on the Jayhawks' current season.
"Yeah, probably," said Self when asked if that Duke victory added to the 2016-17 team's identity of toughness. "The Duke win last year was probably a better win than what people gave it credit for, because we were just in Honolulu and we just got our butts handed to us by Indiana. So I'd say so. I'd say that was a good comeback deal."
Happy Birthday, Uncle D
Tuesday's clash was the fourth Champions Classic showing for KU senior Devonte' Graham.
Of all of those, which were equal parts memorable and exciting in their own ways, Tuesday's contest seemed to be by far the best for Graham. The reason? It came on his uncle, Darius McCullers' birthday, with McCullers, 41, in the building watching.
"We're really close," Graham said of his mother, Dewanna King's older brother, ahead of Tuesday's tip-off. "I just call him Uncle D. My mom and him are super tight, and you know how me and my mom are. They're always together and coming to games … going over film of games on TV. I'm just happy to be able to play on his birthday and (that) he can come out and watch me."
Newman starts
One game after starting the game on the bench during KU's season-opening victory over Tennessee State, KU transfer Malik Newman was back on the floor for the opening tip against the Wildcats.
Newman, a pick by many to lead the team in scoring and the Big 12 Conference's preseason newcomer of the year, struggled in the early going, knocking in just 3 of 10 shots in 18 first-half minutes. Newman added five rebounds in that first half and, midway through, appeared to be settled into the role many expected him to have from the beginning of the season.
Self ties Ol' Roy
Tuesday's victory over Kentucky moved Self into a tie with former Kansas coach Roy Williams for second place on KU's all-time wins list.
The Champions Classic win marked Self's 418th in a hair over 14 seasons at Kansas while Williams, the current coach North Carolina, racked up 418 victories and 101 losses as the leader of the Jayhawks from 1988-89 through 2002-03. Williams left KU with an .805 winning percentage, and Self, at 418-88, now owns a KU winning percentage of .826.
Last season, Self became the fastest coach in KU history to reach the 400-win milestone and he currently sits 172 victories behind Phog Allen, who is KU's all-time leader in coaching wins with a 590-219 record (.729) in 39 seasons.
"I did not know that," Self said recently of moving into a tie with Williams. "Obviously, he had an unbelievable career here and we've been able to be pretty consistent since we've been here. (But) I don't think there would be one thought on anyone's mind, 'Well, you tied Roy for wins at Kansas.' I don't think that would be part of the equation at all and certainly doesn't need to be."
Faces in the crowd
Here's a look at some of the more notable folks who attended Tuesday's game: Former KU point guard Sherron Collins, KU alum David Booth, Marlins Man, former Duke star Jabari Parker and Red Hot Chili Peppers drummer Chad Smith, who actually sat in on drums with the KU band during one timeout.
Wooden nominees
Kansas guards Devonte' Graham and Newman on Tuesday were named to the 50-player preseason watch list for the Wooden Award, named for legendary UCLA coach John Wooden and handed out annually to college basketball's best player.
Graham, the preseason Big 12 player of the year, and Newman both also recently were named to the Naismith Trophy's preseason watch list.
This and that...
KU's victory trimmed Kentucky's advantage in the all-time series to 22-9... The Jayhawks improved to 2-0 for the first time since the 2013-14 season... Kansas' victory was its first Champions Classic win over a team other than Duke. KU is now 3-4 in the event... KU's three-game winning streak against Kentucky (2016 SEC/Big 12 Challenge, 2017 SEC/Big 12 Challenge & Tuesday) matched the longest for the Jayhawks in the blue-blood series... KU coach Bill Self is now 625-193 for his career and Kansas gained a game on the Wildcats in the all-time wins race, improving to 2,219-841 in 120 seasons.
---
More news and notes from Kansas vs. Kentucky