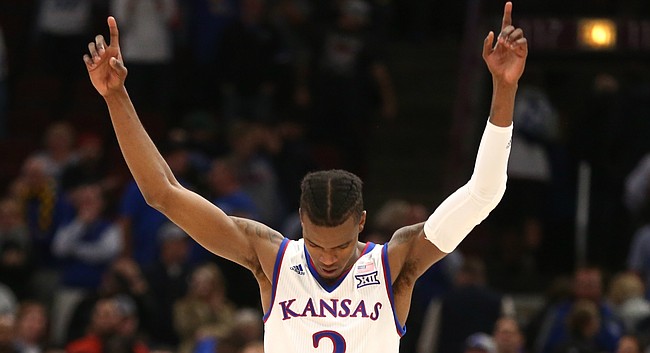 CHICAGO — Just about everything visual about Tuesday's Champions Classic clash between No. 4 Kansas and No. 7 Kentucky at United Center showed that the Wildcats had won.
That is, unless you were looking at the scoreboard.
While John Calipari's latest crop of young Kentucky Wildcats made the bigger, brighter and louder plays throughout the game's first 30 minutes, it was the Kansas experience that closed and led the Jayhawks to a 65-61 victory.
Two key sequences perfectly summed up and symbolized the way the Jayhawks won this one, often fighting sloppy play, sluggish body language and bad breaks along the way.
The first came when Lagerald Vick held his own in the post defensively, snagged a rebound and fired a pass that Tom Brady would've been proud of to a streaking Svi Mykhailiuk behind the UK defense.
Mykhailiuk caught the pass in stride, took two smooth steps and flew high to the right side of the rim for a one-handed hammer dunk.
Photo Gallery
Kansas basketball v. Kentucky (Champions Classic)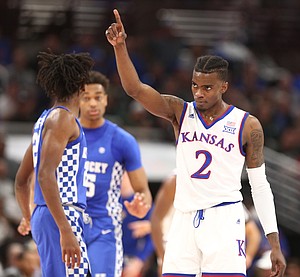 View a gallery of images from Tuesday night's game between the Jayhawks and Wildcats at United Center in Chicago.
One possession later, again on defense, Udoka Azubuike used his massive frame to frustrate Kentucky big man Nick Richards just long enough for Devonte' Graham to dig down and strip the ball away. The turnover led to one of KU's better offensive possessions, which ended with Graham throwing a soft lob to Azubuike for a monster jam and a 51-45 Kansas lead.
And then there was arguably the biggest shot of the game. After Vick's driving jumper came up short, the junior used his length to grab his own miss and flipped it to Mykhailiuk, who quickly fired it back out to a wide open Newman.
From there, Newman, who shot just 4-of-14 for the night for 13 points, nine rebounds and two assists, gathered himself, squared his body and drilled a 3-pointer that put KU up 61-57 with 2:10 to play. Newman said after the game that he didn't even consider holding the ball, even though 25 seconds showed on the shot clock when he pulled the trigger.
"When we're open like that, coach always tells us let it fly and I was open," he said. "Why not shoot it? Put the icing on the cake."
Kentucky called timeout as soon as the shot fell through and Graham raced over to his backcourt mate, yelling and high-fiving him.
"A win is a win," Graham said. "So you're excited about any win, but beating Kentucky is definitely more for the fans and there's a little bit more excitement to it and bragging rights, of course."
Graham might not have had a shot as dramatic as Frank Mason III's to beat Duke in Madison Square Garden last season. But his free throws down the stretch were huge. The senior finished with 11 points on 3-of-14 shooting, three rebounds and five assists in 39 minutes. He knocked in four of five free throw attempts, with three of the four coming in the final three minutes.
"It's not all about scoring for him," said Newman, who admitted that he and his teammates were eager to get back in the gym after shooting just 35 percent for the game. "He did a lot of other things great tonight and he did his job of leading the team."
Newman had a knack for being in the right spot at the right time toward the end.
After a driving floater by Kevin Knox that would have tied it clanged off the rim, Mykhailiuk tapped the rebound to Newman, who corralled it and hit two free throws to put Kansas up four, 63-59, with 17 seconds to play.
The Jayhawks opened the game with the swagger of a champion and an aggressive mindset.
Graham, Mykhailiuk, Newman and Vick all drove to the basket with purpose in the game's first three minutes. While they did not always score, they did put the ball through the basket enough to build a 13-7 lead at the first TV timeout.
Those buckets helped offset a slow start from the outside, where Kansas missed four of its first five 3-point shots until Mykhailiuk cashed one from the corner after Graham skipped a one-handed pass to him during a loose-ball scramble near mid-court.
A quick surge that started with Graham finishing a tough layup in transition, included a big block by Azubuike and a pull-up 3-pointer from Newman, and helped Kansas build an early 11-point lead. But not long after a UK timeout, the young Wildcats showed the ability to respond to adversity with a 6-0 run that tightened things back up.
A big factor in the run was the Kentucky length, which stole passes out of mid-air and forced tough angles on others, frustrating the Kansas offense and leading to transition points for the Wildcats.
Kansas turned it over eight times in the first half but just three times in the second half for 11 in the game. Kentucky (2-1) turned it over 18 times.
"If you're comparing the two games, the first one (Duke-Michigan State) was much more artistic but it was a great, grind-it-out win," Self said. "To basically play six guys and pull it off when we were totally gassed, I'm really proud of my team."
The Jayhawks will return to Allen Fieldhouse at 7 p.m. Friday for Game No. 3 vs. South Dakota State.
---
More news and notes from Kansas vs. Kentucky