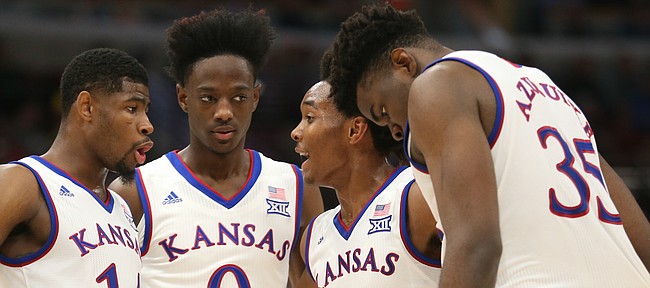 College basketball's two winningest programs squared off Tuesday night at Chicago's United Center, and though the game footage won't be headed to the hall of fame, blue bloods Kansas and Kentucky provided some early season drama in the nightcap of the Champions Classic.
Coach Bill Self's Jayhawks prevailed, 65-61, against John Calipari's Wildcats in a battle of top-five teams that wasn't decided until the final minute.
Down two points to KU with 33 seconds left in the second half, UK couldn't convert on a Kevin Knox floater out of a timeout, and Kansas sophomore Malik Newman chased down a long defensive rebound.
Newman (12 points), then drained a pair of free throws to pad KU's lead to four with 17 seconds remaining. Senior leader Devonte' Graham made two more at the line with 0:07 on the clock to seal it.
Though the No. 4 Jayhawks (2-0) basically used a six-man rotation with freshman Billy Preston once again held out of the lineup, Graham (11 points, five assists, 3-for-14 from the floor) and Svi Mykhailiuk (17 points), and sophomore big man Udoka Azubuike (13 points, eight rebounds) gave KU enough experience and size to hang with the Wildcats.
KU junior Lagerald Vick added nine points, six rebounds and five assists to the cause, while sophomore Newman (4-for-14 shooting) turned it on late, and Marcus Garrett (three points, three rebounds) never really got going offensively.
Freshman Knox led the No. 5 Wildcats (2-1) with 20 points.
Photo Gallery
Kansas basketball v. Kentucky (Champions Classic)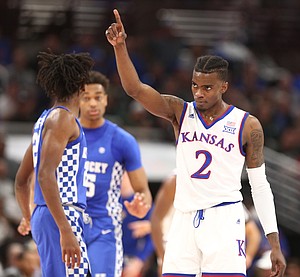 View a gallery of images from Tuesday night's game between the Jayhawks and Wildcats at United Center in Chicago.
Here's a quick look back at some of the action:

• What went down in the first half: Kansas shot just 13-for-38 (34 percent) in the first 20 minutes, but took a 34-33 lead into halftime on the strength of its rebounding. The Jayhawks controlled the glass, 24-13, at that juncture and did most of that damage with offensive rebounding. Fifteen gathers of their own misses led to 15 second-chance points before intermission.
Kentucky, which didn't lead at any point during the first 17-plus minutes, broke ahead briefly, 33-32, because Kansas missed three jumpers and two free throws during a scoreless stretch lasting more than three minutes. A Newman lay-in with 2:00 left was the only shot KU made in the last five minutes before the break, but proved the only score by either team prior to intermission.
Although Kansas raced out to a double-digit lead in the opening minutes, Kentucky began to recover before long. The Jayhawks contributed to their foe's surge with three empty possessions in a row, beginning around the 10-minute mark, each ending with a turnover. In the meantime, a jumper from UK sophomore forward Sacha Killeya-Jones and back-to-back Kevin Knox 3-pointers made it just a three-point deficit for Kentucky.
Within two minutes, the long, athletic UK rotation — which had six blocks and six steals in the first half — tied the game at 28, after a Hamidou Diallo steal and jam, and a long two-point jumper from Wenyen Gabriel.
A Kansas drought featuring seven consecutive missed field goals and two turnovers allowed UK to cut the lead to five by the 11:54 mark, before Graham drove in and drew a foul to come away with an old-fashioned three-point play.
KU got out to a 13-7 lead before the first media timeout with the help of four offensive rebounds and five second-chance points — courtesy a Mykhailiuk floater and 3-pointer.
The Jayhawks' advantage eked out to 11 in the following minutes, before the young Wildcats found their bearing, with freshman guard Shai Gilgeous-Alexander scoring consecutive buckets.
• The game turned when: Crunch time came along.
Vick drove inside and missed in the midst of a one-point game with just more than two minutes to play, but gathered his own rebound. A quick pass out to Mykhailiuk and a swing to Newman allowed the transfer from Mississippi State to drain a crucial 3-pointer on the wing against the UK program that recruited him out of high school, giving Kansas a 61-57 advantage.
The Jayhawks then defended well enough for UK to miss four of its final five shot attempts.
• Offensive highlight: At a point when KU was shooting just 35-percent from the floor on the night and leading by only two points, the idea of consecutive easy jams seemed more pipe dream than reality.
But one confident Vick baseball pass ahead to Mykhailiuk helped change that and gave KU some much-needed juice.
The senior from Ukraine leaked out and ran past three UK defenders in scramble mode as Vick picked up a steal. Vick didn't hesitate when he saw Mykhailiuk running deep and put about a 50-foot outlet on the money, allowing Mykhailiuk to throw down a one-handed slam.
Less than a minute later, Graham found Azubuike for one of his standard two-handed dunks and KU led 51-45.

• Defensive highlight: Kentucky at times looked more impressive in terms of memorable stops, what with its scholarship players having an average wingspan of 6 feet, 10 inches.
UK's 10 swats and seven swipes, compared to KU's two blocks and 12 steals qualified as more appealing visually.
The best sequence for Kansas on the defensive end of the floor came very early on, with Marcus Garrett ripping the ball from Gilgeous-Alexander's hands, leading to a Graham transition lay-in.
The next trip down the floor Azubuike blocked a shot, setting up a Newman 3-pointer.
• Key stat: Offensive rebounds. The first half would've been ugly for KU if Self's group hadn't hustled to extend possessions with second-chance looks.
With Azubuike snagging all four of his first-half boards on offense, and veteran guards Vick (two) and Graham (two) chipping in, as well, Kansas was able to score 44 percent of its points (15) on second chances.
KU finished the big early-season win with a 20-15 edge in second-chance scoring.
Who knows what kind of funk the Jayhawks might have slumped into had they not come up with that boost on the offensive glass.
• Up next: The Jayhawks will be back at Allen Fieldhouse Friday for a non-conference affair outside of the national spotlight, versus South Dakota State.
---
More news and notes from Kansas vs. Kentucky