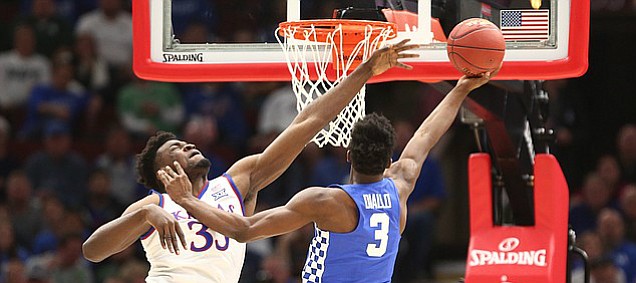 Chicago — Udoka Azubuike and Mitch Lightfoot.
That's it as far as front-court players go for Kansas unless and until athletic department administrators are satisfied that a "clearer financial picture specific to the vehicle," freshman Billy Preston was driving in a one-car accident Saturday morning does not impair the talented freshman forward's eligibility.
Ideally for Kansas, Lightfoot at this stage of his career would be an extra body, extra fouls. Ideally, as a sophomore he's not a player you want to put in a game against long and quick Kentucky in Tuesday night's second game of a Champions Classic doubleheader, although he did hustle his way to a steal with 2:53 left.
Kansas needed a high volume of minutes from Azubuike, the inexperienced sophomore center from Nigeria. He needed to stay out of foul trouble, get up and down the court with sleeker teammates, make his presence felt defensively, throw his weight around posting up to make himself available for easy baskets, hit the boards at both ends.
Photo Gallery
Kansas basketball v. Kentucky (Champions Classic)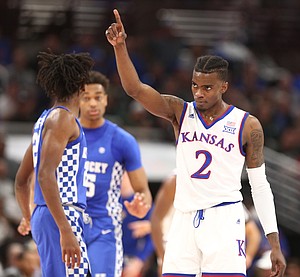 View a gallery of images from Tuesday night's game between the Jayhawks and Wildcats at United Center in Chicago.
Azubuike was far from perfect, showed how raw a player he still is in many ways, sometimes grew frustrated with players at times when he didn't realize he was the one responsible for a play breaking down, but the big man deserves a big hand. He willed his body through a career-high 34 minutes and helped Kansas to defeat Kentucky, 65-61, in a game it couldn't have stayed in without him.
He totaled 13 points, shot 5 for 5 from the field, had 5 of 8 rebounds off the offensive glass and blocked two shots. He's tough to watch at the free-throw line and made just 3 of 8, but he'll keep working at it.
When Azubuike sat, Kansas was outscored by six points.
His highlight play came when senior guard Devonte' Graham set him up for an uncontested slam with a perfect lob on the left side of the hoop, a play that put Kansas up 51-45 with 9:11 left and drew a big roar from the Kansas partisans, and there were many, in the capacity United Center crowd.
Kansas coach Bill Self used the media timeouts at four-minute intervals to give Udoka as much rest as he could while maximizing his minutes by taking him out in advance of the breaks, and late in the first half, even through the break.
Self managed to squeeze 17 first-half minutes out his lone true big man.
When Azubuike sat, Kentucky made his absence felt, immediately getting the ball into the hands of his man and attacking.
Azubuike, when fresh, runs the floor remarkably well for a 7-foot, 280-pound man. He did some things well early, turning terrific post feeds from Lagerald Vick, Graham and Svi Mykhailiuk into seven points. Udoka snagged four early offensive rebounds, but then as fatigue consumed him in the latter stage of the first half, he stopped trying to post up, an art he doesn't quite have down yet, stood straight and was easily pushed out of the paint. He did what he could until his body wouldn't let him. He needs help and this wasn't the right matchup for Lightfoot.
Udoka didn't pick up his first foul until 2:14 remained in the first half.
Self's options: 1.) Leave him in the game and hope he finishes the half without picking up a second foul. 2.) Take him out, leaving him four fouls of breathing room in the second half and run the risk of Kentucky successfully targeting Lightfoot. 3.) Bring Svi back in to play the rest of the half with two fouls.
Self left him in and Udoka huffed and puffed the rest of the half, but he didn't foul. He finished the night with three fouls and should be proud of his effort in so many areas.
---
More news and notes from Kansas vs. Kentucky