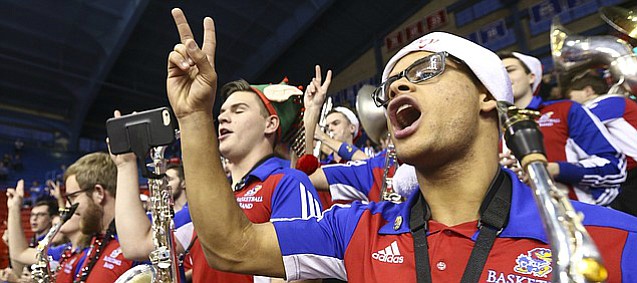 While Monday's 109-64 rout of visiting Omaha was celebrated mostly as the night Sam Cunliffe played big minutes and walk-on big man James Sosinski played his first minutes, a much more important thing than either one of those occurrences may have happened.
"Tonight was 'let's get Malik going' probably as much as anything," KU coach Bill Self said of sophomore guard Malik Newman, who has struggled through a few rough offensive outings during recent weeks.
On Monday, though, Newman looked much more like the player who earned preseason Big 12 newcomer of the year honors than one battling through a slump.
He made 6 of 10 shots from the floor and grabbed four rebounds to go along with four assists in 26 minutes. While none of it exactly brought back memories of his 32-point outburst in Italy in the Jayhawks' exhibition finale overseas, it was enough to please the KU coach.
"I thought he was a lot better," Self said. "He was more aggressive. He's a really good in-between shooter and he made a couple of mid-range shots and then made a couple of threes. I thought he played pretty well."
Photo Gallery
Kansas basketball v. Omaha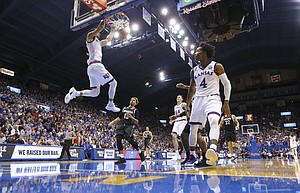 View a gallery of images from Monday night's game between the Jayhawks and Mavericks on Monday in Allen Fieldhouse.
Newman, who also fouled three times and turned it over twice, was far from perfect, of course. But he delivered several moments that illustrated he might be getting closer to playing with a free mind. Twice in the first half, he made an extra pass to a more open shooter and each time he picked up an assist as a result of the unselfish play.
"In transition is where he struggles, to me, the most of not getting the ball out of his hands," Self said. "Like the play he (had) Lagerald (Vick) wide open in the corner and he wants to catch it and bounce it instead of just look ahead and pitch ahead. But I thought he was better."
As for Sosinski and Cunliffe, they were big for the Kansas bench, which outscored Omaha's bench 26-22. Cunliffe scored nine points on 4 of 9 shooting and flashed a couple of high-flying finishes at the rim. Sosinski scored four points and grabbed two rebounds while helping Kansas run out the clock.
"It felt great," the KU football tight end said after the victory. "Four points is whatever. I'm just happy I got to play tonight. I was the only person on the team not to play yet so it was great to get that off my back."
Compare and contrast
Omaha was no stranger to tough competition entering Monday night, having played road games at Creighton, Oklahoma, New Mexico, Washington and Louisville already this season.
But the Mavericks' players and head coach Derrin Hansen both said Kansas was a cut above anything they had seen so far this season.
"They're definitely at the top," junior guard Zach Jackson, of Wichita, said after the loss. "But we played two other Big 12 schools too. I think a major difference between the teams was the atmosphere that we were playing in. The other two (Big 12) schools didn't have an atmosphere like this."
Added Goddard native Matt Pile: "They say it's the best home-court advantage in college basketball. And it's definitely true."
Hansen's take, though similar sounding, was a little more about the game that was played.
"KU's guards are phenomenal," he said. "And 35 (Azubuike), when he catches it with two feet in the paint, he's a load. We haven't seen that. …I've never been to a game here before and it was all that it was cracked up to be. What they have here is unbelievable."
KU falls a spot
Despite winning on the road over the weekend at Nebraska, the Jayhawks dropped a spot in the most recent Associated Press poll released Monday.
Kansas fell from No. 13 to No. 14 in the new rankings and remained the second highest-ranked Big 12 team of six conference schools currently in the Top 25.
West Virginia (10), TCU (15), Oklahoma (17), Baylor (18) and Texas Tech (21) all cracked the Top 25, with Texas and Oklahoma State also receiving votes.
Unbeaten TCU and KU both dropped a spot in this week's poll, with Virginia jumping them from No. 16 to No. 13 after a 20-point home victory over Davidson.
Elijah and Natalie Johnson?
The marriage announcement for former KU basketball players Elijah Johnson and Natalie Knight appeared in the Journal-World on Monday and the two newlyweds attended KU's victory over Omaha together.
Elijah Johnson, who was an instrumental part of KU's run to the 2012 Final Four, was introduced to the crowd during a second-half timeout and received a partial standing ovation from the Allen Fieldhouse faithful.
Natalie, who was one of the best 3-point shooters in KU women's basketball history, was not introduced to the crowd but sat by beaming with pride behind the KU bench.
This and that...
KU's victory improved the Jayhawks to 9-2 for the fourth year in a row... KU is now 1-0 all-time against Omaha and 15-5 against members of the Summit League... The Jayhawks close out non-conference play at 10 p.m. Thursday against Stanford at the two-year old Sacramento Kings venue Golden 1 Center.
---
More news and notes from Kansas vs. Omaha
---