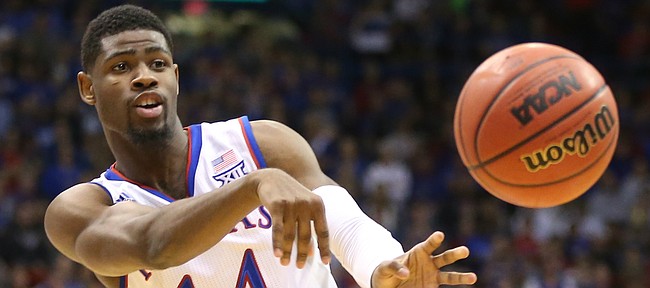 Back inside Allen Fieldhouse for the first time since its home loss to Arizona State, the Kansas basketball team posted triple digits for the third time this season, in a 109-64 drubbing of overmatched Omaha.
The Jayhawks imposed their will offensively throughout Monday night, following the lead of seniors Svi Mykhailiuk and Devonte' Graham. The ball moved crisply most of the game, often finding its way to the softest spots in the Mavericks' half-court defense, as No. 14 KU dished out 25 assists and made 62 percent of its shots.
Mykhailiuk tied his career-high with six 3-pointers and finished one point shy of his personal-best 27 points, scoring 26 on 10-for-13 shooting, with four assists.
Graham led the way with eight assists and buried five of his seven shots — all coming from behind the 3-point arc — for a 17-point night.
Sophomore big man Udoka Azubuike (11 points, 12 rebounds) came through with his third double-double of the season.

Photo Gallery
Kansas basketball v. Omaha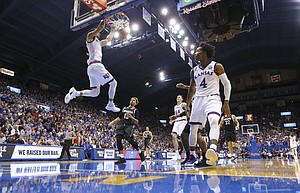 View a gallery of images from Monday night's game between the Jayhawks and Mavericks on Monday in Allen Fieldhouse.
Here's a quick look back at some of the action:
• The game turned when: The Omaha athletics department staff put together the team's non-conference schedule.
The Mavericks' matchup with KU at Allen Fieldhouse marked the program's eighth true road game of the past five weeks — and fifth on the home floor of a Power Five program.
This trip turned out the same way all those others did for Omaha (3-11). Kansas (9-2) had a double-digit cushion less than seven minutes in, when Malik Newman (14 points) drained the Jayhawks' third 3-pointer in a row.
Although the Mavericks proved for a stretch they could trade baskets with KU, the home team built a 15-point lead by the 6:37 mark of the first half, when Newman knocked down a pull-up jumper in transition.
The lead grew as large as 26 points just before halftime, as Kansas overwhelmed Omaha with its ball movement and shooting.
KU assisted on 14 of its 20 made field goals, while shooting 59 percent in the first 20 minutes, with Graham (5 assists in 16 minutes) and Newman (4 assists in 14 minutes) most often setting up their teammates.
The Mavericks' chances were further buried thanks to KU's 3-point accuracy. The Jayhawks nailed 10 of their 14 long-distance attempts (71 percent) in the first half. Graham shot 4-for-5, while fellow senior Mykhailiuk didn't miss (3-for-3).

• Offensive highlight: Surprisingly, KU's first-half show, which led to a 55-29 lead at intermission, included just three dunks.
While sophomore transfer Sam Cunliffe (nine points) was the first Jayhawk to throw one down, catching an alley-oop from Graham for his first basket in a Kansas uniform, it didn't match the ferocity of a fast-break connection between Graham and Lagerald Vick (15 points) still to come.
After Graham ended an Omaha possession with a steal he pushed it ahead for a two-on-one attack with Vick.
Graham, dribbling on the left half of the floor, tossed a lob up nonchalantly toward the rim, where a leaping Vick caught it above his head and slammed the dunk down with two hands.
Cunliffe, though, got a chance to rise even higher and finish even stronger late in the second half of the rout, on another fast break. Again, Graham set him up with the alley-oop, which Cunliffe hammered home, making it 99-54.

• Defensive highlight: While Mitch Lightfoot didn't actually get credit for a blocked shot due to a foul on Cunliffe just before Lightfoot went up to protect the rim, the most impressive play on the defensive end of the floor happened milliseconds after the ball officially became dead.
Omaha guard Daniel Norl went spinning into the paint for a layup attempt and Lightfoot not only met the shot at the apex of his opponent's leap, he cupped the one-handed denial and secured it in his right arm in one motion.
Cunliffe fouled Norl with a reach-in just before Lightfoot's potentially embarrassing denial.

• Key stat: Rebounding. As well as KU played offensively, the game got out of hand because the Jayhawks dominated the glass.
Kansas out-boarded Omaha, 49-26, and only allowed the Mavericks to score eight second-chance points on their 10 offensive rebounds.

• Up next: The Jayhawks will head out west to take on Stanford (6-6) and former KU guard Jerod Haase, the Cardinal's head coach, Thursday night in Sacramento, Calif. (10 p.m. tip-off, ESPN2).
---
More news and notes from Kansas vs. Omaha
---