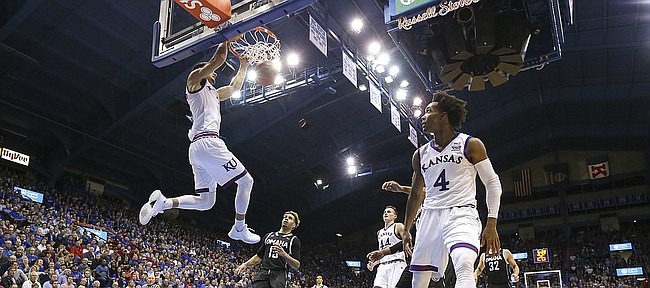 Sam "I Am" Cunliffe gave the Allen Fieldhouse crowd thrills for the first time Monday night, but he already had gotten chills himself in college basketball's most famous building.
"It was surreal," Cunliffe said of his AFH debut. "Being here for a year, watching all these games, you can sit on the sideline and still get that chill, like — 'Dang this is crazy. This atmosphere and the people!' — just watching your teammates. Being out there and actually having a part of something was a great feeling."
A better feeling than he experienced in his brief debut on the road Saturday against Nebraska. He played two seconds shy of two minutes in the one-point victory and didn't make a mark on the box score in any other category.
"I was kind of upset about not playing (more) because I felt like I could have helped a little bit," he said. "But my guys won so I came to practice the next day and tried to be aggressive, and coach saw that and trusted me a little more than I thought he would."
Photo Gallery
Kansas basketball v. Omaha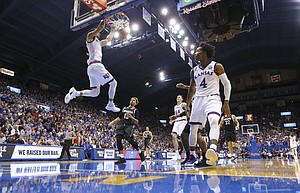 View a gallery of images from Monday night's game between the Jayhawks and Mavericks on Monday in Allen Fieldhouse.
Cunliffe played 20 minutes in Monday's 109-64 slaughter of Omaha, time enough to throw down two lobs, hit a 3-pointer, score nine points and put up nine shots from the field.
He looked locked-in defensively, although he was on the end of a couple of stern critiques from assistant coach Kurtis Townsend, who recruited the Seattle native to KU as a transfer from Arizona State.
"I felt like I didn't care about making a basket," Cunliffe said. "I didn't care about doing anything else but making sure my man didn't score. You'll stay in if your man is (taken) out of the game."
And did his man score?
Cunliffe had to think about it for a few seconds.
"I don't think so," he said. "I really don't."
He thought about it for a few more seconds and reached a verdict.
"No," Cunliffe said with a grin. "Shut him out!"
Even if that's accurate, he gave Townsend fodder to urge him to do better.
During a break in the action, Townsend, Bill Self's longest-tenured KU assistant, pointed to a spot on the floor and barked at the sophomore.
"I feel like I'm pretty quick for my size and pretty fast," Cunliffe said, "so he's always just telling me, 'Hey man, if you're tired, you don't have to really guard your man if he can't catch it. So just make sure you're high on the floor and deny the pass so your man can't catch the basketball.' He's always said that to me and it's something I take to heart."
Cunliffe is Townsend's pet project.
"Coach T gives me constant reminders and it's good for me," Cunliffe said. "Sometimes, I can get a little upset just because sometimes I feel like he's on me a lot, but at the end of the day, I'm still thankful for what he does to help me because he's always trying."
Cunliffe made 4 of 9 field goals and 1 of 3 3-pointers.
"I knew the offense was going to come to me," he said. "I feel like I've always been a pretty gifted offensive player. Defense has been my main focus since I've been here, so that's what I wanted to bring to the table tonight."
Cunliffe is the subject of a 90-minute internet documentary split into three episodes and titled "Sam I Am."
---
More news and notes from Kansas vs. Omaha
---