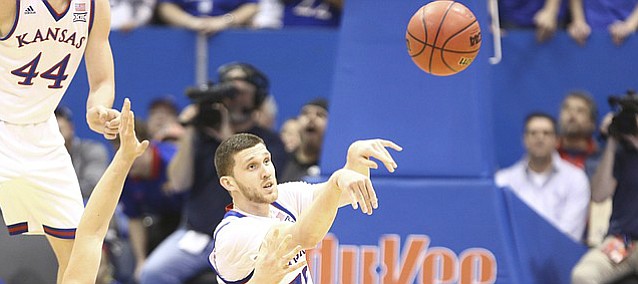 The thinking going into Monday's 109-64 Kansas victory over Omaha at Allen Fieldhouse was that Svi Mykhailiuk's game-winner against Nebraska, two days earlier, might have snapped the senior's mini-shooting slump.
But no one could have guessed that snap would sound more like a mouse trap and less like a rubber band.
Behind what teammate Sam Cunliffe described as "almost perfect," Mykhailiuk caught fire early and never cooled off on Monday night, finishing 10 of 13 from the floor and 6 of 7 from 3-point range to fuel the Jayhawks to their largest rout of the season to date.
Asked after the victory if his 26-point night — one shy of tying a career high — was the result of elevated confidence following the big bucket at Nebraska, the always-down-the-middle Mykhailiuk simply smiled and offered, "Maybe."
"Today, I just felt confident after I made a couple shots and I just kept shooting," he added.
Photo Gallery
Kansas basketball v. Omaha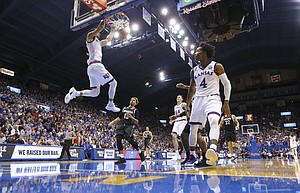 View a gallery of images from Monday night's game between the Jayhawks and Mavericks on Monday in Allen Fieldhouse.
Although most of Mykhailiuk's damage came from sweet strokes from behind the arc, his early work came off of the dribble. On two possessions in the game's first two minutes, Mykhailiuk put his head down and drove hard to the rim, setting the tone for the night and for his big game.
"First possession, everybody was kind of looking around and I just drove to the basket and just kept getting open looks after that," he said. "When I do it in the first minute of the game it starts to go and I just try to keep it going from there."
And when he's able to do that, his teammates and coaches absolutely love what they see.
"When the ball goes in, obviously you look good," KU coach Bill Self said after the win. "I thought his balance and things, he maybe was a little hesitant the last couple weeks or whatnot, but he looked good. I'm sure that shot at Nebraska probably gave him some confidence."
Although Mykhailiuk did most of the damage on Monday night, the rest of his teammates were happy to chip in. All five starters reached double digits in scoring. Udoka Azubuike recorded his second consecutive double-double — 11 points and 12 rebounds in 22 minutes — and Devonte' Graham chipped in a rather ho-hum 17 points and eight assists in just 28 minutes.
In short, it was as close to being exactly the kind of game Kansas needed following a 2-2 stretch to open the month.
"I think it was good thing," Self said of sandwiching an overmatched Omaha (3-11) team late in non-conference play. "We said our schedule just started when we played Syracuse (on Dec. 2 in Miami), and that was basically the truth. We've actually played pretty consistently well this year except for back-to-back games in a four-day stretch when we weren't very good."
Although Monday's result and corresponding stats certainly were what Kansas had been accustomed to seeing while racing out to a 7-0 start to the season, the Jayhawks (9-2) also have reached the point where a game like this is not going to be viewed as an overwhelming success.
Despite the final score and the overall tone of the game, Self said there still were a couple of areas that he wished his team had played better. Included among them were lockdown defense, getting to the free-throw line and finding someone to play the point behind Graham.
"It looks so much better than what it is when you shoot the ball like that," said Self, whose team shot 62.3 percent from the floor and made 16 of 27 from 3-point range. "You go back and show them tape and say, 'All they did was miss the shots we made.' That's not all and I know shooting's a key part of the game, but we've still got to take more pride in understanding that even if they got up a good shot and missed, that's not good defense — we just got lucky."
Podcast episode
Kansas basketball coach Bill Self discussed his team's hot shooting in a 109-64 victory over Omaha, Sam Cunliffe's home debut and the lack of free throws the Jayhawks have shot all season.
One area in which the Jayhawks improved was the bench, scoring a season-best 26 points, led by nine from Sam Cunliffe, who played 20 minutes, and six from Mitch Lightfoot in 15 minutes.
"I thought, 'How do I get all these guys in the game?'" Self joked after the game. "So it was good. We still have to figure out who's going to play behind Devonte' when he's not in the game, but I did think it felt like a much deeper team."
It might feel even deeper in the not-too-distant future.
Although Self said Monday that he had no news on freshman Billy Preston, who missed his 10th consecutive game while awaiting the outcome of a compliance issue involving his vehicle, he did hint at good news for Silvio De Sousa, the 6-foot-9, 245-pound Class of 2018 power forward who is trying to reclassify in time to leave IMG Academy early in order to play for the Jayhawks during the spring semester.
Although both De Sousa and Preston are almost locks to sit out the Stanford game Thursday in Sacramento, De Sousa could be in the mix soon thereafter.
The Angola native said recently that he expected to get the results of his second attempt at the SAT exam last Friday. Asked Monday if he knew if De Sousa had received the score, Self said simply, "We feel really good. Really good."
With De Sousa's graduation date at IMG slated for Friday, the earliest he could possibly be in uniform for Kansas remains the Jayhawks' Big 12 opener at Texas on Dec. 29.
---
More news and notes from Kansas vs. Omaha
---