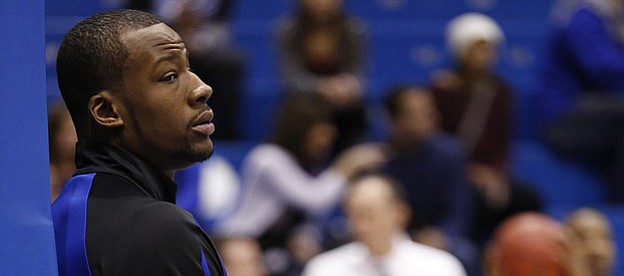 Kansas University freshman Cliff Alexander did not make the trip to Oklahoma Saturday for the Jayhawks' 75-73 setback, because of his issue with the NCAA that has been described as a possible extra benefit situation involving an agent and Alexander's family.
Before Saturday's game, Yahoo!Sports reported that Cliff's "family" met with agents last August and his mom, Latillia, made a public filing in August tying her to a financial firm that provides loans to players who have declared for the NBA Draft and to agents.
If Alexander's mom accepted money from the firm, it would be an NCAA violation that would likely render Alexander ineligible. He arrived at KU as an all-but-certain one-and-done player.
Podcast episode
KU coach Bill Self said he was proud of his team's effort but disappointed in its execution following Saturday's 75-73 loss at Oklahoma.
Podcast episode
Landen Lucas and Frank Mason dissect the final few seconds of 75-73 loss at Oklahoma.
OKLAHOMA 75, KANSAS 73
"The only thing I'd say is I think we all hope all the parties would get on the same page and cooperate and do what needs to be done to give him a chance to get back on the court," Self said. "That's not putting anybody down. They've kept me in the dark somewhat because of the way the NCAA requires them to handle the investigation," he added, not mentioning anybody specifically. "I wish everybody would talk it out. If there's a problem, deal with the problem, don't run from it.
"I do think there is a way to expedite it," he added. "For everybody to be on the same page. To have everybody willingly, all the parties, whether it be Kansas, the family, the NCAA, all the parties say, 'Let's work together to find out the details so a ruling can be made.'
"If the ruling is negative, the kid will have no chance to play in the NCAA Tournament. He'll have no chance to do what he came to college for, he'll have no chance to help his teammates and all that stuff if all the parties can't get in the same room and work it out."
Self acknowledged time was running out.
"Here's the deal, if it doesn't happen this season, it's done," Self said. "If you are not going to do it (make ruling) to give you a chance to play in the NCAA Tournament, what makes you think you'll do it in the offseason to give you a chance to play an exhibition game (next preseason)? That's the reality of it. I'm hopeful everybody says, 'Let's just do it.' Whatever happens we'll deal with it is how I see it. I'm not putting blame on anybody. It's frustrating every day to say, 'Where's this at?' Basically status quo."
---
More news and notes from Kansas at Oklahoma
---