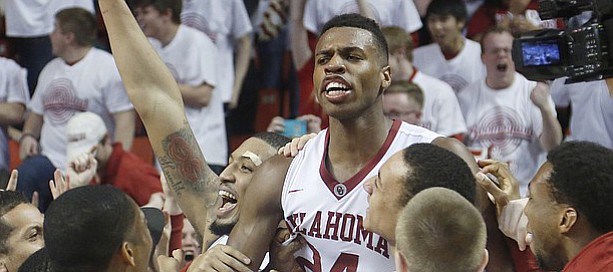 Norman, Oklahoma — If Oklahoma junior Buddy Hield felt he needed to make one more statement to help his candidacy for Big 12 Player of the Year, he picked a heck of a way to do it.
Hield, the conference's leading scorer (17.4 ppg) and Oklahoma's best player, made the biggest play of the last game of the regular season to beat the team that won the conference for the 11th consecutive year.
With Saturday's game at Lloyd Noble Center tied and five seconds remaining, Hield charged the rim to tip in a miss for the game-winner in a wild, 75-73 victory by the 15th-ranked Sooners over No. 9 Kansas.
Podcast episode
KU coach Bill Self said he was proud of his team's effort but disappointed in its execution following Saturday's 75-73 loss at Oklahoma.
Podcast episode
Landen Lucas and Frank Mason dissect the final few seconds of 75-73 loss at Oklahoma.
OKLAHOMA 75, KANSAS 73
Hield's bucket, which gave him a team-high 18 points on just 6-of-20 shooting, set off a wild celebration in which he and teammates hopped onto tables, dog-piled near mid-court and celebrated with fans in all corners of the arena. The only thing that put a wrench in the explosive celebration was the fact that officials put two-tenths of a second back on the clock after reviewing the bucket.
KU (24-7 overall, 13-5 Big 12) never got a shot off after the reset, but Hield had other concerns during the review.
"Oh yeah, I was worried," he said. "I was like please don't call it off. I was out there celebrating and all of that stuff and didn't want to be on (ESPN's) 'Not Top Ten.' I was just saying, 'Please, Lord, help me.'"
Hield's prayers were answered and the Sooners (21-9, 12-6) wrapped up their signature win of the season.
"That was beautiful," OU junior Isaiah Cousins said of Hield's highlight. "I was excited for Buddy and the team. We really needed to beat Kansas. It just feels good to beat the championship team. Now we know what we can do, and we should be pretty dangerous down the road."
Added OU coach Lon Kruger: "It's great to go up against a club like Kansas and it will be beneficial."
Of course, the Sooners could not escape the fact that had they not blown a 20-point lead last Monday at Iowa State, Saturday's victory over Kansas would have delivered a Big 12 title to Norman.
"You can always do that, sure," said Kruger of those what-if moments. "But we're not going to spend any time on that because it's not worth anything. It works out the way it's supposed to. This group has done a great job. They won eight of the last 10 (games) and made a great push. We almost got there but didn't quite."
---
More news and notes from Kansas at Oklahoma
---
More like this story on KUsports.com