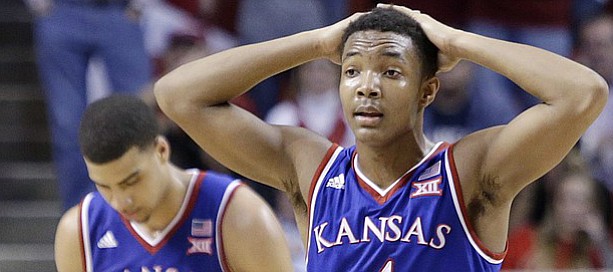 Norman, Oklahoma — Call it deja vu, or a recurring nightmare or simply an unsatisfying way to conclude a Kansas University basketball game.
But on Saturday, for the second time in three weeks, the Jayhawks found themselves lamenting a coast-to-coast layup that proved the difference in a gut-wrenching Big 12 Conference basketball loss.
Oklahoma's Jordan Woodard needed just four seconds to accept an inbounds pass and traverse the length of the court, missing a driving layup that was tipped in by league Player of the Year candidate Buddy Hield with two-tenths of a second left in Oklahoma's 75-73 victory over KU in Noble Center.
Podcast episode
KU coach Bill Self said he was proud of his team's effort but disappointed in its execution following Saturday's 75-73 loss at Oklahoma.
Podcast episode
Landen Lucas and Frank Mason dissect the final few seconds of 75-73 loss at Oklahoma.
OKLAHOMA 75, KANSAS 73
It was reminiscent of Juwan Staten's shot that beat the Jayhawks, 62-61, on Feb. 16 at West Virginia.
"I think it's something we definitely need to adjust and work on," said KU sophomore forward Landen Lucas.
He scored a career-high 13 points and grabbed a career-best 12 rebounds on a day Perry Ellis was held out because of a sprained knee. Also, Cliff Alexander missed the game because of NCAA issues, Brannen Greene was benched because of disciplinary reasons and Wayne Selden Jr. played at less than 100 percent (ankle sprain) on a day he missed seven shots and didn't score in 18 minutes.
"It happened against West Virginia when they came full court and scored and it happened again today. We're in March now. We can't go home off something like that," Lucas added. "We've got to learn from this. Luckily this didn't send us home in a tournament. I mean the next time we lose it will be in a tournament and we'll be going home from that tournament. We don't want that. We've got to learn from this and adjust."
Sophomore point guard Frank Mason III — he hit three huge free throws to tie the game with 5.4 seconds left — was equally distressed about the repeat, late-game breakdown.
"I think that was on us. Some of us didn't do our job in rotation rebounding. It's definitely on us," Mason said after scoring a career-high tying 21 points in 33 minutes.
KU coach Bill Self wasn't pleased with the execution.
"We obviously did a poor job," Self said. "You've got to keep the ball on one spot on the floor. If you are going to switch the ball screen, which they set a ball screen, the guys have to step up and switch it so he (Woodard) keeps going same direction. There was space where he could reverse pivot. 
"You've got to keep everything to the outside. That's twice ... it's cost us two games at the buzzer by us not being able to defend that. It was a bad mistake by us at game point and a great play by Jordan, obviously. It was bad defense, but oh well," added Self, thrilled at his team's overall effort on a day the squad faced adversity with those key pieces missing.
The Jayhawks, who were down 73-70 with 7.4 seconds left, pulled off a somewhat miraculous play to tie the contest.
Selden, who took the ball out of bounds under OU's goal, fired a full-court baseball pass to Lucas, who was right in front of KU's bench. Lucas caught the pass and scooped to Mason, who launched a three and was fouled by Isaiah Cousins with 5.4 ticks left.
KU had to find a way to take a three, since OU coach Lon Kruger was planning on fouling the Jayhawks, preferring a one-and-one free-throw situation to a game-tying trey attempt.
"We had to try to do something before they can foul," Self said. "I kind of looked at (Ryan) Spangler. Spangler looked at me and smiled. He didn't know we were going to throw it to his man. I was hoping he wouldn't be fouling on the catch (to send Mason to line for one-and-one). If he didn't foul him on the catch, and Landen had a chance to pitch it, the best case scenario is you make the shot. The second best is it catches them off guard and they foul while you're shooting which is what happened," Self added.
Mason, who was nine of nine from the line, didn't flinch despite the fact Kruger called time out after his second made free throw.
"I was just thinking I had to make them," Mason said. "I knew I was going to make 'em. I took my time. They felt great leaving my hand."
Everybody was raving about the play of Lucas after a game which dropped KU's record to 24-7 overall and 13-5 in the league.
"He was a rebounding machine," said forward Jamari Traylor, who scored 12 points and had two boards in 26 minutes.
"He played fine," Self said, also lauding Traylor and Hunter Mickelson (six boards, five points, 20 minutes). "He goes 6-for-8 (from field) and the two he missed were uncontested bunnies. He could have had a really big day. He's battling injuries. He'll be in the training room the next three or four days."
Indeed, Lucas has been slowed by hip and knee injuries and also had cramps during Saturday's game.
"I was just trying to go out and fill in for them," Lucas said of Ellis, Alexander and Greene. "Defensive rebounding was solid (on day OU grabbed season-high 18 offensive boards). There were some easy shots I need to finish."
Self noted: "If you told me before the game we'd get 30 and 20 from our bigs, I'd say, 'We've got a shot if that happens.' That's what happened," Self said.
KU will next meet either TCU or Kansas State in a first-round Big 12 Tournament game at 1:30 p.m., Thursday in Sprint Center in Kansas City, Missouri.
---
More news and notes from Kansas at Oklahoma
---