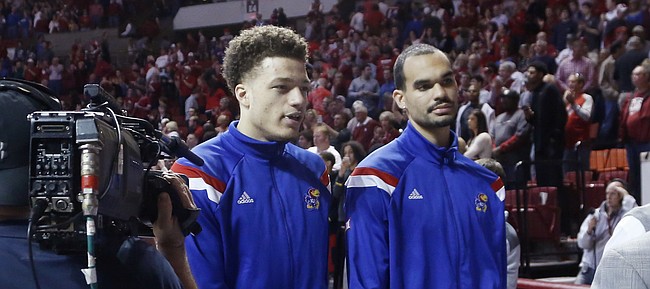 Norman, Oklahoma — Kansas University guard Brannen Greene was suspended for Saturday's game against Oklahoma by coach Bill Self.
"Just for being irresponsible," Self said of the 6-foot-7 sophomore from Juliette, Georgia, who wore warm-ups and watched from the bench during KU's 75-73 road loss.
It figures to be a one-game suspension.
Podcast episode
KU coach Bill Self said he was proud of his team's effort but disappointed in its execution following Saturday's 75-73 loss at Oklahoma.
Podcast episode
Landen Lucas and Frank Mason dissect the final few seconds of 75-73 loss at Oklahoma.
OKLAHOMA 75, KANSAS 73
"I don't want to say positively. I'm hopeful it's a one-game deal. If B.G. handles his business he should be back (for Thursday's Big 12 Tournament opener)," Self said.
Greene missed the first half of the Layfayette game this season after reporting late for weights the day before that game. He was suspended a game against TCU his freshman season for being "irresponsible."
"If we were playing for the championship today, he still would have been suspended," Self said. "It didn't have anything to do with we already clinched. It had a lot to do with culmination of him not being very responsible. Hopefully he'll get his head on right and we'll have him the rest of the season."
Ellis feeling better: Self also provided an update on junior forward Perry Ellis, who has a sprained right knee that kept him out of Saturday's game.
"Same as this morning, same as yesterday, he's fine," the KU coach said. "He feels good. He'll be re-evaluated on Tuesday.
Of possibly holding Ellis out of the Big 12 Tournament, Self said: "If Perry is not ready, we'll rest him. It would be nice (to rest him, but) guys want to play. You want to play in the conference tournament," Self noted.
"We can rest Sunday and Monday. We'll practice hard Tuesday and Wednesday and be ready to roll. We need Wayne (Selden, Jr., ankle sprain) and Perry healthy. It'd be nice if we had an answer on Cliff (from NCAA). We need Brannen Greene's head right. We could be a lot better team than today if things fall right."
---
More news and notes from Kansas at Oklahoma
---
More like this story on KUsports.com