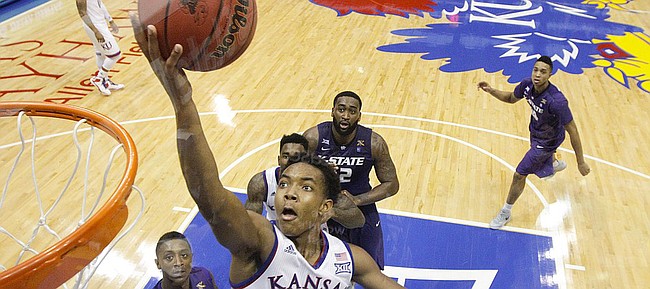 After finishing the regular season with a buzzer-beater road loss at Oklahoma on Saturday, Kansas University's men's basketball team has five days to prepare for the Big 12 Tournament in Kansas City, Missouri.
The undisputed league champions, the Jayhawks (24-7 overall, 13-5 Big 12) will have to wait until Wednesday evening to find out who they will play in the tournament quarterfinals.
KU's in-state rival, Kansas State (15-16, 8-10), faces TCU (17-14, 4-14) at 6 p.m. on Wednesday. The winner of that game faces the tourney's top seed, Kansas, on Thursday afternoon at 1:30.
K-State defeated the Horned Frogs at home and lost to them on the road this season.
The Jayhawks swept TCU, and split two games with the Wildcats — winning at Allen Fieldhouse and losing at Bramlage Coliseum.
The Nos. 2 and 3 seeds remained undetermined until Saturday night, and Iowa State secured the second overall spot by coming back to beat TCU on the road in the Cyclones' finale. That pushed OU to No. 3.
2015 Big 12 Men's Basketball Championship
March 11-14 at Sprint Center, in Kansas City, Missouri
WEDNESDAY
6 p.m.: No. 8 seed Kansas State vs. No. 9 seed TCU (ESPNU)
8 p.m.: No. 7 seed Texas vs. No. 10 seed Texas Tech (ESPNU)
THURSDAY — Quarterfinals
11:30 a.m.: No. 4 seed Baylor vs. No. 5 seed West Virginia (ESPN2)
1:30 p.m.: No. 1 seed Kansas vs. K-State/TCU (ESPN2)
6 p.m.: No. 2 seed Iowa State vs. Texas/TT (ESPNU)
8 p.m.: No. 3 seed Oklahoma vs. No. 6 seed Oklahoma State (ESPNU)
FRIDAY — Semifinals
6 p.m.: Baylor/WVU vs. KU/K-State/TCU (ESPN or ESPN2)
8 p.m.: ISU/Texas/TT vs. OU/OSU (ESPN or ESPN2)
SATURDAY — Final
5 p.m.: Championship game (ESPN)
---
More news and notes from Kansas at Oklahoma
---