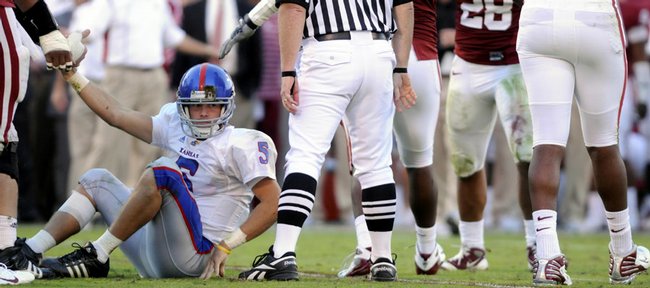 Audio clips
2008 KU-OU football
Podcast episode
The guys (Jesse Newell, Tom Keegan) break down KU's 45-31 loss to Oklahoma and discuss whether KU's defense can play better against next week's high-scoring opponent, Texas Tech.
Go figure
2 of 12 Kansas University's success on third-down conversions
7 of 16 Oklahoma's success on third-down conversions
0 Sacks by the Jayhawks
5 Sacks by the Sooners (for 33 yards)
269 Receiving yards by KU's Dezmon Briscoe
6.8 Yards per offensive play for the Jayhawks
6.9 Yards per offensive play for the Sooners
25 Advantage in total offensive plays run for OU (97 to 72)
468 Passing yards for OU's Sam Bradford, a school record
491 Total offensive yards for the Jayhawks (to 674 for the Sooners)
Reader poll
A

1%

40 votes

B

38%

801 votes

C

47%

986 votes

D

8%

173 votes

F

3%

62 votes
2062 total votes.
Norman, Okla. — In the aftermath of the events that transpired inside Oklahoma's Memorial Stadium on Saturday afternoon - the offensive onslaught that the Oklahoma Sooners unleashed upon a visiting Kansas University football team - Darrell Stuckey stood in a cramped room in the stadium's innards and answered questions.
There were lots of them, and Stuckey, the lone defensive representative made available to reporters, spoke patiently, trying to explain how a Kansas defense known over the years for being stout and disciplined had allowed Oklahoma to pile up 674 yards of total offense.
He did the best he could. He refused to make excuses. He gave credit to a talented Sooners offense. He tried to remain positive, insisting that the Jayhawks' defensive struggles are, for the most part, correctable.
"(Oklahoma) went out there, and they ran their basic offense, and their receivers did their job," said Stuckey, a junior safety. "And a lot of times, we just didn't get where we needed to be."
The result was a 45-31 victory for fourth-ranked Oklahoma, which pushed OU's record to 58-2 at home under the direction of coach Bob Stoops.
As many expected they would, the Sooners came out firing following their loss to rival Texas the previous week. After the first quarter, the Sooners had rolled over Kansas for 252 yards of total offense, and in the ensuing 45 minutes, they hardly slowed down.
Sam Bradford, who entered Saturday's game with a trunk-load of Heisman hype, somehow managed to exceed expectations, throwing for three touchdowns and a school-record 468 yards despite playing without injured receiver Manuel Johnson, who left the game in the first quarter because of an arm injury.
Bradford finished 36-of-53 passing, completing passes to 10 receivers and, with more than enough time to sit hassle-free in the pocket, systematically picked apart a Jayhawks defense that looked out of sync.
"He's everything that they said he would be and more," said Kansas coach Mark Mangino, who fell to 0-3 against his former boss, Stoops.
Even in the wake of the defensive breakdowns - Kansas gave up a season-worst 206 rushing yards, as well as a season-high 45 points - the Jayhawks managed to keep things relatively close for much of the game. They trailed 24-17 at halftime, as receiver Dezmon Briscoe grabbed nine passes for 193 yards and a touchdown in the first two quarters.
QB Todd Reesing, despite constant pressure, made plays and kept the offense moving.
Running back Jake Sharp rushed for more than 100 yards for the second straight game, finishing with 103 yards and a touchdown on 12 carries, but was kept out of the game at crucial points, including one third-quarter stretch in which he sat out consecutive series with Kansas trailing by just a touchdown.
By the start of the fourth quarter, however, when Bradford connected with tight end Kolby Smith for this third touchdown pass of the evening to make the score 45-24, the Sooners pulled away for good.
"A couple plays here, a couple plays there, you give yourself a chance," Mangino said. "But when you're playing a really good football team like OU, you can't make many mistakes."
Now, Kansas will head home and attempt to regroup as it prepares for a schedule that, with ensuing games against Texas Tech and Texas, doesn't get any easier.
Saturday's loss drops the Jayhawks to 5-2 and 2-1 in the Big 12 and puts the team in jeopardy of losing its spot among the nation's Top 25. Afterward, however, players preferred to focus on the silver lining - particularly, that the team's quest for a first-ever Big 12 North title is still very much intact.
"It's not like we came out and got upset," Reesing said, before making his way toward the team bus for what surely would be a quiet trip back to Lawrence. "People thought we were going to lose by 20 points, so we did better than most people expected."
More like this story on KUsports.com