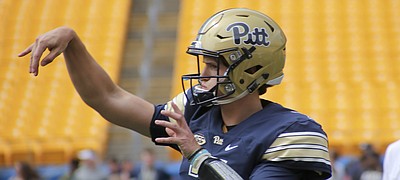 When Les Miles took over the long-struggling Kansas football program this past November and began making decisions about the roster's most pressing needs, it became clear to him where to get started. "Offensively, it was we needed to have a quarterback. And Thomas MacVittie is that guy. He's mobile. He can run it and throw it." By Benton Smith

Running backs coach Tony Hull said three factors led to his decision to accept Les Miles' offer to keep him on board with KU football. By Benton Smith

Unfortunately for those diehards who keep up with Kansas football and are curious about what the offense will look like this fall, with an overhauled staff working for new head coach Les Miles, the man who will be calling the Jayhawks' plays is concealing more than he is revealing about his offensive philosophy — for now at least. By Benton Smith

When six junior college prospects signed with the Kansas football program this past December, it seemed new head coach Les Miles might be headed down a familiar recruiting path. By Benton Smith

A trial date has been set for University of Kansas star football player Pooka Williams, who faces a charge of domestic battery.
By Dylan Lysen
February 13, 2019 10:15 a.m.

Wedd retained, now director of H.S. relations
Fresh off his first signing class as head football coach at the University of Kansas, Les Miles announced Monday some more additions to his support staff which figure to help the Jayhawks on the never-ending recruiting front.

Even though Steven Parker will be at his lightest and least experienced during the upcoming 2019 season, Kansas football defensive coordinator D.J. Eliot foresees the signing class's largest talent finding ways to make plays. By Benton Smith

It doesn't appear Justin Ford will end up joining the Kansas football program after all.
On the second Sunday of December, new Kansas football coach Les Miles got his first commitment for the program's 2019 recruiting class. By the first Wednesday in February, also known as National Signing Day in the college football universe, Miles was able to laud 19 prospects who will become a part of his debut season in Lawrence this coming fall. By Benton Smith

When Les Miles was introduced as the next Kansas football coach back in mid-November, a fairly significant portion of the story of his hiring was about a big name coach with a national championship ring returning to the college sidelines for the first time since being fired by LSU in 2016. But Miles no longer is focusing on his part in this story. By Matt Tait

After his recruitment came down to the wire, Gavin Potter, a high school linebacker from Oklahoma, introduced himself to the Kansas football fan base in grand fashion Wednesday. By Benton Smith

The first National Signing Day for Les Miles at the University of Kansas got off to an eventful start as the Jayhawks added another quarterback to their class.

Although Les Miles and his staff finished off much of their work ahead of December's early signing period, a little drama remains for the first-year Kansas head coach and his assistants heading into National Signing Day. By Benton Smith

National Signing Day isn't until Wednesday, but Monday very well could go down as the most important day for the Kansas football program's 2019 recruiting class. By Benton Smith

The Kansas football coaching staff won't know for certain until Wednesday's National Signing Day exactly who they will be adding to their 2019 class. In the meantime, an in-state player they targeted as a preferred walk-on announced Sunday night his plan to join the Jayhawks.
February 2019
December 2018
November 2018
Previous Next