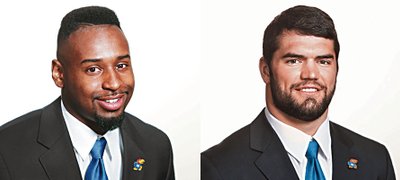 Kansas University running back James Sims was named to the Associated Press All-Big 12 first team, and KU linebacker Ben Heeney repeated on the second team when the AP released its annual selections today.

Clint Bowen also given defensive coordinator title
Rice football's John Reagan is Kansas University's new offensive-line coach and offensive coordinator, KU head coach Charlie Weis announced Saturday. By Matt Tait

When Class of 2014 center Jacob Bragg first heard that Kansas University offensive line coach Tim Grunhard was leaving, it took a second for him to process what had happened. By Matt Tait

The Gatorade Company, in collaboration with USA TODAY High School Sports, named Free State High senior Joe Dineen the 2013-14 Gatorade Kansas Football Player of the Year. By Benton Smith

Kansas University football coach Charlie Weis completed the Georgia Military sweep on Monday. Not long after reporting that Keyon Haughton, a 6-foot-2, 300-pound offensive lineman from the junior college had committed to Kansas, JayhawkSlant.com's Jon Kirby got in touch with Haughton's teammate, Devon Williams, and learned that he, too, had given an oral commitment to join the Jayhawks. By Matt Tait
Kansas University coach Charlie Weis and the KU football program on Monday picked up an oral commitment from Georgia Military offensive lineman Keyon Haughton, a 6-2, 300-pound lineman who visited campus over the weekend and picked Kansas after visiting with Weis on Monday morning.

Saturday's 31-10 loss to Kansas State at Memorial Stadium marked Kansas University offensive-line coach Tim Grunhard's final game as a member of the KU coaching staff. By Matt Tait
Kansas State's featured running back, senior John Hubert, made up in one day for an inconsistent season that started slow and finished strong. Hubert rushed for 220 yards and a touchdown on 30 carries Saturday, leading K-State to a 31-10 victory against Kansas in Memorial Stadium. By Tom Keegan

Just one player from this Kansas University senior class will be remembered for a long time by the average football fan. Running back James Sims finished his KU career in disappointing fashion Saturday, but a case could be made for ranking him in the top half-dozen rushers in KU history. Column by Tom Keegan

With his head coach scheduled to hit the road for recruiting and his football team having just wrapped up another disappointing season on Saturday, Kansas University athletic director Sheahon Zenger offered a vote of confidence for the current coaching staff and the direction it's taking Kansas football. Notes by Matt Tait
Michael Reynolds and Ben Heeney earned game balls in a 31-10 Kansas football loss to Kansas State.
By Staff Reports
November 30, 2013 4:48 p.m.

Saturday, in front of a split crowd of 43,610 Jayhawks and Wildcats at Memorial Stadium, the Kansas University football team ended its 2013 season by turning the ball over six times in a 31-10 loss to Kansas State. By Matt Tait
Wildcats not same without safety
One of the most significant elements of today's Sunflower Showdown might be the absence of one of Kansas State's top defensive players. By Matt Tait
A unit-by-unit look at today's football Sunflower Showdown By Matt Tait

For the final time in their Kansas University football careers, 23 Jayhawks — including 11 starters — will suit up for their last game at 11 a.m. today against Kansas State at Memorial Stadium. By Matt Tait
Previous Next