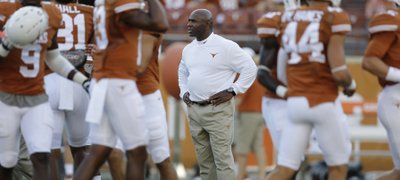 The burnt orange on their uniforms and years of success give the Texas Longhorns all they need to catch any opponent's attention. By Matt Tait
I fear college football's money potential could lead to a ratings-driven parity system. Although that would benefit Kansas, I'm not in favor of it. By Tom Keegan
The Big 12 Conference announced Monday morning that KU's Oct. 4 kickoff at West Virginia was slated for 3 p.m. The game will be broadcast on Fox Sports Net.

Anybody who picked the Kansas University football team to finish last in the Big 12 has not been given a reason to turn the pencil upside down and put the eraser to work. By Tom Keegan
Saturday was tiebreaker time for Kansas University quarterback Montell Cozart, and the sophomore who entered Week Three with just five career starts leaned a little more toward his good performance in the season-opening win over SEMO than the bad one he put up in a Week Two loss at Duke. By Matt Tait
The first play from scrimmage obviously didn't go the way Central Michigan's football team planned. By Gary Bedore
Linebacker Jake Love had four tackles for loss, totaling 18 yards. Two came on back-to-back plays on screen plays late in the game.
September 20, 2014 9:57 p.m.

That jolt you felt Saturday was Kansas University football coach Charlie Weis bouncing off the ropes with a timely 24-10 victory against Central Michigan at Memorial Stadium. By Tom Keegan

Of all the guys who made big plays, scored touchdowns or had a direct impact on the Kansas Univeristy football team's 24-10 victory over Central Michigan on Saturday, only one — Jake Love — received a shout-out from head coach Charlie Weis in the postgame speech in the locker room.

McCay's 60-yard, fourth-quarter TD pushes KU past CMU
Kick-started by senior Tony Pierson's 74-yard touchdown run on the first play from scrimmage, the Jayhawks (2-1) jumped out early, watched Central Michigan (2-2) tie the game at 10 with 6:11 to play in the third and then reclaimed control with a 60-yard touchdown pass from sophomore quarterback Montell Cozart to senior wide receiver Justin McCay, both Bishop Miege High grads, both players in dire need of a feel-good moment. By Matt Tait

A breakdown of Saturday's Central Michigan-Kansas University football game. By Matt Tait

Kansas University wide receiver Nick Harwell has a history of big games against Central Michigan. By Matt Tait

This was supposed to be the year that it all came together at Kansas University for third-year football coach Charlie Weis, who puts in such long hours on the job he sometimes sleeps in his office. By Tom Keegan
Tuesday afternoon, Kansas University football coach Charlie Weis said there was no need to worry about how physical KU's practices would be this week because Weis and his coaching staff had plans to turn things up a notch. Turns out, they did. By Matt Tait

Some questions linger, no matter how many times they have been answered, so might as well tackle these three one last (please) time.
September 2014
Previous Next