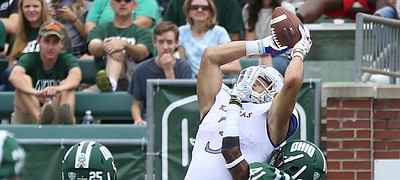 Former University of Kansas receiver Chase Harrell has left the Big 12 for the SEC. Two months after making public his decision to leave KU, Harrell announced Tuesday his plans to enroll and play football at Arkansas. By Benton Smith

Teammates describe University of Kansas linebacker Osaze Ogbebor as fast. And the 6-foot-1, 225-pound senior agrees with that assessment. Ogbebor even ventures to call himself the fastest linebacker at KU right now — an argument he admits comes with a technicality. By Benton Smith

As the University of Kansas continues its search for a new athletic director, Oklahoma AD Joe Castiglione recently took time to discuss the characteristics of those groomed under him who may be in the running for the KU job. By Matt Tait

Actual practices won't begin until early August, but a crucial stretch of preparation leading up to preseason camp began this week for University of Kansas football players. By Benton Smith

The summer of 2017 was one of hope for Kansas football. A year later, at least for those not personally invested in the successes and failures of the team, a similar sense of interest in KU football likely doesn't reverberate much outside of the Lawrence city limits. That's just fine with David Beaty. By Benton Smith

For Brandon McAnderson, leading rusher for Kansas during its 12-1 Orange Bowl season, what started as a project intended to help his cousin ended up as a means of helping his alma mater.

Broad-shouldered offensive tackle Turner Corcoran isn't the only member of Free State High's football team picking up interest from a number of college programs. Offers for rising seniors Keenan Garber and Jax Dineen also began piling up this past spring. By Benton Smith

A 6-foot-6 Free State High offensive lineman, Turner Corcoran's college recruitment exploded over the past couple of months, as he began receiving scholarship offers from such celebrated programs as Notre Dame, Nebraska, Michigan and Clemson, making his future a popular topic. By Benton Smith

Regardless of what Brady Tanner's Friday entailed or where it took him he would be smiling. Tanner's grin just might stretch a little wider tonight, when the Special Olympics inducts the Lawrence athlete into its Kansas hall of fame. By Benton Smith

Four kickoff times on the Kansas football team's 2018 schedule are set, with the Big 12 revealing on Thursday television broadcast assignments for early-season matchups, as well as special dates for the coming fall. By Benton Smith

Hasan Defense spent the spring lining up against University of Kansas receivers, fixated on stopping them from making catches. Through those countless repetitions, as well as video reviews of practices, the junior cornerback learned a great deal about the Jayhawks' receiving unit. By Benton Smith

Kansas needs a strong leader loaded with common sense and a forceful, charismatic personality that wears well. The department needs a leader who has experience working with massive budgets, hitting aggressive financial targets, can demonstrate a history of growing a business.

As former prep teammates Mike Lee and Corione Harris reunited at the University of Kansas during this past spring semester, Lee appreciated Harris' situation. Entering his junior season with the Jayhawks, Lee, a safety, wouldn't judge the young corner too harshly if it took Harris some time to adapt to playing at the college level. And that's why even the KU veteran who knew Harris best walked away from spring practices impressed. By Benton Smith

Just a few years ago, Kevin Feder was a four-star prep offensive lineman with enough potential to sign with national powerhouse Ohio State. Now he's oh his way to Kansas. By Benton Smith

Though they play for a team often overlooked on the national landscape, Kansas football redshirt seniors Daniel Wise and Joe Dineen won't go unnoticed in their final year with the Jayhawks. By Benton Smith
June 2018
May 2018
April 2018
March 2018
Previous Next