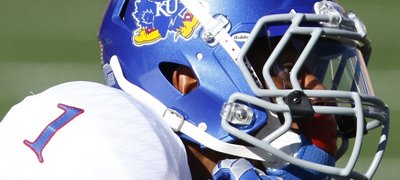 Signs of spring: Flowers budding, birds chirping louder, the scent of fresh-cut grass floating in the breeze and jaws dropping watching Kansas University wide receiver Rodriguez Coleman, long, lean and, above all, fast. By Tom Keegan

The Kansas University cornerback got burned, and the receiver had nothing but air between him and the end zone during Saturday morning's spring football practice. That happens. The cornerback stopped running. That won't happen again, unless he wants to be caught in the middle of a vise of incensed coaches one more time. By Tom Keegan

The whole thing lasted less than 10 seconds but so adequately summed up the work that had been done in the Kansas University football weight room from early December to mid-March.

Kansas Athletics, Inc., and first-year Kansas University football coach David Beaty recently finalized Beaty's five-year contract and the details and language within it may be the best indicator to date that KU learned a valuable lesson from the failings of its past two contracts with dismissed football coaches Turner Gill and Charlie Weis.

Wednesday's pro timing day for Kansas University's football team attracted scouts from 25 NFL teams and produced mixed results for the 15 members of the 2014 KU football team who participated. By Matt Tait

There was no depth chart, only a number of different position charts. There were no old habits, only new routines. And by the time the first spring practice under first-year Kansas University football coach David Beaty had wrapped — a little more than three hours after it began, thanks to a lightning delay that Beaty called "adversity" — Beaty summed up the day with genuine excitement over what had just been accomplished.
Such good weather leading up to the first day of spring football practice and then Tuesday arrives and wham. Gray skies. A brief appearance of the sun. Heavy rain. Two different hail storms. A brief blast of thunder and lightning.

Kansas University football coach David Beaty has been a busy man since he was hired back in December. And all of the running from place to place to meet with recruits, fans, administrators and donors is something the first-year coach believes was critical in building his program. By Matt Tait

The Kansas University secondary will enter the 2015 season in full rebuild mode now that former Big 12 defensive newcomer of the year Isaiah Johnson is leaving. KU football announced Friday afternoon that Johnson, a safety from Cary, North Carolina, who started at Kansas during the past two seasons, had decided to leave Lawrence after graduating in May.
Former Kansas University cornerback JaCorey Shepherd on Monday at the NFL scouting combine in Indianapolis did not have the same kind of breakout day his former teammate Ben Heeney did a day earlier. By Matt Tait

Heading into Sunday, former Kansas University linebacker Ben Heeney had a specific set of goals for his performance at the NFL scouting combine. And then he hit the field in Indianapolis and outdid them all. By Matt Tait

No, February doesn't really qualify as football season. But new Kansas University football coach David Beaty and his staff certainly don't care. They already have made stops in Hays, Hutchinson and Topeka this month as they tour the Sunflower State for a series of meet-and-greets designed to introduce the new coaches to the KU fan base.
In making his latest stop on a tour of the state, this one Thursday night at Sporting KC's headquarters, first-year Kansas University football coach David Beaty shared more information with the surprisingly big crowd that shows he's sincere about wanting more of a Kansas flavor to the roster.

After all those days of testing themselves against the Big 12's best and pushing themselves in the film room, weight room and on the practice field, former Kansas University football players Ben Heeney and JaCorey Shepherd stand on the brink of some of the biggest tests of their lives. By Matt Tait

It may be just a subtle shift, but the focus of Kansas University football recruiting appears to have changed.
March 2015
February 2015
January 2015
December 2014
Previous Next