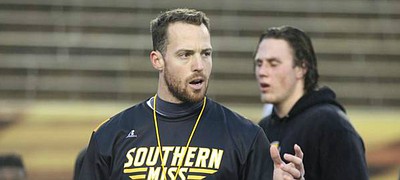 Currently operating within a crucial portion of the college football offseason, Kansas head coach David Beaty wasted no time in filling a staff vacancy. Beaty announced Thursday the addition of Zac Woodfin as the new director of strength and conditioning. By Benton Smith
Micah Brown's project to air on Showtime
Imagine a world where the better a prisoner is at beating up another man with his fists and feet, the greater his chance at gaining freedom. Better yet, don't imagine that world. Immerse yourself in it from a safe distance for 90 minutes Friday night in front of your television. You can do that by watching former Kansas football player Micah Brown's documentary, "Prison Fighters: 5 Rounds to Freedom." By Tom Keegan

No longer a part of the Kansas football team's plans at quarterback, former starter Montell Cozart announced Tuesday afternoon his intentions to transfer. By Benton Smith

When a football program such as Kansas — which hasn't posted a winning record in eight seasons or won more than three games in seven — starts landing commitments from four-star prospects and appearing on national top-10 lists dedicated to recruiting success, those following the sport can't help but wonder how something like that occurs. As a result, the college football nation is getting an informal introduction to second-year KU running backs coach Tony Hull. By Benton Smith

Looking to bring an experienced defensive assistant to his third Kansas football staff, head coach David Beaty officially announced Friday the addition of former Ohio defensive line coach Jesse Williams. By Benton Smith

And then there were four. Once a group of six, the number of Class of 2018 Louisiana prospects committed to the Kansas football program again shrank on Thursday, when three-star defensive lineman Nelson Jenkins announced his intentions to play closer to home, at LSU. By Benton Smith

It didn't take David Beaty long to find a new defensive line coach. Days after news of Michael Slater's departure from the Kansas football staff emerged, his replacement was identified. By Benton Smith

After one season with Nick Saban's Crimson Tide, and appearing briefly in five games for a team that won the national championship, Charlot decided to leave behind the glory of SEC royalty. This past August, ahead of what would've been his sophomore season with Alabama, Charlot resurfaced at Kansas, a program long serving as the butt of Big 12 jokes. By Benton Smith

In just a couple of months, fans looking for a sneak peek at David Beaty's third Kansas football team will get their chance when the Jayhawks invite the public into Memorial Stadium for their annual spring game. By Benton Smith

Kansas football coach David Beaty's 2017 coaching staff isn't quite fully assembled after all.

Serving as a reminder of just how mercurial the college football recruiting world can be, Kansas coaches learned Sunday night one of the touted Louisiana prospects who committed to join the Jayhawks just over a week ago has decided to back out. By Benton Smith

Kansas will pay its nine assistant football coaches $3,031,999 in 2017.

After sitting out and playing only on the scout team during his first year in the University of Kansas football program, quarterback Carter Stanley began his redshirt freshman season this past fall as the odd man out — the third quarterback on a team rotating two others in and out of the lineup.

Early in David Beaty's tenure as head football coach at Kansas, athletic director Sheahon Zenger mentioned in passing but with confidence that it had been his experience that it takes until a coach's third year on the job for him to get his staff just right.

Less than a week after adding the first player in the 2018 recruiting class, the Kansas football team picked up its eighth pledge Thursday. By Bobby Nightengale
February 9, 2017 4:17 p.m.
February 2017
January 2017
December 2016
November 2016
Previous Next