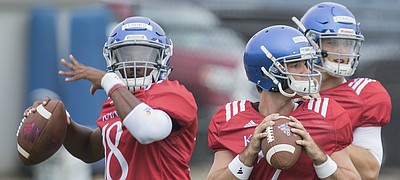 Barring unforeseen injuries or issues, KU will at no point in the coming months have to consider the merits of redshirt freshman Tyriek Starks or true freshman walk-on Miles Fallin as a starting quarterback. Still, both are just one unavailable QB in front of them away from moving up the depth chart. By Benton Smith

Listening to Kansas football head coach David Beaty and defensive coordinator Clint Bowen talk about what Mark Mangino's return to Memorial Stadium means to them and listening to Mangino talk about the role his gratitude for KU's loyal football fans played in his decision to come back, a thought occurred: Could the season-opening game vs. Southeast Missouri State be the school's first football sellout since Mangino was head coach?

When the weather forecast for Wednesday morning called for rain, the Kansas football staff decided to turn a negative into a positive and reward the Jayhawks with a new experience. By Benton Smith

Among all the words offensive coordinator Doug Meacham has used since accepting his position at Kansas to describe what type of weapon junior receiver Steven Sims Jr. can become in his Air Raid system, three stand tall above the rest. Makes. You. Miss. By Benton Smith

A second-team All-American in 2007, James McClinton was a beast of a defensive tackle, so explosive, so quick, so strong, so consistently enthusiastic.

As recently as the spring semester, the Kansas football roster only featured two tight ends: senior Ben Johnson and redshirt freshman Ryan Renick. While it seemed an indicator of the need, or lack there of, for tight ends in the Jayhawks' Air Raid offense, head coach David Beaty disclosed earlier this week his pleasure with the team's ability to add a number of tight ends and H-backs. By Benton Smith

Kansas went 50-48 in eight seasons under Mark Mangino and is 14-70 in the eight seasons since. In his final two seasons, the average attendance at Memorial Stadium was 50,907 (2008) and 50,581 (2007). Attendence has dropped every season since and was 25,828 in 2016.

Talib, Collins, Mangino to join KU's hall of fame
Nearly 10 years after the 2007 Kansas football team became the winningest in program history, members of the squad, who went on to lead the Jayhawks to an Orange Bowl championship, will see their names become permanent fixtures at the university. By Benton Smith
While observing the ongoing quarterback competition between junior transfer Peyton Bender and redshirt sophomore Carter Stanley, Kansas offensive coordinator Doug Meacham has gone on record saying he doesn't care if the Jayhawks wait until kickoff of the Sept. 2 opener to announce a starter. Meacham had no update on the timetable while speaking with media Monday, but said the lengthy battle has benefited both Bender and Stanley. By Benton Smith

The defensive playbook has been installed and athletes on coordinator Clint Bowen's side of the ball have no problems getting lined up or identifying assignments. Still, following Kansas football's 13th preseason practice Monday, Bowen explained what the defense has shown him has left him underwhelmed. By Benton Smith

Kansas State left tackle Scott Frantz, a Free State High graduate, earned a spot on the Associated Press all-bowl team by holding No. 1 overall draft pick Myles Garrett of Texas A&M without a sack. Right tackle Dalton Risner did a better job against Big 12 2017 preseason defensive player of the year Dorance Armstrong than anyone Kansas faced in 2016.

"I decided it's go-time. Time to dye this thing in, get ready to go," Joe Dineen said of rocking a mustache for Kansas football's preseason camp. By Benton Smith

At one of the deepest and most talented position groups, defensive end Vaughn Taylor Jr. quickly impressed his Kansas football teammates and coaching staff. By Bobby Nightengale
August 13, 2017 4:43 p.m.

As he is wont to do, Kansas football head coach David Beaty used a portion of his interview time this week to highlight the names of players who grabbed his attention with their play over the course of the past several practices. By Benton Smith

After 10 practices worth of playbook install, drills and meticulous buildup designed to keep players healthy throughout the preseason, the Kansas Jayhawks finally on Friday experienced their first thorough camp scrimmage. While third-year head coach David Beaty said KU previously went through two "mini-scrimmages" involving roughly 60 live plays apiece, he described the morning's activity as the initial "big scrimmage" since the team opened camp July 31. By Benton Smith
August 2017
July 2017
Previous Next