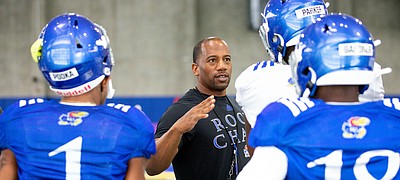 Assistant also picks up contract extension
After one season as the receivers coach on Les Miles' Kansas football staff, Emmett Jones impressed his boss and the Kansas Athletics administration enough to gain a new job title and a contract extension. By Benton Smith

First 2 years guaranteed
Formerly the defensive coordinator and safeties coach at New Mexico, Peterson signed a deal with KU that's guaranteed for both the 2020 and 2021 seasons, and could potentially last four additional years, through the 2025 season. By Benton Smith

As former University of Kansas football coach David Beaty's legal pursuit of his $3 million buyout continues, his attorneys are now seeking raw footage from a TV series starring his replacement.
January 15, 2020 4:04 p.m.

When the University of Kansas promoted the football team's receivers coach, Emmett Jones, to passing game coordinator and extended his contract, the administration also made sure to make it a little less appealing for other teams to hire him away. By Benton Smith

The Kansas football team hasn't participated in the postseason since 2008, but the Jayhawks got to share a small fraction of the spotlight during Monday's national championship game, when the most renowned player in the program's history picked up another honor.

A Texas native and former Big 12 defensive back at Texas A & M, Jordan Peterson is returning to the conference, this time at the University of Kansas, as the newest assistant on Les Miles' coaching staff.

A former linebacker for the University of Kansas pleaded no contest Friday and was convicted of aggravated battery.
January 10, 2020 2:03 p.m.

The long and difficult path to a professional football career is taking three former Kansas football players to Florida this weekend, for the SPIRAL Tropical Bowl.

An unheralded high school offensive lineman from Oklahoma, Jackson Satterwhite announced Wednesday his intentions of joining the Kansas football program.

Hakeem Adeniji hadn't even completed his first year at the University of Kansas when the offensive lineman began to think he had arrived as a college football player. His hunch proved correct, as further confirmed this week, when the four-year starter for the Jayhawks learned the NFL selected him as a participant at its 2020 scouting combine. By Benton Smith

The Kansas football program lost the pledge of its most heralded 2020 prospect on Tuesday. Brennan Scott, a four-star linebacker from Dallas, announced on Twitter his decision to decommit from the Jayhawks. By Benton Smith

Gavin Potter entered the 2019 season as a backup inside linebacker. In KU's first couple of games, he barely played. However, what proved to be a season-ending injury to Dru Prox during the Jayhawks' Big 12 opener against West Virginia thrust Potter into the spotlight ahead of schedule. By Benton Smith

Kansas Team Health and KU coach Les Miles announced Thursday that Ben Iannacchione has been named Director of Sports Performance for the KU football program.
By J-W Staff Report
January 2, 2020 10:16 a.m.

Andrew Parchment, a breakthrough performer at wideout in his first year at KU, actually entered the long offseason feeling quite upbeat about the offense's future. And that stems from his confidence in KU's receiving corps. By Benton Smith
Before the Jayhawks head into 2020, and the second year under head coach Les Miles, here's a look at the previous 10 years, and some of the program's best players. Benton Smith
January 2020
December 2019
November 2019
October 2019
September 2019
Previous Next