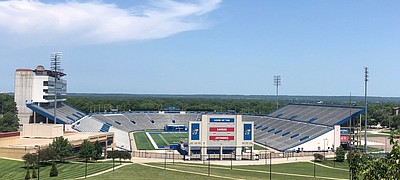 Although it took time to finalize the details, Kansas Athletic Director Jeff Long identified a replacement for New Hampshire on KU's 2020 football schedule the same day that UNH pulled out. By Matt Tait

KU's schedule will look different than planned
Following the lead of college football's other Power Five conferences, the Big 12 will implement a trimmed down schedule for the upcoming season.

QB, OL from Arkansas commit to Jayhawks
As Kansas football head coach Les Miles and his assistants finally began full-blown preparations for the 2020 season, with the team's first practices of the year this past weekend, the Jayhawks also started adding potential pieces for their 2022 roster.

For the second time this summer, the Big 12 Conference has canceled its virtual media day for the 2020 football season. By Matt Tait

One of the most unusual seasons in Kansas football history officially opens Friday, when the Jayhawks conduct their first official practice of 2020. Here are five key questions the Jayhawks are facing as they open preseason camp. By Matt Tait

Wednesday's newly unveiled plans for the 2020 football season in the Atlantic Coast Conference figure to have a direct impact on the Kansas football schedule. By Matt Tait

Kansas Athletics on Tuesday night released the results of its most recent round of COVID-19 testing, which yielded zero positives in 156 tests. By Matt Tait

Those working to get college sports up and running have been hoping the return of professional sports would provide valuable information that could aid their efforts to play through a pandemic. A COVID-19 outbreak for a Major League Baseball team three days into its season forced two games to be postponed Monday and brought a glimpse of how difficult the task will be.
By Ralph D. Russo, The Associated Press
July 28, 2020 3:02 p.m.

Less than a week after de-committing from Ohio, three-star defensive back DeVonte Wilson orally committed to Kansas on Saturday afternoon. By Matt Tait

The Kansas football program has a new start date for the 2020 season and a new first opponent. By Matt Tait

Earlier this week, two of the Kansas football program's most dynamic offensive players were named to watch lists that honor all-around versatility.

The NCAA football oversight committee is asking the association's Board of Governors to avoid making a decision soon on whether to conduct fall championships as college sports tries to find a path to play through the pandemic.

The University of Kansas football program resumed voluntary workouts on Wednesday, 19 days after suspending offseason activities because of a dozen positive COVID-19 tests. By Matt Tait

University of Kansas senior Kyle Thompson was one of 19 punters in the country named to the Ray Guy Award preseason watch list on Wednesday.

Two-star offensive lineman Larson Workman became the 14th prospect in the 2021 recruiting class to commit to the Kansas football program. By Matt Tait
August 2020
July 2020
June 2020
May 2020
April 2020
March 2020
January 2020
December 2019
November 2019
October 2019
Previous Next