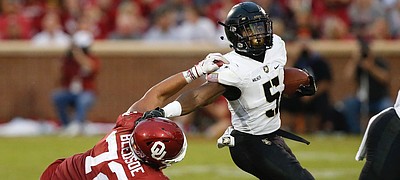 Look for eight more Big 12 defenses to play Kansas the way Baylor did Saturday in scoring a 26-7 victory vs. the Jayhawks: Put eight men in the box, gang tackle Pooka Williams, and trust that KU's receivers won't get open deep.
After suffering a shoulder injury during the Kansas football team's 26-7 road loss at Baylor this past Saturday, sophomore quarterback Miles Kendrick's status for the Jayhawks' upcoming matchup with Oklahoma State remains undetermined. By Benton Smith
Waco, Texas — Backup quarterback Miles Kendrick left the game with an unspecified injury midway through the third quarter and did not return.

Waco, Texas — The Baylor football team's defense figured out how to take Pooka Williams out of the game for all but one big run and poof, just like magic, the Kansas offense vanished.

The harsh reality of Big 12 football hit visiting Kansas hard Saturday afternoon inside Baylor's McLane Stadium. After winning their final two nonconference games by an average margin of more than 30 points, the Jayhawks couldn't score on the Bears until six-plus minutes into the third quarter and stumbled to a 26-7 loss. By Benton Smith

There are tangible reasons to believe KU has a better shot of competing in the Baylor game this time. Yet, the intangible factors appear even stronger.

Sure, Baylor remains in the early stages of a massive rebuild, finished ninth in the Big 12 in 2017 and was picked in the preseason poll to again land next to last (also known as one spot better than KU). Nevertheless, the Bears (2-1) are easily the best team Kansas has faced this season. By Benton Smith

The names broadcasted over the public address system for tackles in Kansas' 55-14 win over Rutgers had a familiar ring with Lawrence residents.
By Andrew Rosenthal
September 20, 2018 5:35 p.m.

Pooka Williams' skills aren't only dropping jaws around Lawrence. According to Pro Football Focus, the Jayhawks' young offensive star is the third-best true freshman in all of FBS through three weeks. By Benton Smith

Jayhawks haven't won a Big 12 road game since 2008
Especially for the players who have suffered through the program's struggles the longest, burying KU's 46-game road losing streak in Mount Pleasant, Mich., and delivering consecutive victories for the first time since 2011 felt meaningful. Now there is another streak for the Jayhawks to vanquish. And redshirt senior linebacker Joe Dineen didn't need to hear the entirety of a question earlier this week to identify it. By Benton Smith

"Guys are playing more confident and more relaxed and listening to (defensive coordinator Clint Bowen), and obviously applying it," Daniel Wise said. "And you see what happens when you do that." The most eye-popping upshot, through three nonconference games at least, has been the defense's ability to turn opponent mistakes into punishing takeaways. By Benton Smith

So you have to wonder, if KU implemented a flexbone offense, a la Army and Navy, would that improve both the running game and the passing game?

Before taking up football, Azur Kamara's dream was to return to Ivory Coast to become a soccer player for the national team. He said when he walked onto the field for his first high school football practice, he didn't have the first clue how to watch the sport, much less play it.

When Daniel Wise hurt an ankle badly enough to limp off the field this past Saturday during the Kansas football team's home game against Rutgers, the redshirt senior defensive tackle was adamant about checking back in. By Benton Smith

Miles Kendrick remains part of game plan
Although he watched the entire second half of the Kansas football team's home win over Rutgers from the sideline with coaches and reserves, senior quarterback Peyton Bender will keep his spot as the Jayhawks' starting QB on Saturday at Baylor. However, David Beaty also said Bender might man the spot for "one" play or "50" plays. By Benton Smith
September 2018
August 2018
Previous Next