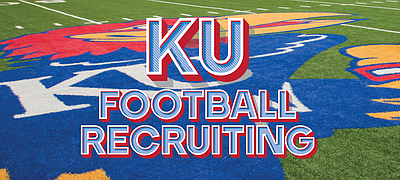 Another in-state prep football player is headed to the University of Kansas. Pratt senior Hunter Kaufman announced via Twitter his decision to attend KU and join the Jayhawks' football program. By Benton Smith

The moment Donald Trump decades ago first went public with his dream of one day becoming president of the United States, the world laughed. He decided not to run in 1988, but his dream never died. He was just sworn in as our 45th president. So now would be as good a time as anybody to go public with my dream: Kansas will play in a bowl game after the 2018 season.

Face it and embrace it: The momentum for Kansas football feels more real now than at any moment in the post-Mangino/Reesing years. By Tom Keegan

Three Jayhawks hoping to showcase their football skills for professional scouts will get a chance to do so this Sunday, in Daytona Beach, Florida. Defensive end Damani Mosby, cornerback Marnez Ogletree and safety Tevin Shaw — all seniors for Kansas football in 2016 — will team up again at the second annual Tropical Bowl. By Benton Smith

David Beaty's days of running the Kansas football team's offense are over. The third-year head coach announced Thursday the hiring of offensive coordinator Doug Meacham, who joins the Jayhawks after working the past three seasons at another Big 12 program, TCU. By Benton Smith

Former Kansas quarterback Ryan Willis quietly was shopping for more than Christmas presents throughout December. He was shopping for a new university where he could continue his football and academic careers.

It won't happen immediately, but the Kansas football team soon will begin playing a heartier non-conference schedule. By Benton Smith

Kansas sophomore quarterback Ryan Willis informed football coach David Beaty of his intention to transfer during a phone call Wednesday night, according to a source familiar with Willis' decision. Willis plans to resume his academic and football career at Virginia Tech, multiple sources said.

A year ago Austin Barone was catching his breath after a 21-hour semester, his last at the University of Kansas. Heading into this year's industry sales season — Barone leaves Friday for the American Football Coaches Association convention — Just Play Sports Solutions has clients nationwide from high school to at least one pro team, a board of directors with semi-celebrity names, and an optimistic outlook.
January 5, 2017 7:32 p.m.

After spending one season on David Beaty's Kansas football coaching staff, wide receivers coach Jason Phillips has left the program to head to Pac-12 country, where he'll work for coach Gary Andersen at Oregon State. By Benton Smith

Against Iowa State, Kansas football special teams coordinator Joe DeForest sent kick returner LaQuvionte Gonzalez to the end zone — to hide. Ultimately, the play didn't set up a score — or even a victory — but it proved bizarre enough to populate the college football Twittersphere and highlight shows on Nov. 12, and the "camouflage" kickoff now has KU up for USA Today Sports' Coach's Play Call of the Year. By Benton Smith

Now that January has arrived, the on-campus offseason preparation for Kansas football's 2017 campaign will commence before players know it — and, in just a few months, spring football practices. While the majority of that work will be done by returning Jayhawks, third-year coach David Beaty is glad eight new members of the program will be a part of that growth, too. By Benton Smith

Beaty expects former WSU QB to push Carter Stanley
Peyton Bender hasn't even practiced with Kansas yet, but from the moment he steps foot on campus in January, the junior quarterback will be required to take on a prominent role. That directive comes straight from the man running the program, David Beaty, who thinks Bender's talent and time in the Air Raid offense at Washington State makes him capable of immediately challenging for KU's starting spot. By Benton Smith

As 2017 approaches and University of Kansas football coach David Beaty continues to immerse himself in the offseason drudgery that comes with trying to restore the rundown program he took over two years ago, he understands expectations have risen. By Benton Smith

When the Tampa Bay Buccaneers selected Aqib Talib in the first round of the 2008 NFL Draft, young Hasan Defense didn't know much about the All-American cornerback or even that Talib had played at the University of Kansas. That was prior to Defense becoming a standout corner himself, and even longer before the young Tampa fan ever thought about playing the same position for the Jayhawks. By Benton Smith
January 2017
December 2016
November 2016
Previous Next