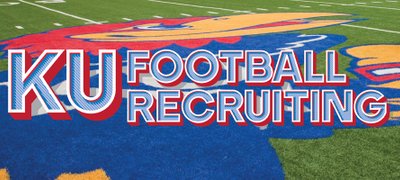 The final weekend before signing day is always a big deal, but this weekend looks to have even more importance for the Kansas University football program, which still is in the process of trying to fill up first-year head coach David Beaty's first recruiting class. By Matt Tait

With national signing day less than a week away and coaches across the country still scrambling to fill their classes or find those diamond-in-the-rough athletes, it has become a tense time for the Kansas University football staff.
Ed Warinner, Kansas University's offensive coordinator oh-so-many head coaches and so few years ago, was back in Lawrence on Tuesday, although not in the capacity that he had hoped.

Former Kansas Univeristy linebacker Ben Heeney, who led the Jayhawks in tackles during each of the past three seasons and earned first-team all-Big 12 honors in 2014, and cornerback JaCorey Shepherd, who was among the top corners in the country in passes defended in 2014, on Tuesday, learned that they had received invitations to the annual NFL Scouting Combine. By Matt Tait
A trio of former Kansas University football players made their debuts in the Pro Bowl on Sunday evening.

Jayhawks pick up weekend commitments from four more Texans
It was net two for the Kansas University football recruiting efforts over the weekend, as the Jayhawks and head coach David Beaty picked up four more oral commitments but also lost two previous commitments to other schools. By Matt Tait

When former Kansas University safety Justin Thornton sits down to watch this year's NFL Pro Bowl — 7 p.m. Sunday night, ESPN — he'll see three guys he started next to in KU's 2008 Orange Bowl secondary making their first appearances in the postseason all-star game. By Matt Tait
The Los Angeles Dodgers moved their preseason home from Vero Beach, Florida, to Glendale, Arizona, when Kansas University football pledge Carter Stanley was in fifth grade. So ended a father-son annual outing. By Tom Keegan

The Journal-World has learned that former Kansas University running back Brandon Bourbon will enroll at Washburn University in Topeka and play his final season of eligibility for the Ichabods next fall.
For much of his coaching life, Clint Bowen has been one of the youngest guys on any coaching staff of which he has been a part. Not anymore. By Matt Tait

Shola Ayinde, a two-star defensive back from Georg Ranch High in Richmond, Texas, announced on Twitter late Monday night that he had orally committed to the Kansas University football program. By Matt Tait
The commitment of Vero Beach (Florida) High quarterback Carter Stanley gives Kansas University football coach David Beaty options not just at quarterback, but with quarterbacks. By Tom Keegan

The Kansas University football program picked up another oral commitment in the Class of 2015 over the weekend, as Vero Beach (Florida) High quarterback Carter Stanley pledged to join the Jayhawks. Stanley, a 6-foot-2, 188-pound QB with good mobility and a good arm, was named MVP of his region in 2014 after throwing for 3,070 yards, 40 touchdowns, and seven interceptions and rushing for nearly 600 more yards and seven touchdowns. He has been clocked at 4.6 seconds in the 40-yard dash. By Matt Tait
Two Kansas University football players — linebacker Ben Heeney and wide receiver Nick Harwell — competed in college all-star games Saturday.
With the Kansas University football coaching staff fully in place, head coach David Beaty and company wasted no time in getting out on the road in an attempt to fill the final few spots in the 2015 recruiting class.
January 2015
December 2014
November 2014
Previous Next