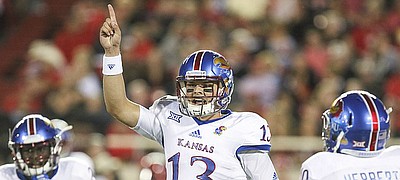 The road losing streak reached 37 games. The perplexing quarterback rotation continued. The hurry-up offense still has a round-peg, square-hole feel to it for a perpetual underdog. And the offensive line, even at full strength, is too weak for the Big 12. By Tom Keegan

As many likely expected, the University of Kansas football team couldn't put together nearly enough stops on defense or scores on offense to keep pace with Texas Tech in a 55-19 defeat Thursday night at Jones AT & T Stadium. By Benton Smith
Dorance Armstrong had two first-half sacks and a third was nullified by a teammate's penalty.
By J-W Staff Report
September 30, 2016 12:26 a.m.

Years before David Beaty and Kliff Kingsbury became Big 12 head coaches, they got to know each other, really by chance, as assistants on opposing college football staffs in Texas. By Benton Smith

Despite improved play on defense, the Kansas football team couldn't keep pace with Texas Tech in a 55-19 loss Thursday at Jones AT & T Stadium — which was closer than the final score indicated.
September 29, 2016 11:17 p.m.

Get the keys for Kansas, mega matchups and more for the Jayhawks' Big 12 opener at Texas Tech. By Benton Smith

Texas Tech quarterback Patrick Mahomes II steadily develops, his statistics improving with each year. A year ago in Lawrence, he and then freshman Kansas quarterback Ryan Willis produced nearly identical passing statistics, a game won by Texas Tech, 30-20. By Tom Keegan

A quarter of the way through his second season in charge of the dormant University of Kansas football program, head coach David Beaty makes sure to appreciate signs of growth anywhere he can find them. By Benton Smith

Kansas takes a 36-game road losing streak into Lubbock, which lends credence to the argument that this is not a good time for the Jayhawks to play on national TV. But what if the streak ends on national TV?

Kliff Kingsbury carefully reviewed the video from his next opponent's most recent outing and Texas Tech's head football coach said he came away unconvinced Kansas actually is as bad as the score indicated in the Jayhawks' 36-point loss at Memphis a week and a half ago. By Benton Smith

Now in his second season as head coach at Kansas, David Beaty was asked on Monday's Big 12 coaches media teleconference whether last year's 10-point home loss to Texas Tech served as a starting point for preparing for the upcoming Thursday night rematch of sorts at Jones AT & T Stadium, in Lubbok, Texas.By Benton Smith
Sure, the University of Kansas football team had a bye this past week, but the Jayhawks likely wouldn't have minded even more time off for preparation, considering what awaits them Thursday night in Lubbock, Texas. By Benton Smith

The Kansas football team's 2016 schedule ordered Saturday as a day off for the Jayhawks (1-2), but second-year head coach David Beaty, his staff and players obviously had plenty of work to do this week. By Benton Smith

Tom Keegan believes Bernadette Gray-Little's successor has a chance to make football a priority and in the long run the investment will pay off.

Athletic director Sheahon Zenger and football coach David Beaty haven't had much cause for smiling in recent weeks, but chancellor Bernadette-Gray Little's decision to step down in the summer of 2017 bodes well for the job security of both men.
September 2016
August 2016
Previous Next