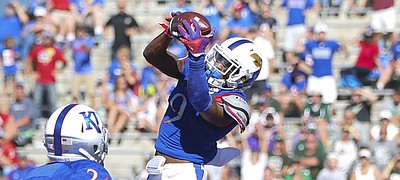 KU

CB

Stewart gets offer from Chargers

The final rounds of the 2017 NFL Draft drew to a close Saturday without former Kansas safety Fish Smithson getting the optimal congratulatory phone call for which he hoped. After seven rounds and 253 picks, though, Smithson's professional aspirations weren't thwarted. The 5-foot-10, 201-pound defensive back from Baltimore knew entering the weekend free agency could be his path toward his dreams. By Benton Smith

A graduate transfer from Nebraska looking to play closer to his hometown of Kansas City, Mo., offensive lineman Zach Hannon plans to do so at the University of Kansas. Listed most recently on the Cornhuskers' roster as a 6-foot-5, 315-pound lineman, the former Rockhurst High standout announced Thursday afternoon via Twitter he will enroll at KU, where he will be eligible for the 2017 season. By Benton Smith

Regardless of how this weekend plays out for NFL Draft hopeful Fish Smithson, the three-year University of Kansas safety will go back to a lesson passed on to him from a couple of men who know more than most about making it as a defensive back at football's highest level. "It's not about how you start. It's about how you finish. So don't really worry about it," Smithson said recently of some pre-draft wisdom he picked up from former KU standouts Aqib Talib and Chris Harris Jr. By Benton Smith

he Big 12 is no place to break in a defensive backfield, but in years that it's necessary, it helps to have a disruptive pass rush and Kansas is certain to have that.

Kansas football coaches began their annual spring "Kansas blast" on Monday, hitting various high schools around the Sunflower State to not only build relationships with prep coaches but also search out in-state talent. One day into the strategic recruiting approach, the Jayhawks landed their first in-state commitment for the Class of 2018. Wichita Collegiate offensive tackle Mac Copeland declared on Twitter Monday night his intentions to sign with KU football. By Benton Smith
Now that spring football has ended for Kansas, it no longer is too early to take a guess at statistical leaders in various categories.

As anticipated, the race to become the Jayhawks' No. 1 QB won't draw to a close until at least August. Had one candidate dominated and the other floundered, David Beaty, offensive coordinator Doug Meacham and quarterbacks coach Garrett Riley could have reached a verdict. Instead, Peyton Bender and Carter Stanley enter the next portion of the offseason still aiming to overtake the other. All of which is absolutely fine with Meacham. By Benton Smith

Tyrone Miller Jr. maintains that it was an easy decision, and one he certainly doesn't regret. During the summer before his senior year of high school, Miller had to choose between football and dancing. For the previous five years, he had managed to balance both. By Shane Jackson

The University of Kansas has received formal approval to ban guns from games at Allen Fieldhouse and Memorial Stadium. Metal detectors and guards would be put in place for men's basketball and football games, primarily, but also to any other sporting event expected to draw more than 5,000 to the facilities, under a proposal approved Wednesday morning by the Kansas Board of Regents governance committee.
April 19, 2017 11:22 a.m.

Although this past Saturday's spring game served as the mark-your-calendar and tell-your-friends date for Kansas football players, it didn't double as the conclusion of the Jayhawks' offseason schedule. KU's coaches still had two more sessions on the docket this week to both build off what players accomplished at the scrimmage and/or address issues that remained as the Jayhawks near the spring ball finish line. By Benton Smith

Armstrong, Wise make Jayhawks strong up front
Currently in his 18th season working on the Kansas football staff in some capacity, defensive coordinator and assistant head coach Clint Bowen has seen a multitude of Jayhawks try and make an impact as defensive linemen through the years. Few have impressed Bowen more than junior defensive end Dorance Armstrong, who, along with junior tackle Daniel Wise, gives KU what their coach likes to call "two impact guys" By Benton Smith

Third-year Kansas football coach David Beaty left Memorial Stadium Saturday feeling good about his Jayhawks' performance at the team's spring game. Beaty just wished they could have given the fans a little bit more of an offensive show. "We've just got to do a better job of finishing. I would've liked to see more points scored today," Beaty said. By Benton Smith

Less than two hours after the completion of his program's annual spring game, Kansas football head coach David Beaty was on Twitter, firing off his favorite hashtag, "Neat deal." By Benton Smith

Kansas quarterbacks Peyton Bender and Carter Stanley began competing for the program's starting job the day Bender set foot on campus a few months back, so Saturday's spring game didn't feel too different for the two players on the field with the most eyes on them. By Benton Smith

Alabama transfer Daylon Charlot made the prettiest play of the day, pulling a Peyton Bender pass out of the sky in traffic and keeping a foot inbounds for a 28-yard reception. The loudest moment came courtesy of none other than the Water Moccasin himself, rising sophomore safety Mike Lee.
April 2017
March 2017
February 2017
Previous Next