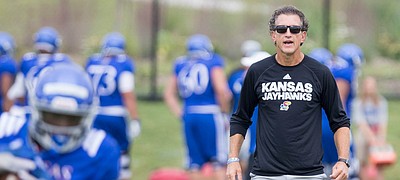 With his Kansas football team 0-3 in the Big 12 following a 2-1 start during the less challenging nonconference portion of the schedule, head coach David Beaty decided this past Wednesday, during the Jayhawks' bye week, to fire offensive coordinator Doug Meacham. By Benton Smith

Long before their final season in Lawrence began, Kansas football's standout redshirt seniors, Daniel Wise and Joe Dineen, learned they ranked among the program's all-time best in career tackles for loss. And with Dineen, a linebacker, leading Wise, a defensive lineman, by 3.0 TFLs, the race to the top, and former KU linebacker Willie Pless's record of 41 (from 1982-85) was on. By Benton Smith

David Beaty fired offensive coordinator and quarterbacks coach Doug Meacham during the bye week and took over Meacham's responsibilities. Now is the fourth-year Kansas head coach's first chance to prove that move is one capable of invigorating his team. By Benton Smith

Next season will feature 2 bye weeks
What exactly the Kansas football team's lineups and coaching staff will look like by the time the 2019 season gets here is anyone's guess at this point. As of Thursday, though, with the Big 12 unveiling next year's football schedule, we now all know the dates on which the Jayhawks will be playing on the forthcoming calendar. By Benton Smith

As far as bye weeks go, the Kansas football team's became far more eventful than most when head coach David Beaty fired offensive coordinator and quarterbacks coach Doug Meacham during the Jayhawks' break from their 12-game schedule. But according to the players who went through it, the midseason interruption also served its intended purpose. By Benton Smith

The Associated Press released its midseason All-American team Tuesday afternoon, and not surprisingly, one of David Beaty's Kansas recruits made the first-team offense.

The Kansas football team's overall struggles this season haven't stopped some talented individuals from standing out. Both freshman running back Pooka Williams and redshirt senior linebacker Joe Dineen landed this week on national midseason All-America teams. By Benton Smith

Bender once again starting QB
After a complete offseason of working directly with Doug Meacham, plus six weeks worth of regular season practices, meetings and scheming with the Kansas football team's offensive coordinator and quarterbacks coach, Peyton Bender and his fellow QBs showed up at Anderson Family Football Complex this past week to learn Meacham had been fired. By Benton Smith

For most of the first five games of the season, Kansas defensive tackle Daniel Wise's contributions came more schematically than statistically. According to KU head coach David Beaty, it was during the week of WVU preparation that the coach let Wise know the Jayhawks needed more. By Benton Smith

Athletic directors in search of new head football coaches find that there are advantages and disadvantages to hiring assistant coaches to their first jobs as head coaches.

David Beaty almost found the right solution to the Kansas football program's main problem. In fact, he only missed by one letter. Beaty hired himself again as offensive coordinator. He should have fired himself as head coach. By Tom Keegan

Fourth-year Kansas football coach David Beaty engaged his itchy trigger finger yet again Wednesday, firing offensive coordinator Doug Meacham in a two-paragraph press release. Beaty said he will handle in-game play-calling and will coach quarterbacks, duties Meacham handled for the first half of a 2-4 season.
Kansas football coach David Beaty announced Wednesday evening that he had fired offensive coordinator Doug Meacham.
By J-W Staff Report
October 10, 2018 6:08 p.m.

Sure, John Hadl's name helped him to do his job so well for the Williams Fund, but his ears were an even greater tool in his former role as Kansas closer on big gifts to the athletic department.

Beaty: Kendrick in contention for job, too
Headed into KU's bye week, is it safe to say that the QB position is as up in the air as ever? By Benton Smith
October 2018
September 2018
Previous Next