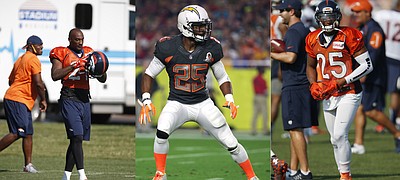 Every time Kansas University safety Bazie Bates IV takes a seat in Mrkonic Auditorium at Anderson Family Football Complex, the junior from Trinity Valley Community College can look over his shoulders and see larger-than-life reminders of what is possible for a Jayhawks defensive back. By Benton Smith
It's that time of year: time to predict the Kansas University football team's record, and then get ready to duck from verbal darts accusing me of a "negative" slant. By Tom Keegan
From the time he arrived in Lawrence through the start of preseason camp, first-year Kansas University offensive line coach Zach Yenser made clear the details of his search for the five linemen who would work hard, play smart and not be afraid to battle their butts off.

The college head coaching careers of West Virginia's Dana Holgorsen and first-year Kansas University football coach David Beaty have more than a few similarities.

Maybe the coaching staff can get creative and find ways for junior-college transfer Ke'aun Kinner and senior De'Andre Mann to play at the same time, with Kinner lining up in the slot or motioning out of the backfield and lining up as a wide receiver. By Tom Keegan
The city of Lawrence is again offering an alternative to searching for parking around Kansas University's Memorial Stadium — and walking for blocks to the game — this football season. Park downtown and catch the bus.
The extent of the information we've learned about Kansas University defensive end Damani Mosby — from the day he arrived on campus, and even a little before that — has started and ended with his ability as a pass-rusher. But as it turns out, Mosby has focused on much more than sacking the quarterback. By Matt Tait

Every school's football schedule has a litmus test. The season opener vs. South Dakota State of the Football Championship Subdivision qualifies as Kansas University's. By Tom Keegan
The New York Jets have waived quarterback Jake Heaps and signed quarterback Josh Johnson.

The opening game of the Kansas University football season is just nine days away. But you'd never know it from watching the Jayhawks work this week at practice. By Matt Tait

Now that Montell Cozart has been named starting quarterback, it's time to look at the most promising targets he'll look for when a pass play is called. To Cozart's detriment, tight end Jimmay Mundine and receivers Nigel King and Nick Harwell have exhausted their eligibility. They all had a knack for getting open and consistently catching what was thrown their way.
It sounds as if one of the biggest factors in the decision to name Montell Cozart Kansas University's starting quarterback for the 2015 season may have been his feet.

Last week, first-year Kansas University football coach David Beaty made no secret about the fact that he plans to play several of his youngest players during the 2015 season.

Up a few pounds and 2 percent body fat from the end of the 2014 season, Kansas University junior Montell Cozart on Monday was named the Jayhawks' starting quarterback for 2015 by first-year coach David Beaty. By Matt Tait

The purpose of head football coach David Beaty's news conference Monday inside Mrkonic Auditorium was to announce Kansas University's starting quarterback of the present, Montell Cozart. Those listening closely could hear the thundering footsteps of the program's QB of the not-necessarily-distant future. By Tom Keegan
Previous Next