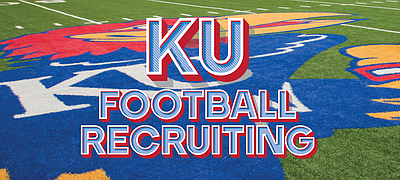 The Kansas football program picked up commitments from a pair of potential impact transfers on Saturday, adding to the already strong crop of transfer portal pick-ups Lance Leipold and his staff have reeled in this offseason. By Matt Tait

It was another wild and unpredictable year in KU sports in 2021, with upsets, debuts, memorable moments and incredible individual performances dominating the landscape. As we prepare to turn the page to 2022 and begin to look ahead to all that's in store for the coming year, here's a quick look back at the top 10 sports stories in Kansas athletics from the past 12 months. By Matt Tait

With their top pass rusher out of eligibility and another entering the transfer portal, the Kansas football program hit the road in search of at least one impact defensive end this offseason. They may have found one in Miami (Ohio) sophomore Lonnie Phelps. By Matt Tait

Kansas Athletics recently announced that student-athletes at KU set a school record with a combined 90% Graduation Success Rate for student-athletes who began their full-time collegiate careers in the fall of 2014.
By J-W Staff Report
December 25, 2021 12:54 p.m.

When head coach Lance Leipold and his staff took over the Kansas football program this past May, they knew recruiting for the 2022 class would be slow-going at first, given the timing of the transition and only a handful of months left before the early signing period arrived. It didn't take long for them to adapt and embrace the possibilities that the NCAA's transfer portal had to offer.

Whether it will become a new Kansas football tradition remains to be seen, but for the second straight season the Jayhawks will kick off their schedule with a Friday night home opener in 2022.

Kansas running back Amauri Pesek-Hickson has entered the transfer portal and will play college football somewhere else during the 2022 season.
By J-W Staff Report
December 16, 2021 11:23 a.m.

When the Kansas football staff determined the Jayhawks needed to add a high school quarterback to their 2022 recruiting class, the coaches already had Ethan Vasko in mind.
Even though Texas Tech's hiring of former Kansas football receivers coach Emmett Jones means KU will benefit from a $600,000 buyout, KU head coach Lance Leipold said the university did its best to keep Jones in Lawrence.

Kansas football head coach Lance Leipold was all of 10 seconds into his opening remarks during his early signing period press conference when he brought up the fact that the Jayhawks only signed six players on Wednesday.

The Kansas football program's quarterback depth for 2022 took a hit when two reserves — Miles Kendrick and Conrad Hawley — decided to leave via the transfer portal.

Members of the Kansas football team's 2022 recruiting class began making their commitments official on Wednesday morning, as the early signing period kicked off nationwide.

The size of the Kansas football program's 2022 recruiting class shrank by one on the eve of the early signing period, when junior college linebacker Mike Smith announced he has decommitted from the Jayhawks.

Lance Leipold's Kansas football staff continued to hit the transfer portal hard on Tuesday, as former UCF linebacker Eriq Gilyard announced his commitment to the program.

Kansas football head coach Lance Leipold and his staff found their prep quarterback for the 2022 recruiting class when Ethan Vasko announced Monday evening his commitment to the Jayhawks.
December 2021
November 2021
October 2021
September 2021
Previous Next