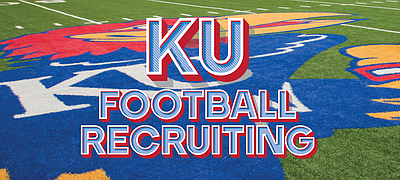 A lively weekend for the Kansas football program's recruiting efforts kept jetting along Saturday night. Fewer than 24 hours removed from the first commitment of a dizzying span featuring high school prospect after high school prospect announcing his plans to join the Jayhawks, the weekend total for new Class of 2020 pledges hit seven. By Benton Smith

"You should see how we recruit. We recruit like we make a game plan," Les Miles said. The approach implemented by Miles and his staff must be doing the trick, given the success of this past weekend, when eight new prospects verbally committed to KU's 2020 recruiting class. By Benton Smith

Two days worth of recruiting victories weren't enough for the Kansas football program this weekend, as the conveyer belt of commitments kept adding to the stockpile on Sunday. By Benton Smith

The weekend additions for Kansas football didn't stop when the Jayhawks added two players to their 2020 recruiting class on Friday night — not even close. By Benton Smith

Both considered three-star members of the Class of 2020 according to Rivals, offensive lineman Garrett Jones and cornerback Ja'Cobee Bryant verbally committed to join Les Miles' Jayhawks during their official visits. By Benton Smith

When the dust finally settles on Les Miles' 2020 Kansas football recruiting class months from now, it's possible the work currently being done during the summer will go down as the most crucial stretch of the process. By Benton Smith

According to the Greater Baton Rouge Business Report, the father of a former LSU football offensive lineman who played for Les Miles received payments from a man who pleaded guilty to stealing more than $550,000 from a nonprofit organization.

As a midyear transfer enrolling at the University of Kansas this past January, Thomas MacVittie got some crucial acclimating out of the way upon joining the football program. By Benton Smith

On a Sunday in late November of this past year, when he was introduced as the new head football coach at the University of Kansas, Les Miles mentioned the college football game he and his family members had attended the previous day. The Miles clan had ventured to Chapel Hill, N.C., to see one of Les' sons, Manny, who was a backup quarterback at North Carolina. It turns out that won't be the last time the now much busier coach will get to watch Manny play in person. By Benton Smith

The Kansas football program added its second 2020 recruit from the bordering Show Me State on Tuesday evening.

June remained hot on the recruiting front for the Kansas football program on Monday, with another commitment secured. For the sixth time this month KU's list of 2020 recruits continued growing, and for the second time in that span the new pledge came from a familiar southeastern state. By Benton Smith

On the same day Kansas lost a player from its 2020 class, Les Miles gained another verbal commit.

Keith Miller III has flipped his commitment again.

Not long after Emmett Jones was named the new receivers coach for the Kansas football team, he sat down to watch some film on Evan Fairs.

Another local product is slated to join the Kansas football team.
May 2019
April 2019
March 2019
February 2019
December 2018
November 2018
Previous Next