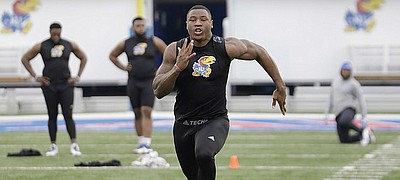 Every college football player fueled by NFL aspirations needs to listen to what Dan Shonka of Ourlads scouting service has to say about why he likes former Kansas defensive end Dorance Armstrong.

Two of the Kansas football team's top three pass-catchers from 2017 won't be around this fall to invigorate the passing game. While neither produced on the level of the Jayhawks' returning prime target, receiver Steven Sims Jr. (59 catches, 839 yards, six TDs), the 5-foot-10 senior from Houston could use some support. By Benton Smith

Daniel Wise considered innumerable factors this past winter while scrutinizing the benefits and drawbacks of foregoing his final college football season in order to enter the NFL Draft. "Other than personal growth and to get stronger and wiser and all that stuff," Wise said, "I felt like something was missing. I didn't want to go out with my college career the way it went out." By Benton Smith

Kansas football coach David Beaty says he's parking a little farther away from Anderson Family Football Complex these days. Spots near the program's home base aren't nearly as plentiful now that lot No. 59 west of David Booth Kansas Memorial Stadium is closed, with construction teams mobilizing this week to build KU's new indoor practice facility. By Benton Smith

Kansas football coach David Beaty opened his press conference Wednesday afternoon by offering the program's fans a further explanation on the decision to replace this year's spring game with an open practice. Beaty emphasized he would prefer the Jayhawks play a full scrimmage on April 28 at David Booth Kansas Memorial Stadium. By Benton Smith

Construction work is underway on the new $26 million indoor practice facility for the University of Kansas football team, with the project expected to be completed before the end of the year.
April 18, 2018 11:28 a.m.

Don't show up at the newly christened David Booth Kansas Memorial Stadium on April 28 expecting to see a football game. By Benton Smith

More than a month in advance of spring football, Kansas coaches shared the bad news with their players. Starting center Mesa Ribordy had to retire. It was around that mid-February day when new KU offensive line coach A.J. Ricker sought out Andru Tovi, an eight-game starter at guard for the Jayhawks the previous fall. By Benton Smith

Considering how long it took Najee Stevens-McKenzie to reach Lawrence, his new address just might mean more to him than it means to most Kansas football players. By Tom Keegan

A difficult off-season for the receiver that included witnessing his older brother, Cole, murdered this past December, and an arrest on suspicion of DUI in March, led to Chase Harrell deciding to move on and the program granting him a release. By Benton Smith

Whether it was Peyton Bender or Carter Stanley playing quarterback for Kansas this past season, more often than not passing plays failed to produce their desired results. Whatever the factors, off-season QB improvements — or perhaps naming a different starter entirely — will be essential to putting a more adequate KU offense on the field this coming fall. By Benton Smith

Over the course of his first two seasons at the University of Kansas, Hakeem Adeniji hasn't missed a start yet. If the offensive lineman's off-season recovery from a pair of shoulder surgeries is any indication that streak won't end anytime soon. However, another potential key contributor for KU's offense, tight end Kenyon Tabor, hasn't yet experienced the physical upturn he hoped for this off-season. By Benton Smith

Work on the new multimillion-dollar indoor practice facility for the University of Kansas football team will begin soon.

According to Kansas football coach David Beaty, this off-season he and his staff have and will continue to confront "a lot" of areas where the program needs to improve. Beaty described one such goal as morphing the Jayhawks into "the toughest team" in the Big 12. By Benton Smith

For the first four months of his football off-season, Kansas tight end James Sosinski experienced what he described as almost no football-related activities. Preoccupied from December through March with his role as a walk-on with KU basketball, Sosinski didn't appear too rusty upon his April return to the gridiron, though. By Benton Smith
April 2018
March 2018
February 2018
January 2018
December 2017
Previous Next