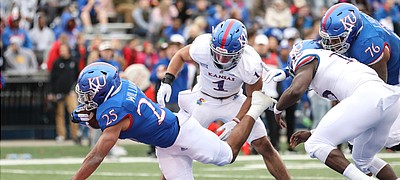 Spring games aren't supposed to reveal much of anything about a college football team's potential — head coaches such as Les Miles would have it no other way. Benton Smith

The morning after KU's final spring practice, the staff embarked on what was branded as "Operation Capture KC," to open the current evaluation period. By Benton Smith

A defensive back whose path through the college football ranks began at the junior college level, Davon Ferguson arrived at the University of Kansas in the spring of 2018 confident that his playmaking ability would get him on the field sooner rather than later. By Benton Smith

Multimillion dollar renovations to Allen Fieldhouse and David Booth Kansas Memorial Stadium could be coming for KU Athletics, but details on what the projects would entail are not clear.
By Dylan Lysen
April 18, 2019 4:49 p.m.

Though it may have seemed from the outside that the Kansas football program's spring schedule culminated with this past Saturday night's scrimmage, what with approximately 70 recruits in attendance and a Rick Ross performance capping the evening, Les Miles' team wasn't done with spring football quite yet. By Benton Smith

Some contracts extensions for head coaches and athletic directors at Kansas universities will now need approval from Kansas Board of Regents officials before they can be offered.
By Dylan Lysen
April 18, 2019 2:12 p.m.

Keith Miller III, a 6-foot-5 receiver from The Colony, Texas, who made an official visit to KU's campus this past weekend for the team's scrimmage and postgame Rick Ross performance, announced on Twitter his decision to commit to head coach Les Miles and KU. By Benton Smith

As soon as the spring game ended, Kansas safety Bryce Torneden rushed back to the locker room to take a shower. He, along with the rest of his KU teammates, eventually made it back to David Booth Kansas Memorial Stadium. By then, a stage had been set up near midfield for Rick Ross. But, as so often is the case, it didn't take long for head coach Les Miles to steal the show. Shane Jackson
For a man who has gone out of his way the past several weeks to reveal as little as possible about what's going on behind the scenes of his Kansas football program, head coach Les Miles made a relatively startling statement on Monday evening regarding his new team. By Benton Smith

As two of the more impactful players in KU football history returned to Lawrence for the spring game and a weekend full of reunions, both Todd Reesing and Chris Harris Jr. felt upbeat about the current direction of KU football, under Les Miles. By Benton Smith

As important as Saturday's festivities at David Booth Kansas Memorial Stadium were for the Jayhawks who were able to show off their skills during the spring game, the weekend itself doubled as a giant stage for the program and its future under new head coach Les Miles.

Anyone interested in getting a peek at the early stages of Les Miles' overhaul of the KU football program has the chance to do so at Saturday night's spring game. By Benton Smith

When Daylon Charlot left college football juggernaut Alabama in 2016, he had extensive on-field plans in store for his next stop. The receiver from Patterson, La., didn't anticipate it taking him long to become a prominent part of the offense at his new home, the University of Kansas. By Benton Smith

With any college football coaching regime change comes adjustments for the players who spent the previous season — or longer — studying, practicing and executing a specific set of plays. At the University of Kansas, where Les Miles this past November took over a wobbling program that has won three or fewer games each of the past nine seasons, some modifications will be more drastic than others. By Benton Smith
Kansas fans will have to watch more games via online streaming moving forward
By Staff report
April 10, 2019 2:34 p.m.
April 2019
March 2019
February 2019
December 2018
November 2018
Previous Next