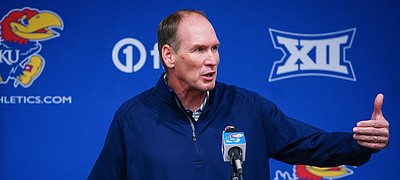 Kansas football head coach Lance Leipold announced on Friday the hiring of three new members of the Jayhawks' support staff, as well as a new role for another staffer.

It's not that Kenny Logan Jr. undervalues what he achieved individually for the Kansas football program this past season, it's just that the safety and special teams returner wants more.

The number of commitments in the Kansas football team's 2022 recruiting class shrank to three this weekend, as Xavion Brice announced he will be looking to play elsewhere.

Kansas football offensive coordinator Andy Kotelnicki doesn't take a dictatorial approach to play-calling. A longtime Lance Leipold assistant who coordinated the offenses at both Wisconsin-Whitewater and Buffalo before joining Leipold at KU, Kotelnicki recently explained he prefers working jointly with other assistants when he's compiling a play sheet for any given game.

As Kansas football players get initiated this summer into what head coach Lance Leipold and his staff expect of them, a handful of Jayhawks already are getting noticed. The team's director of sports performance, Matt Gildersleeve, tabbed veteran quarterback Miles Kendrick KU's first "guy of the week" for all that the QB has done during the Jayhawks' strength and conditioning workouts so far.

Less than a month before name, image and likeness laws go into effect in several states, NCAA President Mark Emmert was back in Washington D.C. this week renewing his plea for help from Congress — help that is unlikely to come as soon as the NCAA would like. The Associated Press
By Ralph D. Russo, The Associated Press
June 10, 2021 9:46 a.m.

Several student-athletes at the University of Kansas delivered a memorable performance in the classroom during the recently completed spring semester.

Although the previous Kansas football coaching staff implemented a different base defense than what new coordinator Brian Borland likes to run, the man now in charge of the Jayhawks' defensive schemes and calls doesn't foresee many issues accompanying a shift from a three-man front to a four-man front.

A gaping hole suddenly emerged in the Kansas football secondary on Sunday, as starting cornerback Karon Prunty announced he is leaving the program and entering the transfer portal. By Benton Smith

As much as his successful runs leading both Wisconsin-Whitewater and Buffalo paved the way for Lance Leipold to be hired as the head football coach at the University of Kansas, another job from his past with far less responsibilities often comes to Leipold's mind as he contemplates the Jayhawks' future.

Jamahl Horne's days of producing exclusively on special teams for the Kansas football program appear to be a thing of the past. A high-speed kick returner for the Jayhawks each of the past two seasons, Horne showed the type of progress this spring that has KU receivers coach Emmett Jones convinced the 5-foot-10, 186-pound junior is ready to contribute for the offense, too.

When Jim Zebrowski first set foot on the University of Kansas campus in May, the football team's new quarterbacks coach put himself through a crash course fact-finding mission. After all, walking into a different program after spring practices already had concluded meant Zebrowski didn't know much about the QBs he'll soon be in charge of preparing for the rigors of a Big 12 season.

With pandemic recruiting restrictions finally lifted by the NCAA as of Tuesday, when the calendar turned to June, Kansas football head coach Lance Leipold anticipates the next few weeks will be bustling around the facility.

Zion DeBose never got a chance to play for Lance Leipold at Buffalo, but the former Virginia Tech defensive end plans to do just that at Kansas.

The Kansas football program continued to be a popular landing spot for former Buffalo players on Monday, as three more transfers announced they are joining the Jayhawks.
June 2021
May 2021
April 2021
March 2021
February 2021
December 2020
Previous Next