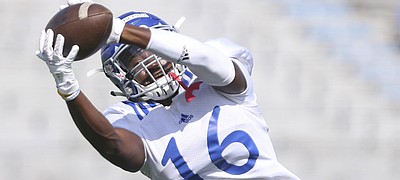 One of the room's senior leaders, Brandon Stewart arrived a good half-hour early for a morning cornerbacks meeting at the beginning of preseason camp. But Stewart wasn't alone. True freshmen Mike Lee, who KU now lists as a safety, and Kyle Mayberry were right there with him, ready to dive in. By Benton Smith

Of all the challenges facing Kansas football coach David Beaty, stage fright isn't one of them. Still, instead of flying solo Friday night at the athletic department's annual KU Kickoff at Corinth Square, Beaty addressed the fans flanked by some of the more promising Jayhawks in his rebuilding program. By Benton Smith

Through his travels up the football coaching ranks, few obligations invigorated KU's David Beaty as much as calling plays for his team's offense. When he took over as offensive coordinator at Rice, the program experienced significant gains in some key statistical categories. By Benton Smith

When true freshmen arrived on campus this summer, Kansas offensive line coach Zach Yenser greeted the new blood in his unit with a straightforward message: "Don't come in here with the mindset that you're gonna redshirt." Apparently newcomer Hakeem Adeniji latched onto that piece of advice and blocked with it. By Benton Smith

As much as assistant Kenny Perry loves seeing KU's secondary expand its depth, this month at preseason practices the fiery coach also has enjoyed spotting the improvements on the opposite side of the ball. By Benton Smith

The first time Brandon Stewart heard the faint buzzing emanating from the airspace above the Kansas football practice field, he assumed the worst. A senior cornerback, Stewart knew the team had expanded its video equipment to include a drone. It just took a few preseason practices for the Jayhawks to get used to the newest addition to the program. By Benton Smith

Tom Keegan writes that Kansas won't have any trouble winning its season opener but after that, envisioning another victory gets a little murkier. Quarterback and offensive line are two of seven concerns about the 2016 Jayhawks.

Every time the Kansas football team plays a home game, head coach David Beaty would like to see Memorial Stadium filled to capacity, with more than 50,000 spectators cramming into the nearly century-old venue. The second-year coach also understands the struggling program has a lot of work to do before that vision comes close to reality. By Benton Smith

If David Beaty's plan comes to fruition, his Kansas players will exit preseason camp more football savvy than when they arrived. In an effort to make the Jayhawks a smarter team, the second-year coach made a point this week to simulate as many specific game scenarios as possible. The KU faithful who made it out to Memorial Stadium Saturday morning for Fan Appreciation Day got to witness exactly what the coach meant. By Benton Smith

Coach cites Manziel, Reesing as examples for QB leadership
One of these days Kansas football coach David Beaty will be ready to name a staring quarterback. Friday just wasn't that day. By Benton Smith
While KU's season opener is still a couple weeks away, offensive line coach Zach Yenser expects to know as early as this weekend which five Jayhawks he'll ask to protect sophomore Ryan Willis or red-shirt junior Montell Cozart at quarterback against Rhode Island on Sept. 3. By Benton Smith

Each time David Beaty, preparing for his second football season at KU, gives an update on the progress witnessed at practices, his handy list of Jayhawks who have impressed him seems to grow. Likewise, players and assistant coaches often cite the quality and quantity of players competing for spots as a true sign of the program's improvement over the last 12 months. By Benton Smith

Pair of Crimson Tide transfers part of Kansas rebuild
The number of Jayhawks practicing at Kansas football preseason camp only grew by one Monday morning at Memorial Stadium, but given the size of new offensive lineman Charles Baldwin, the roster felt significantly altered for the better. By Benton Smith

One play into the Kansas football team's 12th preseason practice, junior tight end Ben Johnson became the offense's Monday morning hero at Memorial Stadium. By Benton Smith

On-the-job-training for a true freshman, brutally painful though it was at times, has helped Ryan Willis prepare for his sophomore season. Still, he'll only be as good as the protection in front of him.
August 2016
July 2016
Previous Next