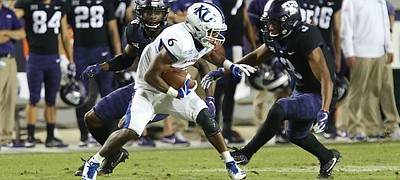 With only five games remaining on the schedule in head coach David Beaty's third season leading the Kansas football program, the offense has reached a desolate state. A week after putting up zero points, 106 yards and five first downs at Iowa State, the Jayhawks somehow regressed in a 43-0 shutout at TCU. The latest four quarters of mishaps featured only four first downs (two via Horned Frogs pass interference penalties) and a feeble 21 yards of total offense. By Benton Smith

In the wake of a mortifying offensive outing at TCU, head coach David Beaty and his Kansas football staff are taxed with doing everything within their power to make the Jayhawks competitive. While areas of concern exist across the board following back-to-back shutout blowouts on the road, a reinvigorated KU rushing attack could be as good a starting point as any. By Benton Smith

The Kansas football program lost more than a Big 12 road game to a top-five team Saturday night in Texas. By Benton Smith

Only one other team playing at college football's highest level has ever lost as many road games in a row as Kansas. By Benton Smith

Negativity ruled the night for the Kansas football team's backpedaling offense Saturday at Amon G. Carter Stadium. By Benton Smith

One play can't capture the state of a football program. It doesn't work that way, except with Kansas football. By Tom Keegan

For the first time since 1986, the Kansas football team failed to score any points in back-to-back weeks.
October 21, 2017 10:20 p.m.

It's not often that a football player at the University of Kansas can take the field knowing what he does over the course of the coming four quarters could be applauded or scrutinized on a national stage. That's the scenario in front of the Jayhawks Saturday night at Amon G. Carter Stadium. TCU's status as the No. 4 team in the nation inspired FOX to broadcast in prime time what shapes up as a lopsided Big 12 matchup. By Benton Smith
Get the keys to the game before the Jayhawks, losers of five straight, face undefeated No. 4 TCU under the lights at Amon G. Carter Stadium. By Benton Smith

Kansas football defensive coordinator Clint Bowen didn't have to look far this week to find an expert on key members of TCU's offense. Typical video study on his own, of course, could have shown Bowen what the No. 4-ranked Horned Frogs have done to propel the team to a 6-0 start. But Bowen also prepared for the Jayhawks' nationally-televised road challenge by picking the brain of KU offensive coordinator Doug Meacham. By Benton Smith

In the first three starts of Peyton Bender's Kansas football career, the desired results didn't always show up, but the junior transfer quarterback at least eclipsed 300 yards every week. In three losses since, though, Bender's yardage production has declined, too. So where exactly does his confidence stand after a couple of rough weeks? By Benton Smith

It's one of the great mysteries of our time, ranking right up there with the location of Jimmy Hoffa's corpse, the success of unwatchable reality shows and a giraffe only needing 30 minutes of sleep per day. Why does Kansas compete way better against TCU than vs. any other Big 12 school? It defies explanation.

Perhaps the most difficult part of enduring the kind of nightmarish game the Kansas football team's offensive players did this past weekend at Iowa State, in a 45-0 shutout, is not allowing the clunker to further haunt them as they try to move forward. By Benton Smith

Loss would tie KU for all-time worst road streak
In its early years, long-running T.V. variety series Saturday Night Live branded its cast members as "the not ready for prime time players." Those who follow the Kansas football program closely might say the same of the Jayhawks, particularly after back-to-back debacles — against Texas Tech and at Iowa State. Third-year head coach David Beaty would disagree. By Benton Smith

David Beaty has the second half of his third season to prove he has made progress with the Kansas football program. But D-Day comes earlier than that for the man making the call on Beaty's boss, athletic director Sheahon Zenger. A generous estimate for that timetable is two weeks.
October 2017
September 2017
Previous Next