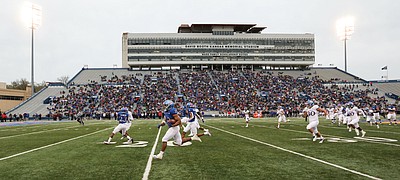 While Clemson quarterback Trevor Lawrence, Ohio State QB Justin Fields, Oklahoma State running back Chuba Hubbard, Alabama running back Najee Harris and other high profile college stars became the prominent voices of a "We Want to Play" movement, some lesser known players from the University of Kansas used social media to share their thoughts, too.

It could be much longer than expected before Kansas football head coach Les Miles can lead the Jayhawks into his second season with the program.

The Kansas football team might still open up its abbreviated 2020 schedule against Southern Illinois, but it's not likely to be on Aug. 29 as scheduled. By Benton Smith

The Kansas football program's next recruiting class now has a second in-state prospect on board. Christien Hawks, an offensive tackle from Norton, made his decision known Friday morning.
The man who helped set up the Kansas football team's only Big 12 victory in 2019, senior long snapper Logan Klusman enters the coming season on the Patrick Mannelly Award preseason watch list.

A three-star cornerback who picked up scholarship offers from Florida State, Auburn, Tennessee and Missouri earlier in his recruitment has decided to take a different route by committing to Kansas.

Kansas football players are facing many unknowns as the COVID-19 pandemic looms over the season, but one bit of uncertainty is all too familiar to the Jayhawks: the quarterback competition. By Benton Smith

KU football's new 10-game schedule remains in the works
The reshaping of the Kansas football program's 2020 schedule isn't complete yet. Although the Big 12 determined Monday night its teams will play 10 regular-season games in the months ahead, the final version of the revised calendar is still in the works. By Benton Smith

KU's schedule will look different than planned
Following the lead of college football's other Power Five conferences, the Big 12 will implement a trimmed down schedule for the upcoming season.

QB, OL from Arkansas commit to Jayhawks
As Kansas football head coach Les Miles and his assistants finally began full-blown preparations for the 2020 season, with the team's first practices of the year this past weekend, the Jayhawks also started adding potential pieces for their 2022 roster.

For the second time this summer, the Big 12 Conference has canceled its virtual media day for the 2020 football season. By Matt Tait

One of the most unusual seasons in Kansas football history officially opens Friday, when the Jayhawks conduct their first official practice of 2020. Here are five key questions the Jayhawks are facing as they open preseason camp. By Matt Tait

Wednesday's newly unveiled plans for the 2020 football season in the Atlantic Coast Conference figure to have a direct impact on the Kansas football schedule. By Matt Tait

Kansas Athletics on Tuesday night released the results of its most recent round of COVID-19 testing, which yielded zero positives in 156 tests. By Matt Tait

Those working to get college sports up and running have been hoping the return of professional sports would provide valuable information that could aid their efforts to play through a pandemic. A COVID-19 outbreak for a Major League Baseball team three days into its season forced two games to be postponed Monday and brought a glimpse of how difficult the task will be.
By Ralph D. Russo, The Associated Press
July 28, 2020 3:02 p.m.
August 2020
July 2020
June 2020
May 2020
April 2020
March 2020
January 2020
December 2019
November 2019
October 2019
Previous Next