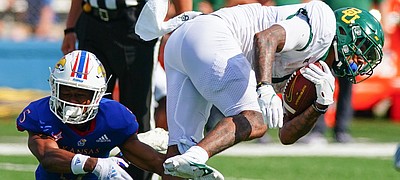 The Kansas football team's first Big 12 encounter on head coach Lance Leipold's watch turned into a rout in the second half Saturday, as Baylor left David Booth Kansas Memorial Stadium with a 45-7 victory.

Kansas football players will have to add regrouping to their typical game week preparation after the Jayhawks suffered their first one-sided defeat of the season against Baylor. One key takeaway from an unprosperous Saturday, KU sophomore receiver Trevor Wilson said following a 45-7 beating, was that the players can't let what transpired impact their motivation.

With the Kansas football team's chances of opening up Big 12 play with a win all but gone by the fourth quarter Saturday against Baylor, head coach Lance Leipold let starting quarterback Jason Bean sit.

Jayhawks, Bears set for 2:30 p.m. kickoff in Big 12 opener
Instrumental for the Kansas football offense through the first two nonconference games of the season, junior quarterback Jason Bean will need to keep showing off his speed in the Big 12 opener.

The Kansas football defense faced its first substantial test of the season in Week 2 at Coastal Carolina. The 49-22 road loss against a veteran-laden top-20 team, KU defensive coordinator Brian Borland said, allowed him to learn about where the defense is at — and how it needs to improve — as the Jayhawks head into Big 12 play.

Following a brief appearance for Amauri Pesek-Hickson late in the Kansas football team's road loss at Coastal Carolina this past week, head coach Lance Leipold hopes the redshirt freshman running back can keep easing his way into a larger workload moving forward.

Ahead of KU's Week 3 Big 12 opener versus Baylor (2:30 p.m. Saturday, ESPN+), Kyron Johnson spoke about his role and what he's hoping to get accomplished — on and off the field — this fall with the Jayhawks.

The Kansas football coaches asked far more of running back Devin Neal in Week 2 than they did in the Jayhawks' opener. So much so that the true freshman became the featured back for the offense on its second possession at Coastal Carolina, with Neal seven days removed from his one-carry, one-yard college debut.

The Kansas football team could be without starting offensive lineman Colin Grunhard again this week, when the Jayhawks open Big 12 play.
Lance Leipold won't have to worry about his Kansas football team taking on BYU, Cincinnati, UCF or Houston any time soon, but Leipold expects the four future Big 12 programs will be "fine additions" to the conference.

University of Kansas Chancellor Douglas Girod said Monday that KU "ended up in a good place," in the wake of last week's addition of four schools to the revamped Big 12 Conference. By Matt Tait

Members of the Kansas football team didn't leave Brooks Stadium carefree Friday night following the Jayhawks' 49-22 loss at No. 17 Coastal Carolina. But head coach Lance Leipold and KU's skill players witnessed some offensive growth they considered promising in Week 2.

Quarterback Jason Bean flashed again for the Kansas football team Friday night at Brooks Stadium, but that wasn't nearly enough for the Jayhawks to keep up with No. 17 Coastal Carolina.

University of Kansas Athletic Director Travis Goff considered Friday's Big 12 expansion a good day for the conference, but Goff didn't slam the door on KU looking elsewhere in the future.

The Big 12 extended membership invitations Friday to BYU, UCF, Cincinnati and Houston to join the Power Five league that will be losing Oklahoma and Texas to the Southeastern Conference.
By Associated Press
September 10, 2021 9:32 a.m.
Previous Next