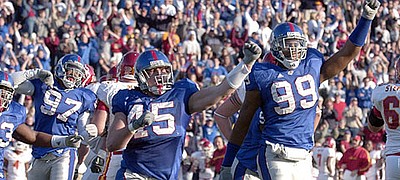 Sources close to the Kansas University football program earlier this week told the Journal-World that former KU linebacker Kevin Kane is expected to rejoin the program as a part of new head coach David Beaty's coaching staff. By Matt Tait

Newly hired Kansas University football coach David Beaty has received a lot of praise for his early run of success on the recruiting trail that landed eight mid-year junior-college transfers on Wednesday.

Even though Trinity Valley Community College teammates Bazie Bates IV and D'Andre Banks committed to the Kansas University football program six months apart, the two friends and teammates spent plenty of time talking about the Jayhawks during the wait.

A little more than a week ago, Kilgore College cornerback M.J. Mathis had his entire world turned upside down.
The nice thing about Kansas University changing football coaches at the rate Bruce Jenner changes faces centers on the guessing game as to the important hires the head coach will make. It's an enjoyable exercise. Try it.

Jayhawks also on the verge of adding another offensive lineman
Recent Kansas University football commitment Ke'aun Kinner, a 5-foot-10, 185-pound running back from Navarro College, was named a first-team NJCAA All-American on Tuesday.
The same question has been asked late in the season of every Kansas University head football coach in recent years: What players who are red-shirting this season have stood out in practice? By Tom Keegan

Kansas University football program picked up yet another commitment from the Class of 2015 Monday afternoon.

The break in the latest Kansas University football recruiting haul lasted barely 12 hours, as KU coach David Beaty and his program picked up another oral commitment Monday morning.

Last week, during his first week on the job, Kansas University football coach David Beaty wasted no time in hitting the recruiting trail. This weekend, with 11 prospects making official visits to campus, five future Jayhawks rewarded that effort by wasting little time committing to Kansas.

Wednesday night in Tampa, Florida, Kansas University senior cornerback JaCorey Shepherd received this year's Lee Roy Selmon Community Spirit Award, given annually to athletes who go above the call of a student, amateur or professional athlete by demonstrating a deep care for others and a connection to the moral growth of their community. By Matt Tait

Three other Jayhawks honored by Big 12 coaches
Two days after earning a second-team all-Big 12 honor from the Associated Press, Kansas University cornerback JaCorey Shepherd received a promotion of sorts from the league's coaches.
By J-W Staff Reports
December 10, 2014 11:43 a.m.

New Kansas University football coach David Beaty knew when he accepted the job that the upcoming season could present enormous challenges. By Matt Tait
The last time I heard a man with a Texas twang passionately insisting that Kansas is the place that all recruiting must start for the Kansas University football program, Don Fambrough was the man doing the talking. By Tom Keegan

In true Texan style, newly named Kansas University football coach David Beaty has an arsenal of catchy clichés and funny phrases that help explain who he is as a football coach, a father and a man. But Beaty used few of them Monday morning at Mrkonic Auditorium. By Matt Tait
December 2014
November 2014
Previous Next