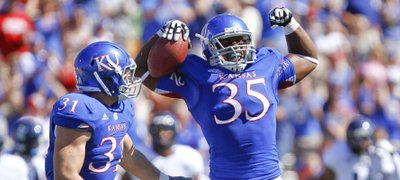 The Kansas City Chiefs have signed former Kansas defensive end Toben Opurum as an undrafted free agent after trying him out as a fullback during rookie minicamp.
Former Kansas University quarterback Dayne Crist signed a free-agent contract with the Baltimore Ravens on Wednesday.
By Staff Reports
May 16, 2013 12:22 a.m.
Talk about a solid encore. A few hours after the Kansas University men's basketball program landed Andrew Wiggins, the top player in the Class of 2013, the KU football program picked up an oral commitment from linebacker Kyron Watson, the No. 4-ranked outside linebacker in the country, according to ESPN.com.

Tanner Hawkinson's transition from tackle to the interior took another step forward last weekend at Cincinnati Bengals rookie minicamp. By Matt Tait

Even if Josh Williams' playing career ends after his tryout with the Bears, his impact on the Kansas program will linger and could go well beyond the modest stats — 24 tackles, 2 QB hurries and 3 fumble recoveries — he put up in 2012. By Matt Tait

Kale Pick, a Dodge City native and former Kansas University wide receiver, officially joined KU football coach Charlie Weis' staff as a graduate assistant on Monday. Those who called Pick a teammate during recent years believe he will bring a lot to the Jayhawks' passing game. By Matt Tait
Kansas Athletics presented the student-athlete members of the 2013 senior class with their K Rings in a ceremony held Monday night in Kansas Student Union. In addition to the K Rings, the program featured awards presentations.

Kale Pick, who graduated from KU in December of 2012 with a degree in psychology, has been added to head coach Charlie Weis' coaching staff, school officials announced Monday.
By J-W Staff Reports
May 6, 2013 3 p.m.

Tanner Hawkinson's versatility was one of the biggest reasons the Bengals targeted the 6-foot-5, 298-pound McPherson native. By Matt Tait

Former Kansas University quarterback Dayne Crist on Saturday night fielded a call from the Kansas City Chiefs and accepted an invitation to mini-camp in a couple of weeks. By Matt Tait

Kansas senior offensive lineman Tanner Hawkinson was selected by the Cincinnati Bengals with the 23rd pick in the fifth round of the NFL Draft on Saturday. By Matt Tait

It has been three years since Kansas University produced an NFL Draft pick, but that streak could end today, thanks to the pre-draft efforts of former KU safety Bradley McDougald and offensive lineman Tanner Hawkinson. By Matt Tait

Watching Ben Heeney play football is a bit like viewing a high-speed demolition derby. He has no problem sacrificing his body, throwing it into harm's way at a very high speed. In fact, he appears to enjoy it quite a bit. Just don't tell him to stand still and watch. Column by Tom Keegan

It's no secret that the Kansas University football program's strongest position heading into the 2013 season is running back. Here's a quick look at the focus for each of KU's top four returning backs this offseason. By Matt Tait and Tom Keegan

A senior Kansas University football player was arrested on suspicion of DUI early Sunday morning in the 1800 block of West Sixth Street.
May 2013
April 2013
March 2013
February 2013
Previous Next