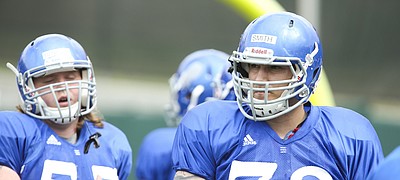 A year ago, Kansas University football player Jordan Shelley-Smith was a 248-pound tight end preparing for his third season in the KU program. Today, he's on the verge of joining the 300-pound club. By Matt Tait

Former Missouri commitment, Harneet Gill, an offensive tackle from Pierce College in Los Angeles, has committed to the Jayhawks, JayhawkSlant.com reported Tuesday night.
Victor Simmons became the 11th Kansas University player to move on to the professional football ranks as he earned a rookie mini-camp invite with the Seattle Seahawks on Monday afternoon.

When 139 college football players — including 18 linebackers — heard their names called in the 2015 NFL Draft before Ben Heeney did, the first-team All-Big 12 linebacker from Kansas University began to wonder why he was still available in the fifth round Saturday. By Benton Smith
Although only three Kansas University football products heard their names called during the NFL Draft on Saturday, a number of their fellow Jayhawks signed free-agent deals in the hours that followed.
By J-W Staff Reports
May 2, 2015 11:37 p.m.

Only 14 picks remained in the final round of the NFL Draft when Oakland made Kansas cornerback Dexter McDonald the 25th pick of the seventh round (242nd overall). "It's definitely an intense feeling," the happy new Raider told the Journal-World." By Benton Smith

A torn left hamstring compromised JaCorey Shepherd's ability to impress NFL scouts in drills leading up to the NFL Draft. But Philadelphia took him with the 15th pick of Round 6. By Benton Smith

Even though four linebackers got picked ahead of him on Day 3 of the NFL Draft, former Kansas linebacker Ben Heeney finally calmed down Saturday when the Oakland Raiders chose him with the fourth pick in Round 5. By Benton Smith

Only 14 picks remained in the entire seven-round NFL Draft Saturday when Kansas University cornerback Dexter McDonald finally heard his name called.

JaCorey Shepherd began his Kansas University football career as a wide receiver, but he'll enter the NFL as a cornerback after turning heads in the secondary during his final three seasons for KU. Philadelphia made the 5-foot-11 defensive back the 15th pick in the sixth round of the NFL Draft on Saturday.

A starting linebacker in his final three seasons at Kansas University, Ben Heeney learned what his NFL future holds Saturday, when the Oakland Raiders selected him with the fourth pick of the fifth round, in the NFL Draft.

When the image of former Kansas University linebacker Ben Heeney working out comes to mind, one might expect a lot of grunting, screaming, sweating and swearing.

Less than 24 hours after from former Texas A&M wide receiver LaQuvionte Gonzalez tweeted out his plans to make KU his new college football home, former South Carolina linebacker Marcquis Roberts announced on his Facebook page his intentions to become a Jayhawk.

Kansas senior quarterback Michael Cummings will require surgery on his left knee, KU coach David Beaty announced in a release Monday morning.
Now that first-year Kansas University football coach David Beaty and his staff have completed their first spring season, it's time to hit the recruiting trail. By Benton Smith
April 2015
March 2015
Previous Next