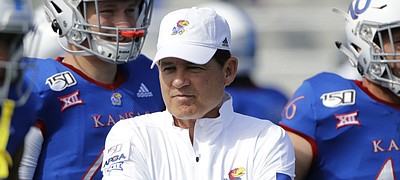 Now the head football coach at the University of Kansas, Les Miles during his tenure at LSU faced allegations of sexual harassment and reached a settlement with one former student intern, according to reports that surfaced on Wednesday.

Former Kansas football star running back Pooka Williams will be back in Lawrence this week, hoping to prove himself as an NFL prospect at the Jayhawks' pro day on Friday.

The Kansas football coaches picked up another three-star prospect for the Jayhawks' 2022 recruiting class on Monday night, when Texas prep Jacobe Chester announced his decision to commit to KU.

Kansas football will have a new outside linebackers coach and special teams coordinator in 2021, and former Bowling Green assistant Jake Schoonover will handle both of those roles.

Pending might be the best way to describe the Kansas football program's current quarterback situation, leading up to the start of spring practices in late March.

In the days leading up to and following February's National Signing Day, the Kansas football program continued to add preferred walk-ons to its list of additions for the 2021 season.

Considering the dearth of victories experienced by the Kansas football program in recent years, KU predictably ended up at the top of an unflattering list that examined costs across FBS programs.

Kansas football coach Les Miles was in the middle of talking up the program's 2021 signing class when unprompted he brought up a particular incoming freshman who already is on campus. "The Missouri lad," Miles would go on to call the young quarterback during a recent phone interview with the Journal-World.

Barring another unforeseen global catastrophe, the Kansas football team's calendar will return to normal in 2021.

Kansas football coach Les Miles and newly hired coordinator Mike DeBord still have some time to lay the foundation for the Jayhawks' new offense before the players get their first cracks at running it during practices.

There won't be an abundance of Brent Dearmon buyout money available for Kansas football to use when it's paying the man Les Miles hired to replace his former offensive coordinator and quarterbacks coach.

Although a number of seniors from the Kansas football program's 2020 roster decided to transfer elsewhere, the Jayhawks are set to bring back eight players for an extra senior year.

While Kansas football coach Les Miles feels upbeat about the entirety of the Jayhawks' latest signing class, he couldn't downplay the significance of topping it off on National Signing Day with the addition of four-star receiver Quaydarius Davis.

Lawrence High senior Cole Mondi knows the challenge that he now has in front of him to carve out a role at the collegiate level.
February 4, 2021 2:03 p.m.

The latest offensive coordinator brought in by Kansas football coach Les Miles, Mike DeBord signed a two-year deal that will pay him $600,000 a year.
February 2021
December 2020
November 2020
October 2020
Previous Next