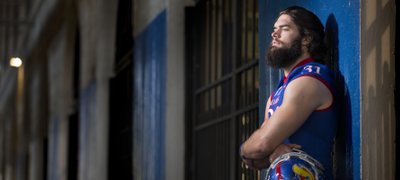 Senior linebacker earns respect from former
KU

greats

Nick Reid, Kevin Kane and Banks Floodman. Mike Rivera, James Holt and Joe Mortensen. All are former Kansas University linebackers who, for one reason or another, won the hearts of the KU fan base during their playing days in Lawrence. And all are names that still make Jayhawk fans think about a style of play more than a team or a time.
Score one for the Clint Bowen recruiting resume. Thursday afternoon, JayhawkSlant.com reported that Josh Moore, a 6-foot-5, 250-pound tight end from nearby Olathe North High had switched his commitment from Ohio State to Kansas University.

Kansas University senior Jimmay Mundine kept his strong season going during last week's 34-21 loss at Texas Tech and the representatives at the John Mackey Award recognized it and threw some praise Mundine's way Wednesday morning.
By J-W Staff Report
October 22, 2014 10:05 a.m.

Kansas University senior Tony Pierson, who missed all but two plays of last Saturday's 34-21 loss at Texas Tech, is being evaluated by doctors this morning for an injury in his neck area and the full scope of the injury is not yet known. By Matt Tait

The developing relationship between junior quarterback Michael Cummings and junior wide receiver Nigel King is one of the most intriguing aspects of the slowly improving Kansas University offense. By Matt Tait

Seldom has a football player who does everything so right and with all his might so often been asked to explain what went wrong as Ben Heeney. Kansas University's senior middle linebacker is a team captain and as such a team spokesman. His team usually loses. So he has to try to break down why. By Tom Keegan

The Texas Tech curse strikes again. One year after a head injury knocked Tony Pierson out of Kansas University's game against the Red Raiders in Lawrence, Pierson again was bounced from Saturday's 34-21 loss at Jones AT&T Stadium with an undisclosed injury. By Matt Tait
Jayhawks drop 30th straight away from Lawrence
The Kansas University football team's streak of second-half shutouts by its defense ended at two on a drizzly and dreary Saturday at Jones AT&T Stadium, where Texas Tech's 17 second-half points helped the Red Raiders put away Kansas, 34-21, in front of a crowd of 54,071. That's four losses in a row for Kansas (2-5 overall, 0-4 Big 12) and the end of a four-game losing streak for Texas Tech (3-4, 1-3). By Matt Tait
Ben Heeney's interception and 37-yard return gave the offense great field position and it took advantage, getting its only points in a first half that ended with Texas Tech leading, 17-7.
By J-W Staff Reports
October 18, 2014 6:50 p.m.
When true freshman Derrick Neal made the switch from offense to defense, team captain Ben Heeney initiated him with five words: Welcome to the Dark Side. It's the side you want to be on. By Tom Keegan

A look at Saturday's Kansas-Texas Tech football game. By Matt Tait
When Charlie Weis draws his final paycheck from Kansas Athletics in 2016, he will have been paid $12.5 million for winning one Big 12 game. Turner Gill made $10 million for one Big 12 victory.

With new blood at quarterback and renewed hope for the offense, the Kansas University passing game suddenly has some life.

The Kansas University football team is headed back into enemy territory this weekend in Lubbock, Texas, where it will look not only to build on last week's near-upset of No. 16 Oklahoma State, but also to snap a 29-game losing streak away from home.

Texas Tech football coach Kliff Kingsbury knows a thing or two about the position Kansas University coach Clint Bowen is in today. By Matt Tait
October 2014
Previous Next