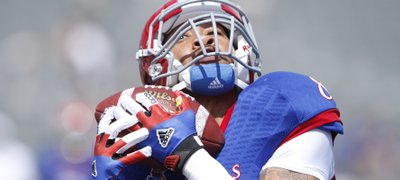 Last May, Miami (Ohio) University wide receiver Nick Harwell chose to transfer to Kansas University because the change of scenery offered him a fresh start in a familiar offense. Today, the senior who sat out the 2013-14 season because of transfer rules finds himself starting over. By Matt Tait

Thursday morning, KU coach Charlie Weis announced in a press release that the sophomore Montell Cozart's body of work this spring was impressive enough to land him the Jayhawks' starting quarterback job for the 2014 season. By Matt Tait

Let it never be suggested that Kansas University safety Isaiah Johnson is taking his reign as the Big 12's defensive newcomer of the year too seriously. By Matt Tait

It was not just new faces in helmets and shoulder pads who made their presence felt during the Kansas University football team's recently completed spring session. By Matt Tait
Even if he was disappointed in the way things played out during the first half of Saturday's spring football game, Kansas University quarterback Montell Cozart was not surprised by the first-team offense's slow start during the blue team's 20-10 victory over the second-string white squad at Memorial Stadium. By Matt Tait
The days of Kansas University cornerbacks, short to begin with, shrinking in the rear-view mirrors of tall Big 12 receivers are gone. By Tom Keegan
Former Kansas University football player Chris Banks died Wednesday at the age of 41, the Baltimore Sun has reported.

The play that killed any suspense for me as to the identity of the Kansas University football team's quarterback this coming fall came long before Montell Cozart busted a 60-yard run, long before he found the end zone on two short runs. Column by Tom Keegan

Saturday's Kansas University spring football game, between the first-string blue squad and the best of the rest on the white team, featured more than a few head-scratching moments in front of roughly 8,000 fans at Memorial Stadium. While the blue team rallied for a 20-10 victory after trailing 7-0 at halftime, perhaps the biggest shocker came on the first score of the game. By Matt Tait
Former Kansas University football players and current NFL players Aqib Talib, Anthony Collins and Chris Harris returned to Lawrence for Saturday's spring football game and delivered a message to this year's team: 'Enough is enough.' Spring game notes by Matt Tait

When Kansas University's football team takes the field at 1 p.m. today at Memorial Stadium for the annual spring game, it will do so with a handful of instructions from coach Charlie Weis and his coaching staff. By Matt Tait
Saturday's spring football game will give Kansas University fans a chance to see plenty of elements of Charlie Weis' third Jayhawk team. Column by Matt Tait

Coaches often downplay the importance of spring football, particularly the spring game, but significant developments do take place during the 15 practices. It was during the spring of 2007 that Todd Reesing beat out Kerry Meier for the Kansas University starting quarterback job, a development that greatly strengthened both ends of the KU passing game. Column by Tom Keegan

With the exception of a week off for spring break in late March, the past five weeks have included a lot of prodding and probing for Kansas University's football program.

Charlie Weis hinted Tuesday that the goal for his third Kansas University football team equals the win total of the last three seasons combined (six). That might sound unrealistic, but if one player with exciting raw talent develops at a far faster pace than anyone has a right to expect, six is not only a reasonable goal, but as good a place as any to set the over-under bar. Column by Tom Keegan
April 2014
March 2014
February 2014
Previous Next