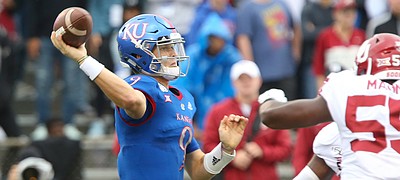 Carter Stanley doesn't consider himself a skilled basketball player. The senior Kansas quarterback has spent most of his time since about eighth grade focusing his athletic conquests on football, after all. During the past week, though, when Stanley runs the Jayhawks' offense in practices, under the guidance of new coordinator Brent Dearmon, the QB can picture himself as a distributor on the hardwood. By Benton Smith

It lasted close to eight months, but as of Wednesday the connection appears to be severed between the first Class of 2020 prospect to commit to Kansas and Les Miles' coaching staff. By Benton Smith

The third offensive coordinator Les Miles has hired since taking over the Kansas football program in November of 2018, Brent Dearmon's contract could keep the recently promoted senior offensive consultant with the Jayhawks through the 2025 season. Dearmon's first two years — which include the remainder of this season, and all of the 2020 and 2021 seasons — are guaranteed and will pay him $250,000 each of those years. By Benton Smith

Both before and after his Kansas football team's midseason bye week, head coach Les Miles spoke of the importance of self scouting during the Jayhawks' relative downtime. However, as often is the case with Miles, he didn't allow outsiders much of a peek behind the curtain in terms of how this past week's practices benefited KU's defense. By Benton Smith

Whether it was shortcomings with his game plans, individual instruction or in-game play-calling — or some other reason — that cost former Kansas football offensive coordinator Les Koenning his job, head coach Les Miles didn't choose to share that information Monday afternoon, during his first press conference since firing Koenning. By Benton Smith

Ahead of the Kansas football team's midseason bye week, the offense didn't perform at a high enough level against Oklahoma to satisfy the Jayhawks. But they at least saw running back Pooka Williams start to look like his old self again. By Benton Smith

It was January, and Andrew Parchment didn't have Timberlands, snow boots, nor anything of the sort. So he put on a pair of slides over some socks and trudged from the student apartments over to KU's football facility in order to sharpen his skills. Comfortably the Jayhawks' leading receiver at the midway point of the season, Parchment thinks the time he invested in himself shortly after joining the program this past winter as a junior college transfer paid off. By Benton Smith

Those that have played for Brent Dearmon have become all too familiar with one particular bible verse. "No one can serve two masters." Shane Jackson
October 12, 2019 1:59 p.m.
Facing yet another new opportunity and fresh start, Kansas quarterback Carter Stanley picked up a big win during the Jayhawks' bye week. By Matt Tait

Nobody seems surprised by Brent Dearmon's sudden rise up the coaching ladder. Shane Jackson
October 10, 2019 5:36 p.m.

It takes about 10 seconds for anyone talking to him to get a feel for why the Kansas football players like new offensive coordinator Brent Dearmon so much. By Matt Tait

Even before Les Miles decided to make a drastic change on his coaching staff, firing offensive coordinator Les Koenning and promoting Brent Dearmon to O.C., the Kansas football head coach knew the Jayhawks' bye week would be a critical juncture of the season.

A University of Kansas football player was arrested Monday morning in Missouri.
By Staff report
October 7, 2019 3:31 p.m.

State and federal law is not the best way to change NCAA regulations regarding athletes receiving compensation through endorsements, University of Kansas Chancellor Douglas Girod said.
By Dylan Lysen
October 7, 2019 1:22 p.m.

With it being the bye week, Kansas head coach Les Miles does not have his usual weekly press conference. That means the Big 12 conference call is the only time that Miles will speak this week, which took place one day after he announced a change at offensive coordinator.
October 7, 2019 11:57 a.m.
October 2019
September 2019
August 2019
Previous Next