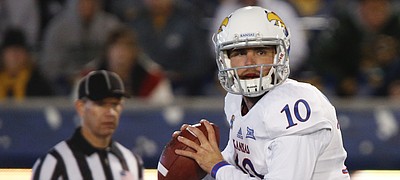 True freshman Ryan Willis may be slated to start Saturday's 11 a.m. game against No. 3 Baylor for the Kansas University football team, but when you're talking about a program that already has lost three quarterbacks this season, it doesn't hurt to be prepared for anything.

In one sense, Kansas University true freshman quarterback Ryan Willis can't win in his starting debut Saturday at home vs. Baylor. Upsets do happen, but not in games that involve a 44-point underdog.

In the event Cheick Diallo is cleared to play basketball for Kansas University, the Jayhawks will become fashionable picks for the No. 1 spot in the nation and with good reason. Someone, somewhere will then connect the dots and claim that the school with the nation's best basketball program also has the worst football team in the Football Bowl Subdivision. By Tom Keegan

Freshman Ryan Willis now listed No. 1 on KU depth chart
It seemed like this was the next logical step. And it was made official Monday, when Kansas University football officials announced that junior quarterback Montell Cozart was out indefinitely with a shoulder sprain. It is Ryan Willis time at KU.
Saturday afternoon, after his team's 38-13 loss at Iowa State, Kansas University football coach David Beaty talked about the need for his coaching staff and players to focus less on winning the small battles and more on winning games. That kind of recipe could make for a long eight weeks. By Matt Tait
Former Kansas University football player Terry Beeson and softball player and coach Tracy Bunge were inducted into the state of Kansas Sports Hall of Fame on Sunday in Wichita.
Kansas University's football losing streak away from Lawrence grew to 35 games Saturday in a 38-13 loss to Iowa State. And the opponents' post-game notes had a familiar ring to them, packed with words such as "first" and "since." By Tom Keegan

Very few Big 12 Conference football teams are in need of any help on offense, but those that might be struggling in the run game likely just circled their game against Kansas University in the upcoming weeks. By Matt Tait

Dumb and Dumber is not just a movie title any more. It also accurately and completely sums up the way the Jayhawks played Saturday at Jack Trice Stadium on their way to a 38-13 loss to Iowa State in front of a fired up and friendly ISU crowd of 55,837. By Matt Tait
Marcquis Roberts, graduate transfer from South Carolina, scored a touchdown on an 83-yard interception return, had a sack and six tackles.

First-year head coach David Beaty had four options from which to choose Saturday early in the second quarter of Kansas University's 38-13 loss to Iowa State in packed Jack Trice Stadium. The situation called for an aggressive play, not a passive one. By Tom Keegan

Despite a somewhat promising start, with Kansas finding relative success on offense and defense on the road, the Jayhawks dropped their 35th game in a row away from Lawrence, in a 38-13 loss at Iowa State Saturday.
By J-W Staff Reports
October 3, 2015 2:30 p.m.
Last weekend, for the second game in a row, red-shirt freshman Tyler Patrick was the Jayhawks' most productive and impressive wide receiver on the field.

A game-day breakdown of Kansas University's game Saturday at Iowa State By Matt Tait

Kansas University's football coaching staff knew entering Year One of a difficult rebuilding project the Jayhawks would have deficiencies in a number of areas this season. They thought — and hoped — defensive end would be one position KU could count on for depth and productivity. By Benton Smith
October 2015
September 2015
Previous Next