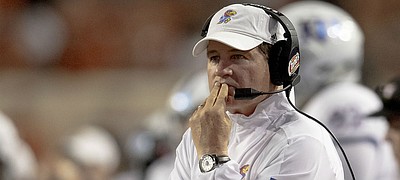 An uptick in positive COVID-19 tests has led the Kansas football program to suspend its voluntary summer workouts, KU officials announced Friday morning. By Matt Tait

University of Kansas football manager Jack Roche died late Saturday night in his hometown of Chicago after being hit by a car, multiple people close to the KU program confirmed to the Journal-World. By Matt Tait

The Big Ten Conference announced Thursday it will not play nonconference games in football and several other sports this fall, the most dramatic move yet by a power conference because of the coronavirus pandemic.
By John Zenor, The Associated Press
July 9, 2020 6:06 p.m.

The University of Kansas football program has hired a new director of football operations from one of the premier programs in the Big 12 Conference. By Matt Tait
During the past couple of weeks, future Jayhawks Devin Neal, of Lawrence, and Keon Coleman, of Opelousas, La., have connected a few times on the phone to lay the foundation for a relationship they both hope will bring a lot of points, production and excitement to Lawrence in the years to come. By Matt Tait

After playing four games during his true freshman season, Kansas linebacker Steven Parker is being regarded by 247 Sports analyst Chris Hummer as one of college football's redshirt freshmen who should not be forgotten. By Matt Tait

Southeastern Conference Commissioner Greg Sankey told a U.S. Senate committee Wednesday that there needs to be a uniform federal law to regulate the compensation of college athletes instead of a series of state-level versions with differing requirements.

KU has found seven cases of COVID-19 among the 100 student-athletes it's tested from across four sports, University of Kansas Athletic Director Jeff Long said Monday. By Matt Tait

Ever since Kansas football started recruiting Clinton Anokwuru, assistant coach Chidera Uzo-Diribe knew he had a special connection with the three-star defensive end — the two men both belong to the Igbo tribe in Nigeria. By Shane Jackson

After 32 years with the same equipment manager, the Kansas football program is preparing for Year 1 of a new regime. By Matt Tait

The University of Kansas football program announced Saturday that one player has tested positive for COVID-19 and another had a positive test for the COVID-19 antibodies. By Matt Tait

The Kansas football program picked up a commitment from 3-star safety Omar Burroughs on Friday afternoon.

University of Kansas fans holding season tickets for upcoming KU sporting events now have assurances from the athletic department that their investment is safe. By Matt Tait

Months of planning and projecting have left University of Kansas Athletic Director Jeff Long cautiously optimistic about hosting a full college football season this fall. By Matt Tait

Roughly 75 negative COVID-19 tests cleared the way for the Kansas football program to get back to business on Monday. By Matt Tait
July 2020
June 2020
May 2020
April 2020
March 2020
January 2020
December 2019
November 2019
October 2019
Previous Next