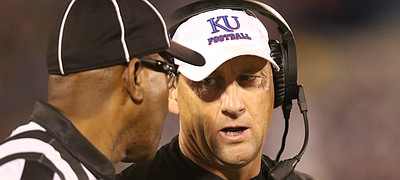 Big 12's new Coordinator of Officials made his debut at the Big 12 Media Days in Frisco, Texas.
Greg Burks, who replaced Walt Anderson in June, spoke to reporters Tuesday about the new rule changes that were implemented over the offseason. Burks was a referee for the first CFP National Championship, while serving as an official for the Big 12 from 1996-2014.
One of the freshest additions to the Kansas football program, offensive lineman Alex Fontana quickly impressed new teammates upon arriving in Lawrence earlier this summer. By Benton Smith

Big 12 Commissioner Bob Bowlsby kicked off the Big 12 Media Days with a lengthy discussion on a variety of topics Monday morning in Frisco, Texas. One of the first topics Bowlsby discussed was about a conference-wide discussion about legalized sports gambling. Bowlsby had prepared for a number of questions during the opening day, but sports gambling was not a topic he expected to talk about.

KU's top pass-catcher on Biletnikoff watch list
Anyone who follows the University of Kansas football program knows how impactful Steven Sims Jr. can be as a receiver. Leading into his senior year with the Jayhawks, others are beginning to pay attention to Sims, too. By Benton Smith

In his 19 seasons as head football coach of Lawrence High, Dirk Wedd did not coach many players as talented as Oklahoma defensive lineman Amani Bledsoe.

Dealing in reality, one must conclude that Beaty has made a scholarship situation that seemingly only had one way to go (up) neither better nor worse during his three-and-a-half years on the job.

Over the past year, David Beaty often has asserted he deals in "reality" when it comes to the onerous business of reversing the University of Kansas football program's fortunes. Currently, just ahead of his fourth season leading the Jayhawks, Beaty said his vantage point remains un-skewed. And he understands that because of the team's 3-33 record under his watch and the arrival of new athletic director Jeff Long, his existence currently involves much outside speculation about his job security. By Benton Smith

It only took a nondescript question for Joe Dineen to understand the task awaiting him. "Do you have your suit?" By Benton Smith

Nearly every summer football conversation starts with the quarterback position. The second day of Big 12 Media Days was no different, as all five coaches were asked about their respective signal callers. Baylor, Kansas State, Oklahoma State, Texas and West Virginia all fielded questions about their quarterbacks — among other things — during a press conference in Frisco, Texas.

The man who hired David Beaty and placed him in charge of revitalizing a barren football program no longer works at the University of Kansas. Still, Beaty insisted Monday at Big 12 Football Media Days the presence of a new boss, athletic director Jeff Long, hasn't made the Jayhawks' fourth-year coach less comfortable about his standing. By Benton Smith

Frisco, Texas — Big 12 football players take being selected to represent their universities at Media Day as an honor. They dress like business executives and genuinely seem to enjoy the experience.

As David Beaty's breakout session with reporters drew to a close Monday afternoon at Big 12 Football Media Days, a question brought the fourth-year Kansas football coach back to the day he took over the program, in December of 2014. The straight-to-the-point inquiry led Beaty to close his day at Ford Center at The Star with a staggering reply. By Benton Smith

The coaches of some of Kansas football's Big 12 competitors had a lot to say Monday about their own respective programs during the first day of the NCAA's College Football Big 12 Media Days event.

It's time to shelve all other building projects to put all efforts on an expansion that won't take long and just might supply the motivation fuel the Kansas football team will need to overachieve in 2018.
The Kansas football program published its 2018 media guide just in time for this week's Big 12 Media Days, in Frisco, Texas. The unveil revealed the departure of some Jayhawks who were still with the program as recently as the spring semester.
July 2018
June 2018
May 2018
Previous Next