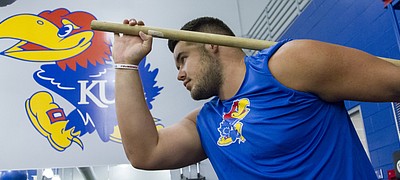 Microwaving is not an option when turning high school offensive linemen into Big 12-ready blockers. It's purely a slow-cook. Shortcuts don't exist. Kansas center Joe Gibson, entering his fourth season in the program, spent his first season as a red-shirt walk-on determined to get bigger, stronger and quicker. By Tom Keegan

Kansas athletic director Sheahon Zenger's hiring of former KU baseball standout Matt Baty to lead the Williams Education Fund's efforts into the future indirectly represents one of the strongest public commitments to upgrading Memorial Stadium. By Matt Tait

Zenger also announces search for football fund raiser: 'It's now time to focus on Memorial Stadium'
According to a Thursday morning press release, former Jayhawk baseball standout Matt Baty has been named Associate Athletics Director, Williams Education Fund, Marketing & Sales. Baty replaces Banks Floodman, a former KU football linebacker, who led the department for the past three years.
By J-W Staff Report
July 28, 2016 9:05 a.m.

Big 12 expansion talk runs hot so it's time for us all to board the plane to Fantasy Island, time for Herve Villechaize to come back from the dead to greet us, time for us to talk about what to wear for the wedding between the Big Ten and Kansas.
The next college football head coach or assistant who says the staff has downgraded recruiting will be the first and won't be in office for long.

The Kansas football program's strong recruiting stretch took a small hit this week, when three-star Texas defensive back Akayleb Evans announced he was de-committing. By Matt Tait
When Kansas University's football team opens camp during the first week of August, second-year head coach David Beaty will have one major expectation about the new-look Air Raid offense. By Matt Tait

Fourth-year junior Montell Cozart has heard and seen just about everything during his days as a Kansas University football player. The loudest sounds have come from the doubters. By Matt Tait

In front of a room full of reporters who instantly caught David Beaty in his favorite little white lie Monday morning at the Omni Dallas Hotel, the second-year Kansas University football coach repeated a concept he first introduced to his players months ago. By Benton Smith

Monday afternoon at a ballroom in the Omni Hotel in downtown Dallas, the Kansas University football program played the role of the bearded lady. By Matt Tait
Coaches and football players from Kansas University, TCU, Texas Tech, Iowa State and Oklahoma State arrived Monday at the Omni Dallas Hotel ready to take on all questions at Big 12 Football Media Days. But on some occasions the topic of conversation steered away from those programs and toward the disastrous past few months for Baylor. By Benton Smith
David Beaty was asked at Big 12 Media Days if he has found his job as football coach at Kansas to be as tough as he thought it would be, and naturally he polished his answer with positive paint. The Kansas job is considered a career-killer by many, and several factors do make it a risky challenge for a young coach to undertake. By Tom Keegan

David Beaty and his staff want to help create good young men who will go on to become good fathers and husbands well after their days as good football players are behind them. By Matt Tait

Lufkin, an East Texas town of 35,000 hit hard by the job reductions in the oil industry, still brings spirited passion for its main attraction.

Some of the top athletes and coaches in the Big 12 Conference will invade the heart of Big 12 country today and Tuesday for the annual and unofficial start of the college football season known as Big 12 media days.
July 2016
June 2016
Previous Next