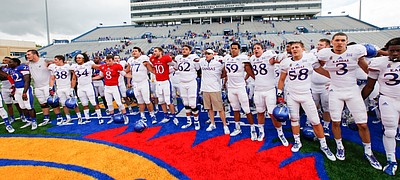 It's no secret that first-year head coach David Beaty and the Kansas University football program are dealing with a light deck heading into the 2015 season. By Matt Tait

While spring practices in April gave Kansas University football coach David Beaty and his new team an opportunity to say hello and work through some of the growing pains associated starting from scratch, it's preseason camp where the most serious work will be done.

The question, posed in various word combinations, is often asked and almost always followed by a long pause and then a long list of possible answers, not one stated with much conviction.
The summer months can drag for college football players, which is why it's always nice for newcomers to have familiar faces with whom to pass the time.
Sixteen members of Kansas University's 2015 football recruiting class, which included former Shawnee Mission West standout Andre Maloney, who passed away in 2013 after collapsing on the sideline during a game with the Vikings, recently made a surprise visit to Cafe 29 in Overland Park, the restaurant run in Maloney's honor by his mother, Rosaelida.

Snow in Kansas in the heart of the summer is hard to imagine, but the Kansas University football program keeps finding a way to make it happen.

Quarterback Michael Cummings, entering his senior season with KU, took a helmet to his left knee in the program's spring game. The injury looked bad that afternoon, and the result proved worse. Cummings had surgery on the knee in June and is likely to miss the entire 2015 season. By Benton Smith
For the 2015 edition of Kansas University's football team, which is being asked to replace all but a couple of starters on defense and basically an entire batch of playmakers on offense, that leadership began to emerge over the summer. By Matt Tait

At Big 12 media days earlier this week in Dallas, one of the more popular inquiries thrown at first-year Kansas University coach David Beaty had to do with how much it helped him to have been at Kansas as an assistant in the past when the Jayhawks were rolling.
Instead of accepting that Kansas University will have a decline in average attendance for a seventh consecutive season, it is within your power to make sure that doesn't happen and start a streak that heads in the other direction.
After the College Football Playoff committee passed on including either TCU or Baylor in the inaugural four-team tournament for college football's national championship last season, players and coaches from both programs knew they wouldn't escape Big 12 Football Media Days without addressing the snubs. By Benton Smith
Just as the 2007 Kansas University football season that ended 12-1 with an Orange Bowl victory wasn't built in months, the decay didn't happen all at once. By Tom Keegan

There's a permanent stamp on a leg of Kansas University defensive end Ben Goodman that forever will remind him of the jersey number he wore for the first four years of his college football career. But it's a place in his heart that inspired Goodman to ditch No. 93 — and deal with the tattoo — before his senior season and move to No. 10. By Matt Tait

Injured during the spring game and thought to be out for the 2015 season, senior quarterback Michael Cummings recently shocked his head coach, just a handful of weeks removed from knee surgery.
The passion Kansas State's fan base has for legendary football coach Bill Snyder doesn't flow in one direction. By Benton Smith
July 2015
June 2015
May 2015
April 2015
Previous Next