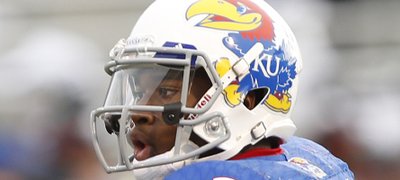 Now Clint Bowen is responsible for the entire team, which includes an offense that scored a combined three points in losses to Duke and Texas, an offense triggered by a relative newcomer. What are Bowen's plans for injecting life into an offense that hasn't gotten off the ground for four-plus seasons? By Tom Keegan
Friends, fans, family and former players packed the Salty Iguana Mexican Restaurant on Monday night for interim Kansas University football coach Clint Bowen's first appearance on the weekly "Hawk Talk" radio show with Bob Davis. By Matt Tait

The sign on the podium he proudly stood behind read "Kansas Jayhawk Football Head Coach Clint Bowen." The word "interim" was nowhere to be found. And, really, it didn't need to be there anyway. For the next nine weeks — eight games and a bye — Bowen is the Kansas University football coach. By Matt Tait
Bowen's home debut to air on FOX Sports 1
The mid-afternoon kickoff trend will continue at least one more Saturday for Kansas University football.

Having a poor shot is better than no shot at all, and Clint Bowen has a shot at winning his dream job, minus the interim tag. His eight-game job interview begins Saturday in Morgantown, West Virginia, where as is almost always the case in Big 12 play, KU will come in as a double-digit underdog. By Tom Keegan

KU athletic director sheds light on decision to fire KU football coach Charlie Weis
Kansas University athletic director Sheahon Zenger spoke with the Journal-World on Sunday afternoon and shed some light on his decision to fire KU football coach Charlie Weis four games into his third season with the program. By Matt Tait

Anyone who thinks that the uncertainty surrounding former Kansas University football coach Charlie Weis' future with the program had no impact on the players themselves during the past couple of weeks, would be wise to pay attention to the recent actions of senior cornerback JaCorey Shepherd. By Matt Tait

The Journal-World has learned that Charlie Weis was dismissed as the Kansas University football coach early Sunday morning after posting a 6-22 record in two-plus seasons in charge of the Jayhawks. KU confirmed the news in a release sent out shortly after 9 a.m. Sunday morning. By Matt Tait
A reporter from the state of Texas — who is used to covering games with more than 90,000 fans in the stands of University of Texas Memorial Stadium — asked coach Charlie Strong how his Longhorns were able to "create energy and enthusiasm" with the atmosphere "dead" on Saturday at Kansas University's own Memorial Stadium. By Gary Bedore
Ben Heeney had 10 tackles, including 1.5 for losses and recovered a fumble.

The question will hang in the air all week, which was about how long that failed third-quarter fade pass in the end zone felt like it floated. And the question is this: Is it time? By Tom Keegan

There were not a lot of bright spots for the Kansas University offense during Saturday's 23-0 loss to Texas at Memorial Stadium. But the performance put forth by junior running back De'Andre Mann certainly qualified as one of them. By Matt Tait

Jayhawks fail to score in new threads vs. UT
Yeah, the uniforms worn by Kansas on Saturday in front of 36,904 at Memorial Stadium were the modern day crimson chrome uniforms and not the classic reds worn by the Kansas University football team in the glory days of yesteryear. But red is red, a loss is a loss and the 23-0 blow — to the mind, body and soul — delivered by Texas on Saturday had an all-too-familiar ring to it. By Matt Tait
Nazi Germany invaded Poland on Sept. 1, 1939, to start World War II, a more recent event than Kansas University's last football victory against Texas. By Tom Keegan

A breakdown of Saturday's Kansas-Texas Big 12 football game. By Matt Tait
September 2014
Previous Next