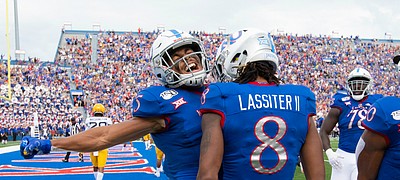 Conference announced Friday night that football players will be allowed back on campus June 15
Big 12 Commissioner Bob Bowlsby not only believes there will be college football games this fall but also thinks there will be fans there to watch. By Matt Tait

University of Kansas Athletic Director Jeff Long on Wednesday announced staffwide furloughs and pay cuts for all Kansas Athletics employees, including coaches, from June 1 through the end of 2020. By Matt Tait

Kansas football coach Les Miles replaced five key members of his coaching staff during the offseason. And because of the global pandemic shutting down college athletics, Miles' five new hires have had to learn different ways to adjust to their new jobs. By Matt Tait

An overarching theme of the COVID-19 crisis, University of Kansas Chancellor Douglas Girod said Tuesday, is that it's been much easier to shut down operations than to open them back up.

Three-star linebacker Trey Staley announced his commitment to Kansas on Saturday and in doing so spoke of a challenging road ahead.
By J-W Staff Report
May 24, 2020 1:26 p.m.

The NCAA Division I Council voted Wednesday to lift a moratorium on voluntary workouts by football and basketball players effective June 1 as a growing number of college leaders expressed confidence that fall sports will be possible in some form despite concerns about the coronavirus pandemic.
By Steve Megargee, AP Sports Writer
May 20, 2020 7:21 p.m.

Kansas basketball coach Bill Self and some of the school's other coaches were back in their offices this week — albeit with a host of COVID-19-related precautions and new routines. By Matt Tait

The fate of KU's men's basketball program — embroiled in serious pay-for-play allegations by the NCAA's enforcement staff — may be heading for an all-or-nothing moment.

Kansas Athletics Inc. is conducting an online survey to gauge fan interest in attending KU sporting events in the fall and beyond. By Matt Tait

A fixture around the Jayhawks' facilities since he was hired way back in 1988, KU equipment manager Jeff Himes retired at the end of April, closing the book on his 32 years with the team. By Benton Smith

Former Kansas football coach Pepper Rodgers, who led the Jayhawks to the 1969 Orange Bowl, died Thursday at age 88.

Although he has gotten used to it by now, Kansas football coach Les Miles' first attempt to coach his team in a virtual setting this spring proved to be a challenge. By Matt Tait

Kansas football coach Les Miles said Friday that linebacker Dru Prox "should play" for the Jayhawks during the 2020 season, whenever it may happen. By Matt Tait

The NCAA delivered a scathing response to the University of Kansas this week regarding alleged violations in its men's basketball program, citing "egregious, severe" conduct and emphasizing KU's "defiant posture" in the case.

Kansas football coach Les Miles believes there will be college football this fall. By Matt Tait
May 2020
April 2020
March 2020
January 2020
December 2019
November 2019
October 2019
September 2019
Previous Next