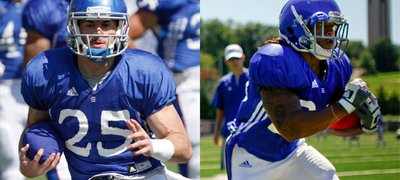 Running backs preparing for sixth season — but only one as a Jayhawk
James Sims exhausted his eligibility and cleared the path for seniors Brandon Bourbon and Taylor Cox to compete for the starting tailback job as seniors. The competition ended for both of them when they suffered season-ending injuries on back-to-back days in mid-August. By Tom Keegan

Kansas University football coach David Beaty was back on Twitter on Saturday, using his #neatdeal approach to tip his hand that the Jayhawks might have landed another commitment in the Class of 2016.

Despite having two years remaining in a college football career that has been littered with injuries, Kansas University linebacker Schyler Miles believes the time is now for him to make an impact. By Matt Tait

True, they are called highlight videos for a reason. Bad plays don't make the cut. The videos are intended to spark the interest of college coaches holding precious scholarships. Still, I challenge anyone to watch the highlight video of 2014 Vero Beach (Florida) High quarterback Carter Stanley and find a potential weakness.

Less than 24 hours after adding an offensive lineman scheduled to graduate in December to the Class of 2016, the Kansas University football program picked up another commitment from a juco linebacker, who also is expected to arrive early.

Sometimes, it's easy to predict a college football team's MVP coming into a year, as was the case with Kansas University in advance of Todd Reesing's final two seasons. Other times, it's a challenge, which can be either a good or bad thing. By Tom Keegan

The Kansas University football program picked up its second oral commitment in the Class of 2016 on Monday night, when Snow College offensive lineman Joe Malanga pledged his services to the Jayhawks. By Matt Tait

All JaCorey Shepherd wanted was a chance. By Benton Smith

Lawrence High football coach Dirk Wedd has a new nightly routine these days. He picks up his phone to call up lineman Amani Bledsoe and talk about the junior's schedule for the coming day. By Benton Smith

Former Missouri commitment, Harneet Gill, an offensive tackle from Pierce College in Los Angeles, has committed to the Jayhawks, JayhawkSlant.com reported Tuesday night.
Victor Simmons became the 11th Kansas University player to move on to the professional football ranks as he earned a rookie mini-camp invite with the Seattle Seahawks on Monday afternoon.

A year ago, Kansas University football player Jordan Shelley-Smith was a 248-pound tight end preparing for his third season in the KU program. Today, he's on the verge of joining the 300-pound club. By Matt Tait

When 139 college football players — including 18 linebackers — heard their names called in the 2015 NFL Draft before Ben Heeney did, the first-team All-Big 12 linebacker from Kansas University began to wonder why he was still available in the fifth round Saturday. By Benton Smith
Although only three Kansas University football products heard their names called during the NFL Draft on Saturday, a number of their fellow Jayhawks signed free-agent deals in the hours that followed.
By J-W Staff Reports
May 2, 2015 11:37 p.m.

Only 14 picks remained in the final round of the NFL Draft when Oakland made Kansas cornerback Dexter McDonald the 25th pick of the seventh round (242nd overall). "It's definitely an intense feeling," the happy new Raider told the Journal-World." By Benton Smith
May 2015
April 2015
Previous Next