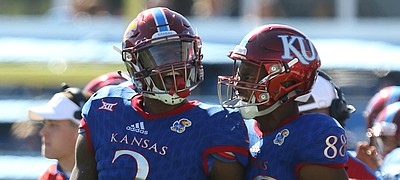 AP

selects Wise and Smithson for second team

No, the season didn't go as well for Kansas football as Dorance Armstrong Jr. would've hoped. However, the sophomore defensive end entered the winter offseason encouraged. Now KU's standout defensive playmaker can realize even further gratification. The Associated Press on Tuesday named Armstrong to its All-Big 12 first team. By Benton Smith

For the second time in a week, the Kansas football program has added to its stockpile of defensive linemen by picking up a commitment from the junior college ranks. KU on Tuesday received word from Hutchinson Community College defensive tackle J.J. Holmes that he plans to sign with the program. By Benton Smith

Wise and Smithson make second team
After surfacing as one of the most unstoppable defensive players in the conference this fall, Kansas sophomore defensive end Dorance Armstrong Jr. landed on the Associated Press All-Big 12 first team for 2016.

With the 2016 season complete and Kansas football coaches out on the recruiting trail searching for more talent to add to the roster, David Beaty received some good news Wednesday when one of the rebuilding program's targets called the head coach to commit to KU. By Benton Smith

The revolving door for the Kansas football team's quarterback position finally closed over the course of the season's final weeks, thanks to redshirt freshman Carter Stanley. Though far from perfect, Stanley now enters the offseason as the Jayhawks' incumbent No. 1 quarterback. By Benton Smith

The Kansas football program made legitimate progress at the end of the season. KU went 1-2 against its final foes, Iowa State, Texas and Kansas State, with an average score of Opponents 29, Kansas 22. A year ago, against the same three schools, the numbers were Opponents 47, Kansas 16. Much offseason work remains to keep the arrow pointing upward. By Tom Keegan

As the Kansas football team congregated in the visitors' locker room at Bill Snyder Family Stadium on Saturday minutes after its loss to Kansas State, head coach David Beaty didn't say a whole lot about the Jayhawks' season-ending defeat. Instead, Beaty elected to turn the focus to the 22 seniors on KU's roster. By Benton Smith

With only fair catches and no returns in the punt game in its season-ending loss Saturday at Bill Snyder Family Stadium, the Kansas football team finished the year with negative-10 punt return yards in 2016. However, the Jayhawks kept themselves in what became a 34-19 defeat at Kansas State with some special teams success. By Benton Smith

The man who built something truly amazing out of nothing reached a milestone Saturday afternoon with his 200th football victory at Kansas State. His players celebrated the moment by pouring water on him and then carrying him off the field. By Tom Keegan

When David Beaty looks back on the final Saturday of his second season as Kansas football coach, he will find it difficult to ignore a bumpy first-half stretch that sent his underdog Jayhawks into constant comeback mode for the remainder of the Sunflower Showdown. By Benton Smith

Similar to the arc of the 2016 season, the Kansas football team couldn't fight back from a big first-half deficit in its regular season finale against Kansas State, a 34-19 loss at Bill Snyder Family Stadium on Saturday.
November 26, 2016 2:40 p.m.

About to make just his third career start, and first on the road, Kansas quarterback Carter Stanley has shown head coach and offensive coordinator David Beaty a lot during the past few weeks — some good, some bad. By Benton Smith

As the Kansas football team prepares for its season finale, on the road against rival Kansas State, get the keys to the Sunflower Showdown, the mega matchup and much more. By Benton Smith

At no point Saturday will Dorance Armstrong Jr. and Jordan Willis take the field at the same time and line up against each other to go one-on-one in the Sunflower Showdown. But Armstrong knows the name and game of Kansas State's Willis as well as some of the offensive linemen he figures out ways to rush past in pursuit of quarterbacks. By Benton Smith

It almost didn't make sense to David Beaty. Sure, Texas kept handing the ball off to its massive junior running back D'Onta Foreman — the Kansas football head coach expected that much. What amazed Beaty this past weekend was how often Foreman's carries ended with Keith Loneker Jr., KU's would-be backup linebacker, bringing the nation's leading rusher to the ground. By Benton Smith
December 2016
November 2016
October 2016
Previous Next