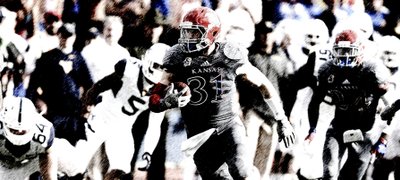 Ben Heeney's teammates will attest: He is the hero Kansas University football deserves. By Benton Smith

Kansas University football head coach Charlie Weis announced Tuesday that junior defensive back Kevin Short has withdrawn from school for personal reasons. By Matt Tait

For the second year in a row, the coaches and players in the Kansas University football program watched the rest of the country kick off the college football season while the Jayhawks sat through an opening-week bye. By Matt Tait

You know those game show contestants who get on a roll, answer all the questions right and make it seem as if the other players aren't even in the room? That's Kansas University senior Cassius Sendish in the defensive-back meeting rooms.By Matt Tait
Kansas needs to dominate Southeast Missouri State from the opening series and never let up. By Tom Keegan

Kansas University senior JaCorey Shepherd was born to be kind.
Just as freshman Joe Dineen started getting comfortable at Kansas University's preseason football camp, his head coach offered him an opportunity that would change that instantly. By Benton Smith

Nobody has to tell Kansas University sophomore safety Anthony "Fish" Smithson that failing to prepare is preparing to fail. By Tom Keegan

There's a true freshman currently going through his first preseason camp that may be positioning himself to slide into the Ben Heeney role for the next few years. By Matt Tait

In a sense, the 2014 Kansas University football season starts tonight. No, the Jayhawks won't be in uniform, under the lights with the roar of the crowd and smell of tailgating in the air. But their first opponent of the season will be.

After being declared ineligible two nights before last year's season-opener, Kansas University junior cornerback Kevin Short is so excited about the season ahead he can barely stand it. By Matt Tait

Led by senior linebacker Ben Heeney tossing out the ceremonial first pitch, Sunday will mark "KU Night at the K" for the Kansas University football program and the Kansas City Royals.

Senior offensive tackle started Kansas career on other side of line
Senior left offensive tackle Pat Lewandowski opened preseason camp as the first-string left tackle for KU, but his first contributions to the program came as a defensive end and tackle as a red-shirt freshman. He moved to left offensive tackle (where he played behind Tanner Hawkinson) as a sophomore and started six games at center as a junior. By Benton Smith

He owes his very existence to KISS, so it's no surprise that Joe Mortensen withstood punishing hits on behalf of the quirky rock band. By Tom Keegan

It's a good thing Victor Simmons does not fear change, because the Kansas University senior has experienced nothing but transition since joining the program. By Benton Smith
September 2014
August 2014
Previous Next