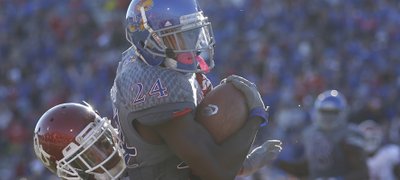 After the changes Kansas University senior JaCorey Shepherd has been through, a potential shift in 2014 can't be that bad. By Matt Tait
Charlie Weis gave those who cringe their way through his press conferences a break this time at the annual Big 12 media days, a year after his steamy remarks put him at the bottom of a pile of criticism. Weis did, however, make two statements off-podium in Dallas that merit scrutiny. Column by Tom Keegan

Former junior-college transfer Marcus Jenkins-Moore is leaving the Kansas University football program. By Matt Tait

First-year Kansas University wide receiver Nick Harwell's return to playing football on Saturdays has reached the homestretch. It has been a long and trying wait. By Matt Tait

Iowa State coach Paul Rhoads and four of his players talked Tuesday at Big 12 media days about what the addition of former Kansas coach Mark Mangino as ISU offensive coordinator has meant for the program. By Matt Tait
The Dallas Cowboys signed former Kansas University receiver Dezmon Briscoe on Monday.
By Associated Press
July 22, 2014 12:19 a.m.
Big 12 Football media days began Monday morning at the Omni hotel, oddly enough, with a bit of baseball talk. By Benton Smith

At a place like Kansas University, where winning football games has been tough lately and dubious streaks are easier to recall than feel-good moments, one question seems to surface year after year around this time: Why will this season be different? By Matt Tait

Kansas University football coach Charlie Weis gave his input on several hot topics surrounding the KU football program at Day One of Big 12 media days in Dallas. Here are some of the highlights. By Matt Tait

The last time Kansas University assistant director of football operations Ryan Cantrell was walking the sidelines at KU, he was an offensive lineman in the program and a guy who expected the Jayhawks to go to bowl games. By Matt Tait

A red-shirt freshman tight end for Kansas University, Ben Johnson hasn't caught a pass, run a route or played a down in a college football game. No one is more aware of that than the man in charge of the Jayhawks, coach Charlie Weis. Yet, even months before the start of the 2014 season, the third-year KU coach couldn't stop himself from singing the unproven player's praises when discussing the team's tight-end options. By Benton Smith

You can now add superhero to the long list of things Kansas University senior Ben Heeney has been compared to during his KU career. Heeney, a linebacker from Hutchinson and preseason All-Big 12 first-team selection, is the marquee man on CaptainHeeney.com, a promotional website unveiled Friday by the KU football program. By Matt Tait
Winners determined by objective scientific rankings
Kansas University senior linebacker Ben Heeney, junior safety Isaiah Johnson, senior tight end Jimmay Mundine and senior punter Trevor Pardula — named to the 2014 College Football Performance Awards watch lists based on their respective positions — won't have to worry about voters helping or hurting their chances.

Several Kansas University football players and coaches have adopted the slogan "It's time" as the unofficial mantra for the 2014 season. Media members who cover the Big 12 Conference aren't so sure. The Jayhawks, for the fourth year in a row, were picked by the media to finish last in the conference in 2014.

No official depth chart has been released since the end of the 2013 season, but it's not tough to see that, with Montell Cozart being named the starter back in April, the competition to fill the all-important back-up role is between junior Michael Cummings and sophomore T.J. Millweard. By Matt Tait
July 2014
June 2014
May 2014
April 2014
Previous Next