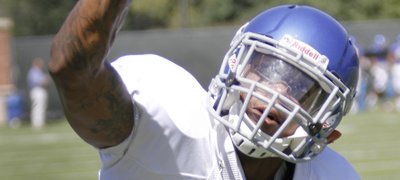 After being declared ineligible two nights before last year's season-opener, Kansas University junior cornerback Kevin Short is so excited about the season ahead he can barely stand it. By Matt Tait

Led by senior linebacker Ben Heeney tossing out the ceremonial first pitch, Sunday will mark "KU Night at the K" for the Kansas University football program and the Kansas City Royals.

Senior offensive tackle started Kansas career on other side of line
Senior left offensive tackle Pat Lewandowski opened preseason camp as the first-string left tackle for KU, but his first contributions to the program came as a defensive end and tackle as a red-shirt freshman. He moved to left offensive tackle (where he played behind Tanner Hawkinson) as a sophomore and started six games at center as a junior. By Benton Smith

He owes his very existence to KISS, so it's no surprise that Joe Mortensen withstood punishing hits on behalf of the quirky rock band. By Tom Keegan

It's a good thing Victor Simmons does not fear change, because the Kansas University senior has experienced nothing but transition since joining the program. By Benton Smith
It's possible Taylor Cox and especially Brandon Bourbon actually could be missed more in the passing than running game. By Tom Keegan

During the first few months of Charlie Weis' initial season back in 2012, the new Kansas University football coach and several of his assistants often stressed the need for improved speed.
In his seventh season as the KU football team's head athletic trainer and his fifth as the university's director of sports medicine, Murphy Grant and the rest of the Big 12 athletic trainers have pooled their brains and research to find better ways to detect and treat sickle cell anemia, cardiac issues and heat illnesses. By Tom Keegan

Don't expect Kansas University football coach Charlie Weis to spend any time on his phone texting his vote for which of three uniform combinations the Jayhawks will wear Sept. 6 in their home opener against Southeast Missouri State. By Benton Smith

Kansas University football coach Charlie Weis didn't have to use the words "bowl game" to fire up a parking lot full of crimson-and-blue-clad supporters Friday evening at Corinth Square. By Benton Smith

De'Andre Mann, either No. 1 or No. 2 on the depth chart at running back in the wake of injuries to seniors Brandon Bourbon and Taylor Cox, wears No. 23, and it has nothing to do with Michael Jordan. By Tom Keegan

You may know him as Kansas University freshman running back Corey Avery. But he also answers to "Superman." By Matt Tait
Fifty years ago, Ron Oelschlager was the guy blocking for the guy everybody wanted to watch. Today, he's the grandfather of the Kansas University running back in the news, former Free State High star quarterback/safety Joe Dineen. Column by Tom Keegan

Flanked by senior teammates Nick Harwell and Cassius Sendish at the Mrkonic Auditorium podium in the Anderson Family Football Complex, Kansas University senior Ben Heeney was introduced Wednesday as the Jayhawks' first repeat captain since Toben Opurum in 2011-12.
It becomes more important now than ever for quarterback Montell Cozart, a big-play threat as a runner and potentially as a long-ball thrower as well, to stay on his feet. That's where Larry Mazyck, a 6-foot-8, 360-pound left tackle in his first season at KU after two years of junior-college football, can help. By Tom Keegan
Previous Next