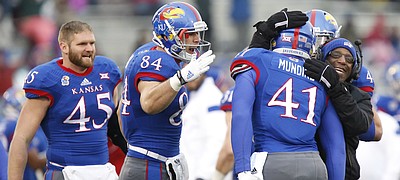 A source close to the Kansas University football program told the Journal-World Friday morning that veteran running backs coach Reggie Mitchell is expected to leave KU to join the staff of Arkansas coach Brett Bielema. By Matt Tait

Long overdue for some good fortune, Kansas University's football program just can't catch a break.
The head football coach at the Texas high school where David Beaty once coached and played announced Monday that he was joining Beaty in Lawrence.

Sheahon Zenger hired David Beaty in part because he is well-connected in Texas, where he won a high school state championship as a head coach in the Dallas area, worked at Rice and Texas A&M as an assistant and brought with him a reputation as a strong recruiter.

The Big 12 Conference on Friday morning announced the move of two conference football games during the upcoming season to accommodate requests from the Big 12's television partners.

The Big 12 athletic directors gathered on Thursday near Dallas for one of their regularly scheduled meetings and, in reaction to a recent ruling by the NCAA giving the Big 12 a shot at having a conference championship game in football with just 10 members, discussed the conference's options moving forward. By Matt Tait
February 4, 2016 11:49 p.m.

David Beaty's second recruiting class as Kansas University football coach might have been a few bodies light, but what it lacked in numbers, Beaty made up for in enthusiasm. By Matt Tait

In the months following Bryce Torneden's oral commitment to play football at North Dakota State, one of the Free State High senior's closest teammates, Sam Skwarlo, stayed in his ear about the possibility of playing for their hometown program, Kansas University, instead.

When Kansas University football coach David Beaty steps to the podium at 2 p.m. today to introduce his second recruiting class as the leader of the Jayhawks, he figures to look relaxed and refreshed.

The summer before his junior season at Booker T. Washington High, in Tulsa, Okla., Kyle "Money" Mayberry hopped onto an elevator and headed into the building to get ready for a summer camp. strong>By Matt Tait

For years, Jayhawker Towers has been synonymous with the on-campus home away from home for Kansas University athletes. But that soon will change. KU athletic director Sheahon Zenger confirmed to the Journal-World Monday evening something that KU recruits have been hearing about for the past several weeks — there are new living quarters coming and they're going to be spectacular.

In its final push to fill the 2016 recruiting class, the Kansas University football program wound up getting a head start on the 2017 class. Sunday afternoon, after another busy weekend of hosting official visitors, the Jayhawks landed a pair of 2017 commitments from Dallas-area offensive linemen and two more from defensive end and a wide receiver in the 2016 class.By Matt Tait
Slick new additions to the Kansas University basketball environment accounted for most of it, and, according a report by the Council for Aid to Education, KU ranked 10th nationally in private donations during the 2014-15 fiscal year among universities that responded to the survey.

One week after learning that local prospect Amani Bledsoe, the top-ranked player in Kansas, was headed to Oklahoma instead of joining the Jayhawks, the Kansas University football program got a dose of good hometown news on Thursday night. Free State High quarterback Bryce Torneden, who figures to play safety in college, announced on 1320 KLWN that he would join the KU program instead of heading to North Dakota State, where he committed earlier in 2015. By Matt Tait

Tyriek Starks, a two-star quarterback from New Orleans who threw for more than 4,000 yards and ran for 1,000 more in 2015 orally committed to join Kansas University's 2016 recruiting class on Tuesday night. By Matt Tait
February 2016
January 2016
December 2015
November 2015
Previous Next