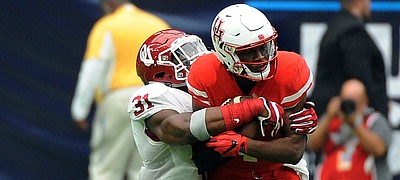 Yes, David Beaty has seen the numbers. But, no, the University of Kansas football coach doesn't have much interest in giving them a lot of merit. The digits in question are those associated with Oklahoma's defense, specifically the total yardage allowed by the Sooners this season — 475.9 a game — and their corresponding ranking, ninth in the 10-team conference. By Benton Smith

Bookmakers entice gamblers to bet on Kansas by giving them a lot of points, but even at that, Kansas is tied with Connecticut for the worst FBS winning percentage against the spread in the past five seasons.

Like most people who caught the Big 12's latest football shootout Saturday night between Oklahoma and Texas Tech, University of Kansas football coach David Beaty often just shook his head, marveling at the display. By Benton Smith

Kansas' defense statistically ranks among the best in the Big 12 and it all starts up front, where all-conference-worthy sophomores Daniel Wise and Dorance Armstrong already have developed into disruptive forces.

The 250 passing yards and season-high 204 rushing yards posted in a loss to Oklahoma State allowed David Beaty to call his offense an improved product this week. The reality of life in the Big 12, though, meant the University of Kansas football coach could hardly characterize the effort as a success. By Benton Smith
Ke'aun Kinner rushed for 145 yards on 14 carries.

When Kansas safety Fish Smithson delivered the first sack of his college career in the first quarter Saturday against Oklahoma State, the impact of the play didn't stop with junior quarterback Mason Rudolph heading toward the Memorial Stadium turf. By Benton Smith

Montell Cozart bounced back from a two-week benching well enough for head coach David Beaty to say Cozart will start Saturday in Norman vs. Oklahoma. Reading what else Beaty said leads to conclusion that he Cozart will start the remainder of the season, barring injuries. By Tom Keegan

Even on a homecoming afternoon when the University of Kansas football team teased the 26,262 in attendance at Memorial Stadium into thinking the Jayhawks just might stick around and give Oklahoma State a legitimate battle, KU's upset bid Saturday only lasted as long as the offense's ability to steer clear of self-inflicted wounds. By Benton Smith

With Montell Cozart back in the starting role at quarterback for Kansas, the Jayhawks got out to a good start, took two first-half leads but, once again, could not escape their own mistakes during Saturday's 44-20 loss to Oklahoma State at Memorial Stadium.

After two weeks of sophomore Ryan Willis at quarterback, Kansas football coach David Beaty announced Saturday morning, a few hours before the Jayhawks' homecoming game against Oklahoma State, his decision to return to junior Montell Cozart as the No. 1 QB. By Benton Smith

When Kansas football coach David Beaty watches his defense play Saturday against Oklahoma State, he'll hope they can stop quarterback Mason Rudolph, a 6-foot-5 junior who has specialized in making wise decisions as a passer. By Benton Smith

Get the keys for Kansas football this week as the Jayhawks take on Oklahoma State, and read about the mega matchup and much more. By Benton Smith

In a 49-7 defeat at Baylor, the University of Kansas football team surrendered just more than twice as many points as it did seven days earlier against TCU. Defensive coordinator Clint Bowen, though, didn't head into this week's preparation thinking his group regressed. By Benton Smith

In the ongoing search for a more productive offense, the Kansas football team could benefit from the emergence of a third receiving threat within the passing game. Halfway through the season, the Jayhawks know they can rely on junior wideout LaQuvionte Gonzalez and sophomore Steven Sims Jr. However, no other player on the roster averages more than three catches a game. By Benton Smith
October 2016
September 2016
Previous Next