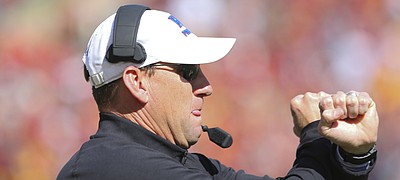 During the middle of a long, challenging season, well before the Kansas University football team's winless streak reached 11 games, the coaches needed to have a talk with their seniors.

As college announcing tandems go, Gary Bender and Dick Vermeil were tough to beat. When Bender looks back on those days with ABC, his mind often drifts to a moment that with the benefit of history would reveal Vermeil as a prophet.

FBS tackling leader looks 'pretty good'
Still sitting at a cool 100 total tackles for the season, and still leading Kansas University in that category after missing this past week's West Virginia loss because of an ankle injury, junior safety Fish Smithson at least is starting to look more like himself at practices, according to coach David Beaty. By Benton Smith

The Kansas University football team officially announced its 2016 schedule on Tuesday. The Jayhawks will play six games at Memorial Stadium and six on the road.

As Kansas University football coach David Beaty alluded to on more than one occasion Monday morning during his turn on the Big 12's weekly media conference call, all the Jayhawks have left in front of them is a "one-game season." By Benton Smith

As discouraged as Kansas University's football players felt Saturday after a 49-0 home loss to West Virginia, the Jayhawks have plenty of incentives to do everything they can to move on, forget all the negatives and mistakes and prepare for their next game as if it were the most important one in the nation. By Benton Smith

It's not easy watching a winless football team. But a group of seniors do their best to make the most of it. During Kansas University's 49-0 loss against West Virginia on Saturday at Memorial Stadium, a group of six students continued to cheer shirtless in the front row of the student section, with W-I-L-L-I-S painted across their chests. By Bobby Nightengale
November 21, 2015 7:50 p.m.

Kansas University so seldom wins a Big 12 football game that when it does, the stink of defeat for the opponent on linger for years. By Tom Keegan

On a day that true freshman quarterback Ryan Willis completed just 35 percent of his 37 throws and had two picked off, Beaty noted under-throwing receivers proved to be one of the many issues plaguing KU's offense against West Virginia. By Benton Smith
Coming into the West Virginia game, Lawrence native and Free State High product Joe Dineen had twice finished with 11 tackles, but he easily eclipsed that number on the second-to-last weekend of his sophomore season.
No member of the Kansas University football team thought the addition of one man would've changed the outcome of a 49-0 home loss to West Virginia on Saturday at Memorial Stadium, but the Jayhawks surely missed injured junior safety Fish Smithson. By Benton Smith

Not all Big XII entertainment derives from the top half of the loaded football conference's standings. Sometimes it's amazing what you can find rummaging around in the basement too. By Tom Keegan

Whatever momentum the Kansas University football team generated a week earlier in a one-score road loss to TCU didn't make the trip back to Lawrence with the winless Jayhawks, who suffered a 49-0 loss to West Virginia Saturday at Memorial Stadium, in front of an announced crowd of 21,415. By Benton Smith
Sophomore LB Joe Dineen, who did not let the scoreboard curb his enthusiasm, had 16 tackles, all of them by the solo variety.
By J-W Staff Reports
November 21, 2015 4:03 p.m.

Any momentum for Kansas football disappeared in the first quarter against West Virginia on Saturday at Memorial Stadium. The Jayhawks turned the ball over twice and gave up 28 points in the first 15 minutes, leading the way for a 49-0 thumping, pushing their losing streak to 14 games dating back to last season.
By J-W Staff Reports
November 21, 2015 3 p.m.
November 2015
October 2015
Previous Next