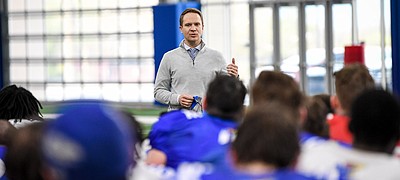 A national search for the next head football coach at the University of Kansas is back on — this time with a different athletic director in charge. Still in his second week on the job as KU's new AD, Travis Goff announced in a letter emailed to donors Thursday evening that he is initiating a national search to find a permanent replacement for Les Miles.

It was just a Saturday morning in mid-April, but what interim Kansas football head coach Emmett Jones saw out of his players during the team's first full scrimmage of the spring looked to him like a game day in the fall.

Travis Goff informed Emmett Jones he would be among the prospective hires during his process of finding the next KU football head coach. Now in his third year as KU's receivers coach, Jones said to ultimately secure the permanent job, he only needs to be himself. "I don't need to get out of character. I just need to be Emmett Jones. Continue to be who I was as far as how I got here," said Jones.

Throughout a winless 2020 season, the Kansas football team's offensive line suffered through so many losing battles at the point of attack that the Jayhawks rarely were able to avoid blowout defeats. While no one is denying those issues existed, the hope among KU's O-linemen this year is that they can keep all of that ugliness in the past.

Starting next season, major college football and basketball players will be permitted to transfer one time before graduating without being required to sit out a year of competition.

The Kansas football defense could end up relying a lot on a pair of relatively new inside linebackers this year. Between former safety Nate Betts switching positions during the offseason and Taiwan Berryhill moving inside late during his freshman year, the Jayhawks hope those two can bolster a group that also includes junior Gavin Potter, junior Nick Channel, senior Jay Dineen and redshirt freshman Krishawn Brown.

When the University of Kansas parted ways with Les Miles in early March, the football team's players didn't know what the future would hold. And while the coaching transition remains unfinished more than a month later, Sam Burt said he and other veterans did their best to make the process go as smoothly as possible.

Even as the future direction of the Kansas football program remains undetermined, interim head coach Emmett Jones and the Jayhawks' coaching staff continues to add to the program's next recruiting class.

The Kansas football team's incoming freshman class will have one fewer member than expected. Andrew Simpson, a Class of 2021 linebacker who signed with the Jayhawks this past December, announced Wednesday he had been granted a release from his letter of intent.

In a program mired in uncertainty, few aspects of the Kansas football team's 2021 season feel more settled than the running back position — even if the Jayhawks don't want to reveal the particulars of how new offensive coordinator Mike DeBord wants to make use of the backs.

It won't be called "Late Night Under the Lights," and there will be no postgame Rick Ross concert, but there will be fans at the first Kansas football spring game in two years.

As much as the Kansas football team leaned into getting its youngest prospects onto the field in 2020, only a select few true freshmen, including cornerback Duece Mayberry, actually played in every game. Though he didn't start at all this past fall, Mayberry is grateful to bring so much experience with him into his sophomore season.

The hope leading up to the 2020 season was that Lawrence Arnold, even as a true freshman, would take on a complementary role within the Kansas football offense sooner rather than later. An injury to the young receiver, however, kept Arnold sidelined much of the schedule, hindering his chances of breaking through. Now with months of rehab for a surgically repaired shoulder behind him, Arnold said he feels "100%" this spring, as the 6-foot-3 wideout from DeSoto, Texas, looks to resume his track toward contributing.

Now a third of the way through the 15-practice spring schedule, interim Kansas football coach Emmett Jones left Saturday's session convinced the Jayhawks are on the right track. "A lot of flying around, a lot of energy. Guys getting after each other, plenty of physicality going on. Guys playing with grit," Jones reported following practice No. 5, which included some scrimmage situations.

A couple of weeks into spring practices, some of the Kansas football team's more experienced players already are spotting promising traits and signs from their young teammates.
April 2021
March 2021
February 2021
December 2020
November 2020
October 2020
Previous Next