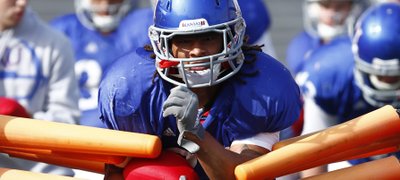 Vote for the player you think will lead KU in rushing and see if you can find five buddies to pony up for a friendly competition. By Tom Keegan
Former Kansas University offensive lineman Aslam Sterling is done in Denver. By Matt Tait
It takes a special kind of confidence and optimism to represent Kansas University football. By Benton Smith

This football season represents a litmus test for the toughness of the Kansas University sports fan. By Tom Keegan
The 38-year-old Cat Conti had been assigned to the Southeast Missouri State-Kansas game on Sept. 6, making her the first woman to work a football game in the Big 12 Conference.
By Associated Press
July 27, 2014 11:55 p.m.

The Kansas University football team's backfield depth got a little thinner on Saturday with the news that four-star freshman tailback Traevohn Wrench would not be eligible this season and, instead, will enroll at Butler County Community College.
Austin Barone's journey to becoming an app developer started when he applied for an internship at Google. The Lawrence native and Kansas University student planned to impress the technology giant by creating hardware, modeled after Google Glass, that would allow football players to view an interactive playbook on their visors during practice. But while he didn't have the capital necessary to create the hardware, he did the next best thing: He developed the digital playbook software. The result is Just Play, the new playbook app created by Barone's company, Just Play Sports Solutions. By Giles Bruce

After the changes Kansas University senior JaCorey Shepherd has been through, a potential shift in 2014 can't be that bad. By Matt Tait
Charlie Weis gave those who cringe their way through his press conferences a break this time at the annual Big 12 media days, a year after his steamy remarks put him at the bottom of a pile of criticism. Weis did, however, make two statements off-podium in Dallas that merit scrutiny. Column by Tom Keegan

Former junior-college transfer Marcus Jenkins-Moore is leaving the Kansas University football program. By Matt Tait

First-year Kansas University wide receiver Nick Harwell's return to playing football on Saturdays has reached the homestretch. It has been a long and trying wait. By Matt Tait

Iowa State coach Paul Rhoads and four of his players talked Tuesday at Big 12 media days about what the addition of former Kansas coach Mark Mangino as ISU offensive coordinator has meant for the program. By Matt Tait
The Dallas Cowboys signed former Kansas University receiver Dezmon Briscoe on Monday.
By Associated Press
July 22, 2014 12:19 a.m.
Big 12 Football media days began Monday morning at the Omni hotel, oddly enough, with a bit of baseball talk. By Benton Smith

At a place like Kansas University, where winning football games has been tough lately and dubious streaks are easier to recall than feel-good moments, one question seems to surface year after year around this time: Why will this season be different? By Matt Tait
July 2014
June 2014
May 2014
April 2014
Previous Next