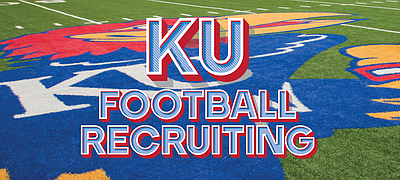 The Kansas football program received one commitment and one de-commitment on the recruiting trail Wednesday. By Bobby Nightengale

A remote family connection to former Kansas football coach Glen Mason led to Keith Loneker coming from Roselle Park, N.J., to Lawrence to play college football for Kansas. Loneker came to call Lawrence home after his professional football career ended.

The University of Kansas is counting on a significant amount of donations to enable a planned $300 million renovation to Memorial Stadium.

Former Kansas and NFL offensive lineman Keith Loneker Sr. died Thursday after a battle with cancer.
By J-W Staff Report
June 22, 2017 1:42 p.m.

During a meet-and-greet event for the Kansas football team Wednesday, KU athletic director Sheahon Zenger delivered news that renovation of Memorial Stadium and other football-related projects totaling $300 million are around the corner. By Bobby Nightengale

Kansas junior defensive end Dorance Armstrong Jr. was named a preseason third-team All-American by Athlon Sports, the magazine announced Tuesday.
By J-W Staff Report
June 20, 2017 1:16 p.m.

Kansas defensive end Dorance Armstrong, with his long-and-strong arms and growing list of accomplishments, casts such a wide shadow it leaves little room for teammates from a 2-10 squad to get much of the spotlight, but Daniel Wise manages. By Tom Keegan

RB aims to make bigger impact in 2017
For all University of Kansas running back Khalil Herbert accomplished in his first season with the program last fall, it didn't come close to leaving him satisfied. By Benton Smith

The University of Kansas offensive line picked up an unexpected addition this summer, with guard Andru Tovi, formerly of Pima Community College (Ariz.), joining the program. By Benton Smith

On a big recruiting weekend for the Kansas football program, third-year head coach David Beaty and his staff saw three hefty additions to their 2018 class. Thrice Sunday afternoon Beaty tweeted out his signature "neat deal" hashtag, signaling commitments from a trio of defensive linemen. By Benton Smith

Two banners and one big bummer in a wild eight-day stretch for the Oklahoma athletic department left Sooners fans little time to boast and a great deal of time to scratch their heads.

Back in February, the University of Kansas football staff became the first to offer Blue Valley North defensive lineman Miles Emery a spot among the college ranks. Since then offers came from Oklahoma, Louisville and other programs, but on Tuesday morning Emery decided to stick with David Beaty and company. By Benton Smith
Before incoming freshman Dom Williams left Texas behind this past weekend to begin his college football career at the University of Kansas, the four-star running back had one last thing to do Saturday: snag his diploma at Independence High's graduation ceremony. By Benton Smith
On the first day of the league's annual business meetings in Irving, Texas, the Big 12 Conference on Wednesday revealed kickoff times and television selections for the first three weeks of the upcoming 2017 season, and while only one of the Kansas Jayhawks' three non-conference games will air on a national television network, the rebuilding program's other two early-season contests will air live locally or be available to stream online. By Benton Smith

How much is a winning football season worth? An extra $40,000 a year for University of Kansas athletic director Sheahon Zenger. That annual performance bonus is among specific perks — rather, potential perks — outlined in Zenger's latest contract renewal, requested and obtained Tuesday by the Journal-World.
June 2017
May 2017
April 2017
Previous Next