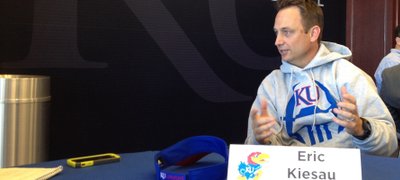 Former Washington offensive coordinator Eric Kiesau was days away from a family trip to Hawaii — flip-flops and sunscreen packed — when he took a call from Kansas University O.C. John Reagan. Instead of soaking up the sun, Kiesau found himself on a 6 a.m. flight to Lawrence, where he met with Reagan and KU coach Charlie Weis about joining the Jayhawks as their wide-receivers coach. By Matt Tait
Despite the addition of a new offensive coordinator, a new wide receivers coach and a new offense, KU football coach Charlie Weis expects the Jayhawks' offense to move fast this spring. By Matt Tait
Seven years as a college football head coach and 10 years of wisdom later, humility has replaced fantasy for Kansas University coach Charlie Weis. Column by Tom Keegan

Plenty of elements contributed to the offensive struggles of Kansas University's football team during the 2013 season. The loss of Tony Pierson to injury might have been one of the biggest. As Pierson, who has completed the transition from running back to wide receiver, prepares for his final spring practices as a Jayhawk, he does so healthy. By Matt Tait
Kansas University football coach Charlie Weis isn't afraid to share his expectations for mid-year junior-college transfer Keyon Haughton. By Bobby Nightengale
The Kansas University football program's overhaul of its coaching staff continued Monday, when KU coach Charlie Weis announced the addition of Bernie Parmalee to the staff as a quality control coach for special teams.
Christopher S. Martin, a 22-year-old former Kansas University football player and one of four men arrested following a May 2013 robbery in west Lawrence, pleaded guilty to felony robbery on Friday after negotiations. By Stephen Montemayor
February 21, 2014 12:31 p.m.
Charlie Weis won't be the Kansas University football team's wide receivers coach, after all. Weis announced Thursday the addition of Eric Kiesau, who will coach the Jayhawks' wide receivers.
By J-W Staff Reports
February 20, 2014 4:04 p.m.

Forget you ever read or heard the name Anthony Smithson. He doesn't exist. Just ask him. Smithson, a junior-college transfer in the Kansas University football program's latest signing class, goes by "Fish." His grandmother gave him the aquatic alias when he was just an infant, living in Baltimore's inner city. By Benton Smith

Five starters return to the Kansas University secondary, so Northeastern Oklahoma A&M transfer Ronnie Davis realizes playing time will not be easy to come by next season. By Chris Duderstadt
February 17, 2014 11:34 p.m.

Overlooked by those who sent out the invitations to the NFL Combine, which starts Saturday and runs through Feb. 25, James Sims finds himself in the familiar position of having to prove himself without any help from anyone else. By Matt Tait

A proposed rule change for the 2014 college football season could impact the way Kansas University and others defend the fast-paced offenses that have created havoc during recent seasons. By Matt Tait

Sophomore transfer T.J. Millweard spoke to the media on Wednesday about the upcoming race to be the Kansas University football team's starting quarterback. "We're all trying to learn from each other, get a little bit better, push each other in the weight room," Millweard said. By Matt Tait

New Kansas University offensive coordinator John Reagan has a plan for the KU football offense. "You have to be able to run the football," Reagan said during his first meeting with the media on Monday. "I think if you're a much more talented team than everybody else you play, you can wing it all over the field. I don't think that fits everybody. I don't think that fits necessarily the mold that we have." By Matt Tait

An adjustment has been made in staff responsibilities within the Kansas football program, effective immediately. Rob Ianello will move to a new position as Director of Research. Reggie Mitchell will add the title of Recruiting Coordinator. Head coach Charlie Weis will take over the wide receiver position.
March 2014
February 2014
January 2014
December 2013
November 2013
Previous Next