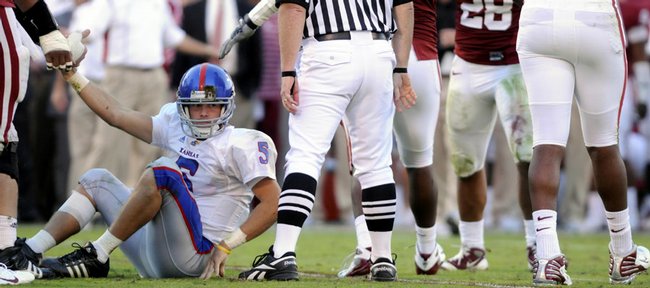 Audio clips
2008 KU-OU football
Podcast episode
The guys (Jesse Newell, Tom Keegan) break down KU's 45-31 loss to Oklahoma and discuss whether KU's defense can play better against next week's high-scoring opponent, Texas Tech.
Norman, Okla. — To hear Oklahoma University quarterback Sam Bradford tell it, he faced all the stress of a fisherman vacationing on a hot summer day, with nowhere to go, nobody to see, nothing on his to-do list, waiting, waiting, waiting to strike, knowing he will.
"I can't tell you how much time I had back there in the pocket today to just look, figure out what they were running and find open receivers," Bradford said after leading the Sooners to a 45-31 victory Saturday against Kansas.
Oh, go ahead, try. Tell us again what life was like in the pocket.
"They played a lot of zone coverage tonight," Bradford said. "But most importantly, the offensive line gave me all the time in the world to sit back and analyze what they were doing, and I was just able to find some open receivers, and once again our receivers played great tonight, finding some open spaces and settling down once they got there."
Part of Bradford praising his offensive line so effusively could be attributed to modesty. After all, he did throw some beauties on the run. And part could be attributed to him making sure to rebuild the confidence of his blockers a week after they weren't as effective in a loss to Texas. But for the most part, Bradford simply told the naked truth. He made it look easy because he's great at making it look easy and because the Kansas defense has a way of keeping strong offenses right in their comfort zones.
Sure, Oklahoma has as good an offense and quarterback as any team in the country, but don't forget, South Florida, and for a half, Iowa State also abused the KU pass defense.
Numbers don't always capture a game, but they did in this one, revealing just how comfortably the fourth-ranked Sooners moved the ball. Numbers such as:
¢ Ninety-seven snaps for Oklahoma and nary a turnover.
¢ A whopping 674 total yards for the Sooners, including 468 passing yards.
¢ Thirty-six Sooners first downs.
Oklahoma's extraordinary snap total in part was caused by the clock stopping so often after Bradford showed remarkable accuracy squeezing the ball into tight spots as receivers tested the width of the field and on a play or two the (in)ability of the officials to properly read that width. The middle of the field also was open for Bradford.
Todd Reesing (342 yards passing), Dezmon Briscoe (269 receiving yards) and Jake Sharp (103 rushing yards) spurred a Jayhawks offense that stalled for just one stretch with five consecutive possessions ending in an Alonso Rojas punt. Against Big 12 South teams, one stall is all it takes to lose touch.
The beauty of the Big 12 - or is it the bane? - is that the next chance for a reeling defense to prove it can handle a high-octane spread offense never requires a long wait. Next up for Kansas is Graham Harrell and Texas Tech, in Lawrence, at 11 a.m. Saturday. Off in the distance, leading Heisman Trophy candidate Colt McCoy and Texas await.
Yet, for all the issues schedule-burdened Kansas faces on defense, from front to back, a victory next week still means KU has as good a shot as any school of representing the North in the Big 12 title game.
More like this story on KUsports.com