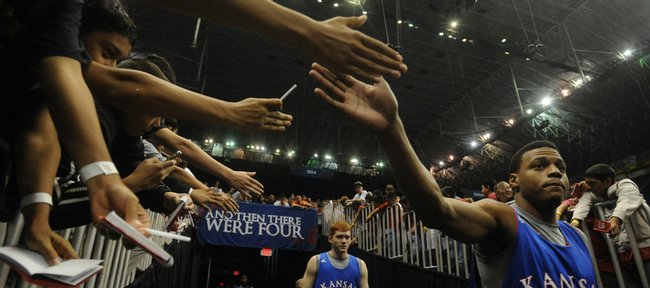 San Antonio — Brandon Rush is a joy to be around during Thanksgiving and Christmas dinners at his grandmother's house in Kansas City, Mo.
"He is so low-key. When he says something over the holidays, it's ridiculously funny," says former UCLA standout JaRon Rush, brother of both Indiana Pacers guard Kareem, as well as Kansas University junior Brandon.
"He's always joking with me, saying, 'I got farther than you,''' added JaRon, who never made it past the Sweet 16 during his days as a Bruin.
Low-key, easy-going, fun-loving Brandon Rush - "He's the funniest guy on the team; that's what the guys tell me," notes coach Bill Self - has turned some heads in taking on the role of intense team leader in the past few practices preceding today's 7:47 p.m. Final Four tipoff between KU (35-3) and North Carolina (36-2).
Rush at a workout in Lawrence earlier this week screamed at senior power forward Darnell Jackson, one of the guys who'll try to slow Tyler Hansbrough (22.8 ppg, 10.2 rpg) and the high-flying Tar Heels.
"We were on defense hedging ball screens. I told him to trap. He thought I said something else, so he yelled at me. I was shocked. It's not like him," Jackson said. "Brandon's said some other things lately to get the team going. It's good to see him take that leadership role this time of year."
Senior Russell Robinson - he's ready to take on the chore of staying in front of UNC point guard Ty Lawson tonight - has been amazed at Rush's fiery attitude.
"Brandon is such a laid-back guy," Robinson said, used to the Rush described by JaRon more than the in-your-face leader of late. "Everybody usually sits back and starts laughing when he gets emotional like that. It wasn't like that (the other day in yelling at Jackson).
"He's becoming vocal. Whatever he's doing : I advise him to keep doing it."
The 6-foot-6 Rush - he may be asked to slow 6-foot-4 Wayne Ellington (16.6 ppg) tonight - says indeed there's a method to his madness.
Remember, his next loss likely will be his last as a college player. It long has been assumed Rush will declare for the NBA Draft following his junior campaign.
"I've been more aggressive since the Big 12 tournament when coach got on me," Rush said. "I think it's a matter of me filling in the role (as leader). I've gotten more comfortable doing that at the end of the season. Somebody needs to be the leader."
So why'd he snap at Jackson?
"It was something on defense. He was surprised, I think," Rush said. "He was so surprised it's why he probably said something about it (to media Friday)."
Rush, who takes a team-leading 13.1-point scoring average into today's national semifinal game, says he realizes the Jayhawks will need to bring all-out intensity if they hope to stymie Carolina, a team that enters with a scoring average of 89.2 ppg.
"I think it'll be a defensive game, period," Rush said. "We are going to have to guard Tyler Hansbrough and their guards, too. I think whoever will get the most stops will win the game."
While it's expected the Jayhawks will throw several bodies at Hansbrough - "He's a part of their transition; he's a part of their rebounding; he's a part of everything," Self said - it'll be Robinson's job (and Sherron Collins') to slow Lawson, the 5-11 sophomore who has 163 assists against just 68 turnovers.
"He's the head of their team. The main thing is keep him in front of you," Robinson said. "It'll be hard to do that. I have to try to not let him get the ball where he wants to. The main thing is to play our game and try to get them out of their comfort zone."
Not many teams have been able to guard the Heels, one of the speediest teams in the land.
"If it gets to be a track meet," Robinson said, "we have to put our track shoes on."
The Tar Heels do resemble sprinters more often than not.
"I would say defending the first five to 10 seconds of the possession (is important)," Self said, "That may sound very simple, but that's very accurate, because they'll get shots up in that time frame. You have to slow them down first and foremost. It's easier said than done to get back.
"If you worry TOO much about getting back, it takes away your aggressiveness. We have to be who we are and that is in the very aggressive attack-type mode."
Aggressive - just the way to describe Rush these days.
"We've got a great opportunity if we come out and defend and rebound," Rush said. "We've got a lot of upperclassmen. Everybody needs to step up. Everybody needs to be a leader tomorrow."
It would not surprise Rush's brothers, mom and grandmother - who will be in the stands today - if the youngest of the Rush brothers continues to be that leader.
"He always wanted to be something special," JaRon Rush said. "It's every player's dream to win the national championship. At UCLA I wanted to win a national championship. It's his dream, and I think he can get it."
Even if he has to bruise some of his teammates' feelings in the process.
More like this story on KUsports.com