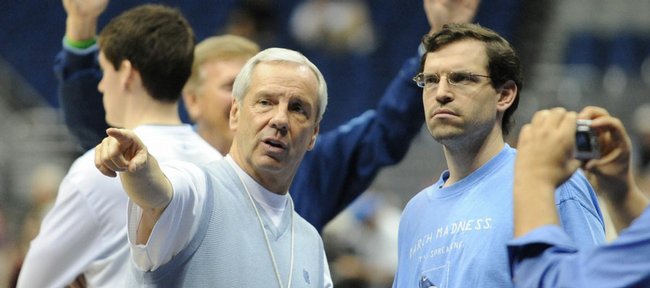 San Antonio — North Carolina basketball coach Roy Williams wondered early Friday if he would have "37 people throw tomatoes at me" when he stepped on the court for the Tar Heels' open practice later in the day.
"That will bother me a little bit," he said.
Didn't happen. Williams was met with overwhelming cheers by UNC fans and no noticeable jeering by a few KU fans who stuck around to watch the practice at the Alamodome.
That was it for Williams' public encounters before his North Carolina squad takes on Kansas University - where he coached for 15 seasons - tonight in the Final Four. Williams seemed to take most of the questioning about the connection in stride this week, but admitted Friday he's glad the hype is about done.
"There's no question that I am tired of it," Williams said. ": I am glad that not only is that question over with, I'm glad that we can get to coaching and getting ready to play the game."
An interesting query then was posed: How will today's game against Kansas influence Williams' legacy among Jayhawk fans?
"Somebody said the other day that if Kansas wins, they're going to forgive you," Williams said with a smile. "Guys, I'd rather them not forgive me. That's the bottom line."
Williams isn't alone, of course. He's joined at North Carolina by former KU players Jerod Haase and C.B. McGrath, as well as former KU assistants Joe Holladay and Steve Robinson. All were asked about their links on Friday.
"This is our job," said Holladay, who was at KU from 1993-2003. "When the ball goes up, it'll be like playing anybody else."
Williams has said that, too, and he has experience in such games. While at Kansas, he played North Carolina three times - in the 1991 and '93 Final Fours and in the 2002 Preseason NIT.
UNC players said they didn't see any difference in Williams' approach this week, calling him as intense as ever.
"I think he's handled all the Kansas stuff real well," forward Deon Thompson said. "His focus is on the game, with his team playing Kansas. It's not coach Williams versus Kansas. He is more focused on the game and on his team playing well. He is not letting us lose our focus.
"He has had a lot of questions through the week, but that is what he expected."
More like this story on KUsports.com