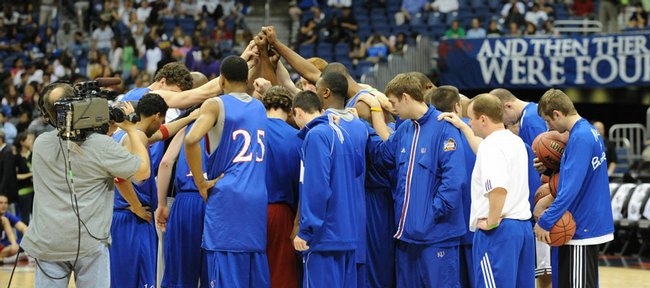 Feature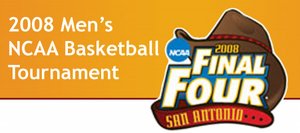 Get your March Madness fix at KUSports.com.
6News coverage
6News will have special live coverage tonight after the Kansas-North Carolina game. We will have live reports from downtown Lawrence, highlights and analysis of the game, as well as postgame coverage from San Antonio.
Be sure to watch Sunflower Broadband Channel 6 immediately after today's game.
Downtown Lawrence is going to be anything but business as usual for this evening's NCAA Final Four game between Kansas University and North Carolina.
Some restaurant owners are implementing special closing and re-opening policies to create an equitable system for giving tables to those who want to watch the games. Others are saying fans will have to be in place by noon or earlier if they want a shot at a table during tonight's game, which starts at 7:47.
And the Lawrence police have issued special guidelines for bars and restaurants to follow to try and keep the crowd that is expected downtown for the game as orderly as possible.
"It's going to be awesome," said Tim Agnew, Buffalo Wild Wings general manager. "I expect people to be camping out for a spot at 7 a.m. and for us to be at capacity by noon."
Agnew said he had extra staff on hand and would be serving drinks only in plastic cups, per a request by the police department. At least two-thirds of a party must be in attendance to get a table at Buffalo Wild Wings.
Buffalo Wild Wings was near the impromptu rally held by Kansas fans last Sunday after the Jayhawks advanced to the Final Four. Agnew said there were no problems with rowdiness then and he anticipated the same this weekend.
Just in case, however, police are preparing for any eventuality. Five other police departments were asked to send reinforcements to Lawrence to help provide security and policing. The police also issued guidelines for those hoping to party downtown: no missiles, no fireworks, no cans or bottles - plastic cups only - and beware of traffic because no streets will be closed.
"We've been through this before and the fans have been very good and celebrated responsibly," Sgt. Paul Fellers said. "Our main focus is to have a safe environment for everybody to celebrate in and enjoy the atmosphere."
Unconfirmed reports of people drinking beer on the streets last weekend notwithstanding, Fellers said it is illegal to have alcohol on the streets of downtown. Virtually all businesses downtown said they'd be complying with police requests to serve everything in plastic.
At Quinton's, Lorin Duron said in addition to serving in plastic, all the restaurant's bartenders will be on duty. Additionally, it will be closing at 4 p.m. to clear everyone out.
Once people have left, Quinton's will reopen.
"We're not allowing saving seats and we're not allowing pulling tables together," Duron said.
Jefferson's will also be closing at 4 p.m. - after lunch - and expecting to reopen about 4:30 p.m. for those who wish to watch the game, said general manger Sarah Franklin.
"Anyone who wants to watch the game will have to be in line at 4:30 waiting," she said. "You have to have your whole party here to get a seat for the game."
Franklin said she's expecting a big party and has extra beer, an extra bartender and extra management on hand to handle the crowd. The bar is also implementing an hourly minimum for its tables. For a table seating five, the table must spend $30 per hour after the first hour. At small tables seating four, the table must spend $20 per hour after the first hour.
And while restaurants with lots of TVs are taking precautions for big crowds inside, other downtown businesses are preparing for an onslaught of fans outside.
Teller's, which has just one TV at the bar and doesn't expect much extra business today, is planning to make some changes, said manager Carly Doores.
"We'll probably end up taking in the flowers and the other stuff that's easily damaged," she said. "And then we'll watch the chaos ensue."
Other options for watching the game include the Granada, which will broadcast the game on its large screen, Abe & Jake's Landing, which will have three projectors set up and, of course, Allen Fieldhouse.
The fieldhouse will open at 7 p.m. and offer concessions throughout the game.
Extra! Extra! Write the headline
So, just how would you capture the euphoria of victory - or, god forbid, the agony of defeat - in just a few words?
As the Jayhawks get ready for their big game against North Carolina in the Final Four, we're giving everyone a chance to submit their suggested headlines for Sunday morning's paper.
Some advice: Be clever, descriptive and, of course, concise. Remember: Your optimistic words just might end up being prophetic.
For now, we'll stick with taking ideas for the national semifinal, the one pitting Bill Self and the No. 1-seeded Jayhawks against Roy Williams and his No. 1-seeded Tar Heels.
Show off your headlines by going to www2.ljworld.com/headline and leaving your suggestion in the comments.
6News assistant news director Janet Reid contributed to this report.
More like this story on KUsports.com