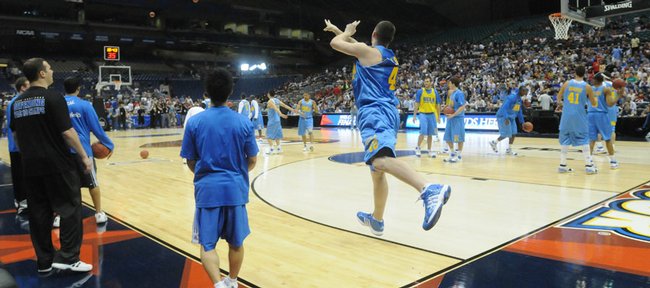 San Antonio — Kevin Love on Friday made shots from halfcourt, three-quarters court and, in what has already become a signature of UCLA's open NCAA Tournament workouts, Love launched a chest pass 94 feet and through the opposite basket.
The crowd roared, his teammates laughed, and Love looked for other creative ways to show off for the rest of 50 minutes.
So he sat down at center court and began shooting. This didn't last long before Coach Ben Howland suggested that his first-team all-American center stop before he pulled something.
Any more showing off need wait until today when UCLA (35-3) plays Memphis (37-1) in the first of two NCAA semifinal games at the Alamodome. The winner will play either North Carolina or Kansas.
Between them, those four schools have made 51 Final Four appearances - UCLA leads the way with 18, North Carolina has 17, Kansas 13 and Memphis three.
"So I guess that makes us the underdog, right?" Memphis guard Chris Douglas-Roberts said. "We're missing the pedigree, right? ... We are Memphis from Conference USA. That is how everyone views us, so we all have a chip, and we're out to prove them wrong."
It is the stubborn theme the Tigers are sticking to.
"I know that's their story," Love said. "But we don't think that way. Memphis has a really good basketball team with a bunch of guys who will be in the NBA. That's how we look at it."
Friday was fun for the Bruins, a time to fool around on the big court.
Center Lorenzo Mata-Real made a halfcourt shot standing with his back to the basket. Chace Stanback threw bounce passes so Russell Westbrook could experiment with 360-degree dunks.
Luckily, Howland didn't see the one where Westbrook's right foot grazed a rolling basketball.
Forward Luc Richard Mbah a Moute said he felt no pain in the sprained left ankle that kept him out of UCLA's first NCAA Tournament victory over Mississippi Valley State.
Howland said his team's defense against Tigers' freshman point guard Derrick Rose, Douglas-Roberts and forward Joey Dorsey would be key.
More like this story on KUsports.com