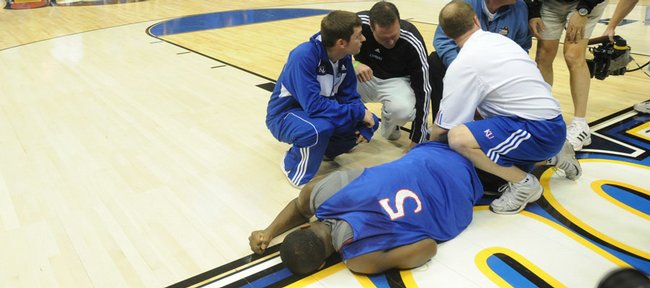 San Antonio — Rodrick Stewart slipped on a wet spot on the Alamodome floor as he went up to attempt an acrobatic slam dunk at the end of Kansas University's shootaround Friday afternoon.
Just like that, the senior's college basketball career was over.
Stewart fractured his right kneecap after planting then rising on the dunk try, which was designed to thrill the 10,000 or so fans in attendance at the Final Four practice sessions.
The 6-foot-4 Seattle native, who has averaged 2.8 points and 2.2 rebounds in 33 games but has been used sparingly of late, was attended to on the floor by trainers and doctors, then was taken off on a cart to the locker room area where he had X-rays showing the fracture.
Stewart will stay in San Antonio with his teammates and sit on the bench with his knee immobilized for today's 7:47 p.m. national semifinal game against North Carolina.
He'll have surgery next week after returning to Lawrence. The prognosis is he will be able to play again. Stewart has said he'd like to continue his career professionally next season.
"I've got to get it together. I feel terrible for him," said KU coach Bill Self, indicating the late-practice dunk drill was supposed to be just for the freshmen, but Stewart "got excited (and went in for the dunk).
"It's terrible for anybody to get hurt like that. For a fifth-year senior to not have a chance to run out of that tunnel at the Final Four, not be part of the game-time atmosphere, is disappointing. He'll postpone surgery until next week so he can sit on the bench, be with the team."
Stewart who was stricken with tonsillitis in Omaha, Neb., site of KU's first- and second-round games, has played just 12 minutes total in the last eight games.
He has lost his handful of minutes to senior Jeremy Case.
"Our locker room is pretty subdued. It was such a freak deal," Self said. "The doctors said they've never seen anything like this, how it happened. Our guys will rally around it because Rod will make sure they do. The doctor said it could have been worse, but the X-ray shows he'll heal up fine. It's going to be a process for him."
The Jayhawks indeed were stunned to see Stewart's knee out of place as he sat on the floor in intense pain. He waved to the crowd before he was whisked away.
"We were on high on life. It brings you down, really brings you down," KU junior Brandon Rush said of Stewart not playing in the Final Four.
"It's tough for us," sophomore Darrell Arthur said. "We're going to try to surround him with our love and try to support him the whole way."
As far as the impact on the team ... "I think it will have some impact (on team). Rod worked so hard to get to this point. This is his senior year," sophomore guard Sherron Collins said. "It (stinks) for him to go out like this, not even be able to participate in the Final Four. It is just another lump we have to get over. But now it's for Rod, use it as an energy boost for him."
It's likely senior Case, who played nine minutes last week against Villanova and two against Davidson, could be called upon if KU needs a ninth player to enter the game.
"I am shocked it happened, that something like this could happen," Case said. "When he went down, I thought he was joking. We're used to Rod missing dunks, and he always has something to say (about it). This gives us a bad feel. The mood of the team is down. We'll try to focus and rally around Rod."
More like this story on KUsports.com