Kansas University coach Bill Self said the team enters tonight's game hobbled.
"We're nicked up pretty good," he said.
Jeremy Case (groin) and Sasha Kaun (knee) will miss the contest. Meanwhile, Mario Chalmers has a sore toe, Sherron Collins has bumps and bruises including his strained calf and Russell Robinson has an assortment of aches.
"I'm a little bumped up, not to the point it'll affect my play," Robinson said. "I've got to go out and tough it up, and I'll be all right."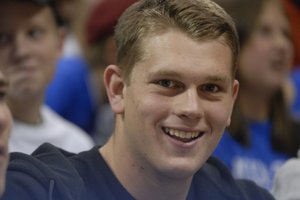 Signing date nears: Cole Aldrich, a 6-foot-10 senior center from Bloomington, Minn.'s Jefferson High, will sign his letter of intent with KU at 7:15 a.m. Wednesday in the school library. Aldrich's dad said he and his wife and Cole's grandparents will be on hand as well as teammates and coaches.
James Anderson, a 6-6 forward from Junction City (Ark.) High, will choose either KU or Oklahoma State at a 1 p.m. news conference Wednesday.
Self talked in generalities about recruiting Monday.
"We said all along we wanted to sign two. We've got one commitment and are trying real hard to get a second. If we get a second I think it'd be every bit the equal to the other classes we've signed to be honest, just the numbers wouldn't be quite as many. It's been more difficult recruiting guys to a team that is on paper still very young. Even though we think we have plenty of options, it's been more difficult than two years ago when they (recruits) knew those seniors would no longer be here."
Giles' return: Self was asked how C.J. Giles has looked at practice since returning from suspension Friday. "He's out here," Self said.
Chalmers said the Jayhawks are happy the junior center is back.
More Gameday
"We see he'll help our team out, being as athletic and long as he is. He is not rusty at all. He's back like the old C.J."
Giles spoke to the players upon his return. "He told us he was sorry. He said he wanted to be back with us and will do his best to stay with us," Chalmers said.
Kareem out of job: Kareem Rush, the brother of KU sophomore Brandon Rush, has been waived by the Seattle SuperSonics. Rush had been slow to recover from a groin injury. Brandon said he'd not yet spoken to his brother since Monday's cut.
TV talk: The Sunflower Broadband Channel Six replay of Kansas University's exhibition basketball game against Emporia State will air tonight at 11, instead of 10:30, because of extended election coverage. Viewers who would prefer to watch it at the normal 10:30 time can do so by using video on demand.
This, that: KU has won 25 straight exhibition games dating to 1995 and is 43-7 overall in exhibition competition. : KU is 11-0 in exhibition games under Self. : Emporia State returns one starter and five letterwinners from last season's 18-13 team. The Hornets finished sixth in the Mid-America Intercollegiate Athletic Association with a 7-9 league record. : KU has won the last five meetings with ESU and leads the series 15-3. The last Emporia State win in the series came in 1947. With the series dating back to 1904, Kansas has scored 102 or more points in the last four meetings. : David Moe is 80-62 in his sixth season at Emporia State and is 73-43 since 2002. He led ESU to its first appearance in the NCAA Tournament in 2004 and to their fourth straight winning season last year. Moe is 0-2 against KU. The Jayhawks beat Emporia State, 115-70, in an exhibition on Nov 7, 2004 and 113-61 in a regular season game in 2002.
More like this story on KUsports.com