As hard as it is for Kansas University's basketball players, coaches and fans to believe ... the streak is dead.
Long live the streak.
"I'm shocked," Kansas freshman guard Brandon Rush said Saturday after watching rival Kansas State players celebrate wildly at midcourt after a 59-55 victory over the Jayhawks -- KSU's first victory against KU in 32 tries, a streak spanning 12 years.
"I think we were a little too confident. Everybody thought we'd come in and blow them out of the water."
Instead, the Wildcats (10-4 overall, 1-2 Big 12 Conference), who were left for dead after Wednesday's 57-42 home loss to Nebraska, resuscitated themselves against the Jayhawks (10-5, 1-1), who entered riding a seven-game winning streak.
"I'm a little shocked," sophomore guard Russell Robinson said after scoring 11 points off chilly 3-of-14 shooting, including two big misfires in the final moments and one huge three-point make that tied the game at 50.
"I felt we had control of the game. I felt we were turning the corner and becoming a good team."
A possible 2-0 start in league play -- perhaps even a top-25 ranking entering Monday's game at Missouri -- appeared likely when KSU's best player, Cartier Martin, picked up his fourth foul with 13:45 left.
At that time, KU led, 40-31, and, following a Mario Chalmers three at 18:05, increased the margin to 12 points at 43-31.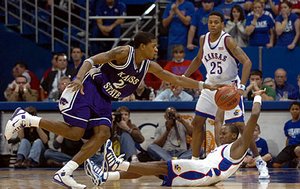 That's about the time Wildcat coach Jim Wooldridge scrapped a man-to-man defense for a 2-3 zone. KU responded horribly, hitting two of 16 shots the rest of the way.
"We attacked their zone miserably," KU coach Bill Self said. "We had a lot of bad possessions the last 10 minutes."
So many that ...
"I wouldn't be surprised if everybody played a zone against us," Self said.
KU big men C.J. Giles, who was benched the second half for unproductive play, and Christian Moody (19 minutes) failed to score, while Julian Wright, who was bothered by a sick stomach, managed two points in 11 minutes. Sasha Kaun did score eight points with nine rebounds in 21 minutes, but Darnell Jackson mustered only one bucket in 18 minutes.
KU vs K-State
That left it up to the perimeter players to do the scoring.
Chalmers responded with a career-high 20 points off 6-of-14 shooting, while Rush scored just 12 points while putting up a mere eight shots. Robinson, meanwhile, connected for 11 points off 3-of-14 marksmanship, including two of six threes on a day the Jayhawks bricked 15 of 20 shots beyond the arc.
"They spread it," Rush said of the Wildcats' zone. "Their guards were just everywhere, really active in the zone. We couldn't get shots. I don't know why it was so hard. It was just spread (out)."
"They did a good job not letting the ball get inside," Robinson explained. "Somebody's got to step up. We didn't have anybody today.
Robinson tried to be a go-to guy, but came up empty, especially down the stretch.
He drove the baseline -- instead of firing up a three -- with :31 left. Dramane Diarra rejected his shot to protect KSU's 58-55 lead. Again -- after Akeem Wright missed the front end of a one-and-one at :22 -- Robinson drove, missing a short runner with 10 seconds left.
Go figure
30.4Kansas State's first-half field-goal shooting percentage
57.1K-State's second-half field-goal shooting percentage
15First-half turnovers by the Wildcats
4Second-half turnovers by the Wildcats
3-for-7KU's first-half three-point shooting (42.9 percent)
2-for-13KU's second-half three-point shooting (15.4 percent)
20Career-high points by KU freshman Mario Chalmers
0Points from KU starters C.J. Giles, Christian Moody
KSU's Wright hit one of two free throws at :09, upping the Wildcats' lead to an insurmountable four points, and Chalmers missed a three with just two ticks left.
"Coach was in my head, (saying) 'Drive it,''' said Robinson, who tried to make a play with the Jayhawks out of timeouts. "I tried to get in there, maybe get a foul, stop the clock or get an easy bucket. I wasn't able to convert on any of my attempts."
Robinson was surprised he didn't convert his first driving layin.
"From situations before, driving was always easy, getting a quick shot and hopefully get a steal," he said. "It's one of those things ... as a player, you've got to make a play. Whether it's a three or whatever, you've got to make it go in."
Self explained the late-game strategy: "We didn't have a timeout. We told them to run what we normally do. If the three is there, take it, (but) my big deal was to drive it. I didn't think we had any offense, and to me the best offense was to drive it. Russell drove in and came up empty.
"They did a good job of gapping their zone, not letting you whip the ball around the perimeter and making you catch the ball outside the scoring area. We did a bad job getting in gaps to drive it."
A three would have been fine with the coach on Robinson's final drive try.
"We definitely wanted to shoot a three there, but if the three was not there, you've got to drive it. That's probably what he's thinking," the coach said.
Rush -- the lowlight of his day was taking a simple pass off his nose -- said he was taken aback when Robinson didn't launch a three or dish to somebody else for a trifecta.
"I was real surprised," Rush said. "I thought he'd drive and kick. The plan was to get it to (Jeremy) Case or Mario to shoot the ball."
The final possessions were magnified in a game Self feels the Jayhawks let the Wildcats escape.
"We screwed the game up the first half. We held 'em to 18 points, and were up eight at half," he said of the 26-18 margin. "It could have been a 12- to 16-point lead at halftime.
"We hold them to go up 12 the second half and then jack around," he lamented. "I am obviously very disappointed how we lost the game with a 12-point lead at home. Jim should be proud of his guys. They played tough, very aggressive the entire game when things didn't go their way."
The Jayhawks, who were to told by Self to return to the fieldhouse seven hours after the game for a 10 p.m. Saturday night film session, will meet Missouri at 6 p.m. Monday at Mizzou Arena in Columbia, Mo.
Who knows? They might even discuss the fact another streak against KSU remains alive and well -- a 22-game win streak over the Wildcats in Manhattan, one that will be on the line in a March 4 rematch between the rivals.
More like this story on KUsports.com