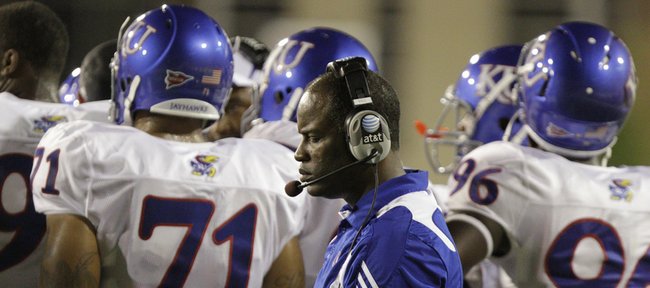 KU vs. Southern Mississippi
May day, May day
Getting plays from the coaching booth to the field posed a problem for Kansas University during Friday night's 31-16 loss at Southern Miss. At various times, on both offense and defense, Kansas' 11 players on the field were unsure of what calls the coaches were trying to make from the sidelines.
At times, the play clock was to blame. Other times, inexperience was the culprit. Regardless, it made a difficult night even more challenging from start to finish.
"Just a couple times we wanted to get some audibles in," KU quarterback Jordan Webb said. "That just comes down to me communicating."
Defensively, the Jayhawks played several snaps during the first half without receiving specific instructions. In the second half, when the calls started coming in, the Jayhawks appeared to play better, stopping the Southern Miss offense on consecutive three-and-out drives to open the third quarter.
"Coach just said be patient and let him get his calls in," KU's Chris Harris said. "In the first half, we couldn't get his calls in, and in the second half we were more patient. We just needed to calm down and relax."
Harris said the Jayhawks have set defenses they're supposed to execute when the defensive calls can't get to the field. He added that playing on the road may have contributed to his team's frenzied nature.
"We just get a little hurried sometimes," Harris said.
Come on, coach
For the second time in three weeks, the KU punt team gave up a blocked punt. This one — by USM's Tim Green — put the Golden Eagles up, 21-3, just before halftime. But it almost never came. USM coach Larry Fedora said his players talked him into trying for the block during a timeout before the kick.
"To be honest with you, I wasn't going to come after it there," Fedora said. "But the guys talked me into it on the sideline. Now we're getting to the thing where they're taking ownership of this football team, and they take a lot of pride in their special teams. They wanted to come after it, and they said, 'We'll stay off of him.'"
Opurum appears
KU sophomore Toben Opurum played his first snaps of the season, lining up at linebacker on KU's first defensive series of the night. Opurum, a former running back who was moved to linebacker this offseason, did not start, but did rotate in for a couple of plays early on. He appeared to be almost fully recovered from a sprained ankle that kept him out last week. He did not record an official tackle.
Punting problems
In addition to getting one blocked, KU had a rough night in the punting department altogether. On three occasions, the Jayhawks gained very little by electing to punt instead of going for a fourth-down conversion. On its first drive, KU punted from midfield but netted just 30 yards of field position when the kick from Alonso Rojas went into the end zone for a touchback.
On its second drive, KU had reached the Southern Miss 39-yard line and appeared poised to go for it on fourth down. But KU coach Turner Gill changed his mind during a timeout, and Rojas again was sent out to punt. That time, his punt was fair-caught at the 15-yard line, netting 24 yards of a field-position advantage.
Finally, on KU's second drive of the third quarter, the Jayhawks punted despite reaching the USM 43. On that one, the Rojas kick resulted in just a 23-yard field-position shift.
One other interesting punting note came on KU's final drive. Trailing 31-16 with just over two minutes to play, Gill elected to punt from his own end zone instead of attempting to gain a first down and keep the game alive. After fielding the punt, USM kneeled on the ball to clinch the game. However, it's likely Fedora and company would've taken the same approach even if the Jayhawks had tried a pass and failed.
Fumble not reviewed
On a crucial USM scoring drive in the third quarter, it appeared as if standout receiver DeAndre Brown had fumbled the ball out of the back of the end zone from the one-yard line, a mishap that would've resulted in a touchback for the Jayhawks and kept the score at 21-10, USM. The ruling on the field was that Brown had stepped out at the one before fumbling. Gill, who admitted that he didn't have a great look at the play, rushed all the way from near midfield down to the one to ask the official for a review.
"I just thought they were going to review it," Gill said. "They were reviewing everything else so I thought at least that should be reviewed. I didn't want to waste a timeout, we only had one left, but (the official) said it was clear he was out of bounds."
Injury update
KU junior Jeremiah Hatch left the game in the second half after injuring his back. Gill said he did not know the severity of Hatch's injury.
"We'll see what the details are here in the next couple days," he said.
Freshman safety Keeston Terry also was injured during Friday's loss. Terry limped off the field after the opening kickoff of the second half and did not return. No word was given on Terry's injury.