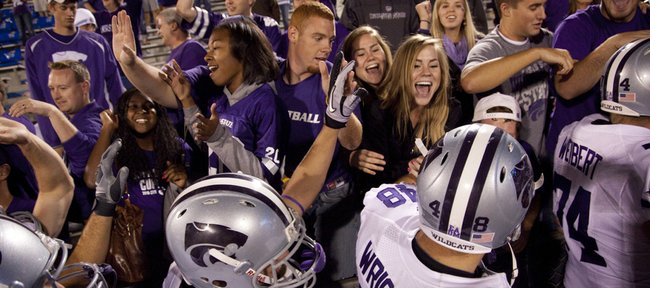 Kansas vs. Kansas State
Videos
KU football vs. KSU 2010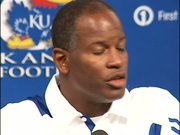 Videos from the Jayhawks' game against Kansas State on Thursday, October 14, 2010.
Legendary Kansas State football coach Bill Snyder acknowledged the cheers of a thousand or so purple-clad football fans late Thursday night at Memorial Stadium.
He blew a kiss at the large mass of Wildcat supporters as he made his way to the visitor's locker room in the southeast corner following a 59-7 mashing of arch-rival Kansas University.
"I've told our players before that I'm one of those old-school, one-day-at-a-time (coaches). I don't think I'll ever change from that," Snyder said.
"But it didn't take me too long (during first coaching stint at KSU before three-year hiatus) to understand the value of this particular ballgame for Kansas State people and University of Kansas people as well.
"It is a very significant and important period of time for an awful lot of people in our state. I learned that pretty quickly when I was here the first time. It took me a few times. I finally got it," he added.
Snyder — he wore his customary purple windbreaker and white turtleneck with powercat logo — improved to 15-4 versus the Jayhawks. He's been on the winning side in 14 of the last 15 meetings between the teams.
Thursday's rout was KSU's second-largest margin of victory in the long history of the series, trailing only a 64-0 Snyder-led annihilation in 2002.
"Maybe the embarrassment and disappointment from last week maybe had something to do with this week," Snyder said.
His Wildcats (5-1, 2-1) were drubbed by Nebraska, 48-13, last Thursday in Manhattan.
"This felt really good. We were kind of on the other end of it last week, and that felt pretty bad," quarterback Carson Coffman said after completing 15 of 16 passes for 184 yards and two touchdowns and rushing for 42 yards off 10 carries and scoring three on the ground. "It's huge for us to respond like this."
Coffman — he acknowledged that it was his best game of his KSU career — was not sacked.
"Looking back on it, there were a couple times I pulled it (ball) down because of the coverage. No other time I even got hit out there," Coffman said. "Our offensive line did a great job out there tonight like everyone else."
This contest was so one-sided that Wildcat fans joined KU fans in waving the wheat after the Jayhawks finally scored with 2:28 to play. KSU even answered that late score, with QB Collin Klein taking it in from 51 yards out with 1:13 remaining.
"We kind of noticed it a little bit," defensive back Stephen Harrison said of some KU fans heading for the exits just a few minutes into the second quarter, the Cats up, 24-0. "Like coach Snyder always said, the fans don't really have to play a big part as long as we do what we are supposed to do between the white lines."
Harrison had an interception of a pass in the end zone and also raced 85 yards for a score on a fumble recovery.
"They have a great offense. It was just our night tonight," Harrison said. "It's special to win here in Lawrence. They are our rivals. They didn't beat us last year, but a couple other years they beat us."
The Wildcats will try to avoid the roller coaster with a similar performance a week from Saturday at Baylor.
"We really wanted to come back from last week's loss. It was embarrassing," Coffman said. "I felt from day one, Saturday of last week, we brought it every day in practice. We really wanted this one for ourselves and our fans. It ended up going our way."