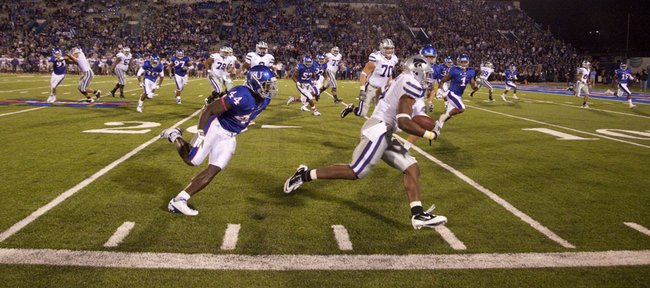 Kansas vs. Kansas State
Videos
KU football vs. KSU 2010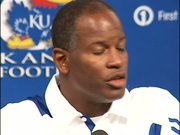 Videos from the Jayhawks' game against Kansas State on Thursday, October 14, 2010.
Maybe they were just trying to appease Kansas University coach Turner Gill and his 10 p.m. curfew. Or, perhaps, the KU student section simply had seen enough.
Either way, with about 8:10 remaining in the second quarter of Thursday's 59-7 thrashing by Kansas State, the first fans started fleeing for the exits.
Thousands more followed, and, by the end of the third quarter, KU's home stadium looked like the Memorial Stadium of old. The funny thing about it, though, was that very few of the fans who left were old enough to remember when Kansas football looked this bad.
"The game is played between the lines," senior safety Olaitan Oguntodu said. "Your assignment is taken care of in practice, and our coaches make sure we know what to expect. It's up to us as players to take on the challenge and play."
What kicked off as a key clash between in-state rivals with plenty on the line turned into a coming-out party for the Kansas State offense — 460 yards, including 276 rushing — and a second-straight laugher for the Jayhawks, who have been outscored, 114-14, in their past two games.
"Everything we practiced, they did," linebacker Steven Johnson said. "They just executed, and we didn't. I don't even know what to say. Coaches put us in position to make plays, and we just didn't."
It really doesn't get any deeper than that. Despite having 12 days to prepare — five more than a normal week — and welcoming an in-state rival into their home stadium, the Jayhawks showed more signs of a team getting worse than a team getting better.
Asked if the extra time to prepare for K-State was good for the Jayhawks, Johnson was direct.
"I thought it helped," he said. "I felt fine going into this game. I felt re-energized. But, I don't know. I don't know."
Seven penalties for 76 yards was only part of the equation. There also were two KU fumbles, an interception in the red zone and a second-straight game with the offense scoring just one touchdown. Even that came at the most hopeless of times, with Kansas State already leading, 52-0, with 2:06 to play in the game.
"We didn't execute, on offense and defense, what we needed to do," Gill said. "The basic things, blocking, tackling, running and catching, throwing the football, executing the plays, executing what you need to do. It was so huge on defense to make sure we tackled well and created turnovers, and we did neither."
Added receiver Daymond Patterson of KU's miscues: "Some of the mistakes we're making, you learn about not making those in pee-wee football."
One of the best moments of the game for the KU offense, which finished with 331 total yards, came on a wild scramble from quarterback Jordan Webb in which he twice fought off being sacked and made a two-handed chest pass that Bill Self would've been proud of for a completion to Erick McGriff. Of course, even that play was not without its downfall, as starting lineman Sal Capra went down and was helped off the field. He did not return.
Four plays later, KSU's Stephen Harrison — five tackles, one fumble recovery and an interception — scooped up a James Sims fumble and raced 85 yards for a touchdown that made it 45-0.
The Jayhawks (2-4 overall, 0-2 Big 12) gained yards and first downs throughout the second half. But after each one, the only thing that came to mind was that old joke about the tree falling in the forest and no one being around to hear it.
Following the loss, Gill stuck to his guns and talked about how his team needed to keep working hard, continue to get better and to find a way to execute better. That much is obvious. So, too, is the harsh reality Gill currently is facing.
"Right now, we're not a very good football team," he said. "That's the reality of it at this point in time."