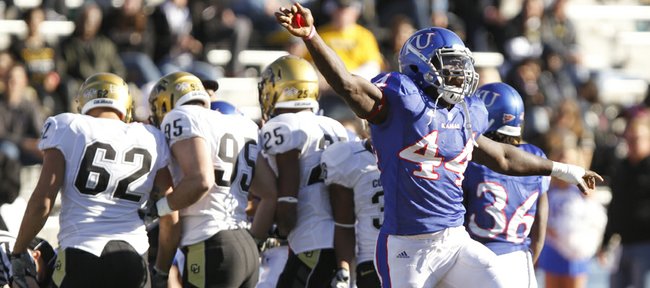 Kansas vs. Colorado
Chris Harris grinned sheepishly before sharing his secret following Kansas' 52-45 victory over Colorado on Saturday.
So that surprise onside kick, the one KU executed so well with 11:05 left in the fourth quarter ...
"We've never practiced that at all," the KU senior said. "Never."
Down 45-24, Harris said many of the players were trying to convince KU coach Turner Gill to try for the onside kick.
After walking away for a second to think, Gill came back to the special teams huddle.
"Let's do it," he said.
There was one issue. Harris said KU had never attempted a surprise onside kick in practice.
"We pretty much just drew it up in the sand," Harris said.
KU's players still had seen the play executed before.
Two weeks ago, when preparing for Iowa State, KU special teams coordinator Aaron Stamn played video of Iowa State's surprise onside kick against Texas Tech.
Stamn wanted to prepare his players in case the Cyclones tried to run the same play again; instead, Harris said it started a buzz around the room, as KU's players talked about how they should run that play sometime themselves.
In the huddle Saturday, Stamn told everyone on the right side of KU's formation to block except for one player: receiver Bradley McDougald. His job would be to recover the kick.
KU kicker Jacob Branstetter's onside kick was nearly perfect, taking a high hop at 11 yards before McDougald recovered it.
"That definitely got us energized," Harris said. "The momentum shifted right there."
KU followed with a four-play, 59-yard touchdown drive to close the gap to 45-31. It was the second of five touchdowns for KU in the fourth quarter.
Gill said afterwards that the surprise onside kick was the turning point.
"This was really the chance for us to do it ... and say, 'Hey, we've got to go for it, and go for the win. This is our opportunity to make something happen,'" Gill said. "We had a little momentum, and I thought once we got that, then I thought we had a great chance to be successful."
Added Colorado coach Dan Hawkins: "We kind of thought that they might attempt (the onside kick). We were ready for it, and they did a good job of executing it."
Harris, who was on the left side of KU's kickoff return team, said the onside kick was a gamble that KU had to take.
"That's something," he said, "we might have to keep in our back pocket."