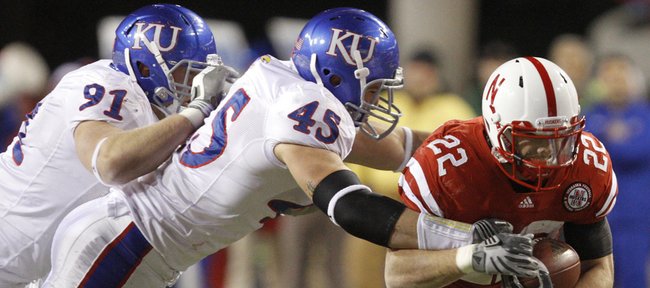 Kansas vs. Nebraska
Podcast episode
Kansas coach Turner Gill talks to reporters following the Jayhawks' 20-3 loss to Nebraska on Nov. 13, 2010.
Lincoln, Neb. — From the opening-week loss to North Dakota State to Saturday night's 20-3 setback to Nebraska, Toben Opurum's growth has mirrored that of Turner Gill's staff. Nobody's doing backflips, but you have to admit it's getting better, a little better all the time.
Opurum, still learning his new position, linebacker, watched the season-opener from the sideline, silently wondering whether he could have won the game his team lost, 6-3, had he been allowed to carry the football.
The linebacker experiment gave way to a trial at defensive end, where he has shown plenty of promise. Opurum twice got to quarterback Taylor Martinez and batted his passes to the ground Saturday, looking a bit like a shot-blocker protecting the lane.
He still doesn't look completely like a lineman, preferring a stand-up technique to the three-point stance. And he still doesn't sound convinced defensive end will be his permanent home. Who could blame him? It's all happened so quickly.
He was asked: Are you sold that defensive end is the best position for you?
"It doesn't really matter," answered Opurum, the team's leading rusher a year ago as a true freshman. "Wherever they want to put me, I'm going to give my all to do what I can, whether that's at defensive end, linebacker, offense. It doesn't really matter. I'm going to play my heart out."
That's what he does every week. He's a winner. He's an athlete. And if he can convince himself defensive end is the right spot for him, Kansas will be better for it. Opurum and red-shirt freshman nickelback Tyler Patmon have emerged as the best playmakers on the defense. In the previous week's come-from-behind victory against Colorado, they teamed on a touchdown, Opurum forcing a fumble, Patmon returning it all ... the ... way. Patmon intercepted a pass against the Cornhuskers.
In losing to Nebraska, Kansas (3-7 overall, 1-5 in Big 12 play) made official what has been evident since the season's opening week. It's not going bowling.
"It's been a tough road for us," Opurum said. "We have an entire new scheme with a new coaching staff and new faces all over the offense and defense, so things really haven't been easy for us, but I think we're improving each week as a team. We have a long way to go, but we have to take small steps to get there."
Coaching-staff transitions typically are tough in college football.
"They're still trying to figure out personnel, who works the best together, who really connects and has the chemistry to execute and make plays," Opurum said.
He took no satisfaction in the defense, consistently having to work with bad field position, making it tough for Nebraska to dominate the way it had so often this season with a powerful running game.
"When plays are there to be made, we have to make them," Opurum said. "We can't just have balls on the ground and balls in the air and us not recovering them. We've got to be able to make plays."
The defense made more plays than the offense did.
The longest uninterrupted series in college football ended at 105, but you could have stumped the Kansas University offense on that piece of sports trivia. That unit could have sworn it ended at 104 years in a row. Kansas had just five first downs.
Nebraska's Memorial Stadium is a great place to watch a football game. Locked to their seats for the duration, the fans' attention is trained on the field. They all wear red, and they've seen so much winning tradition through the decades. But this was not an entertaining sendoff.
Heading into it, it seemed so sad that something that lasted so long had to come to an end, but after such a boring game that must have infuriated the pay-per-view TV customers, maybe it ended a year too late.