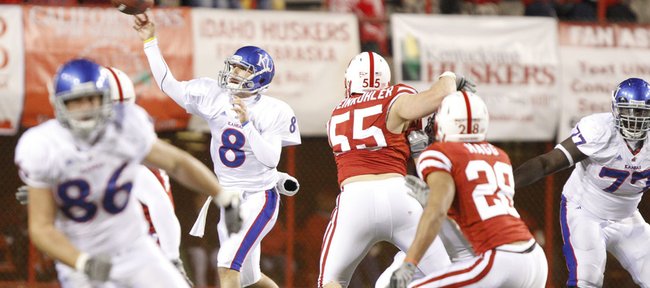 Kansas vs. Nebraska
Podcast episode
Kansas coach Turner Gill talks to reporters following the Jayhawks' 20-3 loss to Nebraska on Nov. 13, 2010.
Lincoln, Neb. — Nebraska defensive coordinator Carl Pelini had never seen most of the formations and plays he saw from Kansas University on Saturday — and he'd studied six weeks of the Jayhawks' game film.
"It was obviously new, trying to confuse our guys, and (our guys) did a good job with it and adapted to it," Pelini said. "Obviously, 87 yards later, who knows? Maybe it wasn't the greatest plan in the world they had."
In Nebraska's 20-3 victory, KU managed just 87 yards of offense. It was Nebraska's best defensive effort since giving up 84 yards to Baylor on Oct. 21, 2000.
"I've never been involved in anything even close to that," Pelini said. "These days in college football, teams are hanging up 700 yards, so to hold a team to 2 or 300 is considered a good defensive game. To hold a team to 87 yards is unbelievable."
With a pair of scoreboards updating the team stats throughout the game, Pelini knew immediately how impressive his team's defensive effort was.
In fact, after KU's final three-and-out, one of the NU assistant coaches told Pelini he'd never been involved in holding a team under 100 yards.
"I don't think any of us have," Pelini said. "It's a pretty unique accomplishment."
KU's previous low for yards was 168 yards in the season-opener against North Dakota State. The Jayhawks' 87 yards Saturday were barely half of that.
"Shoot, unless you hold them to zero, you can't do much better than that, right?" Pelini said. "I'm proud of our guys. They played well."
So how was KU's offense different?
Pelini said the Jayhawks tried different formations, including the Shotgun I formation and the Pistol. They also mixed up their packages, running spread plays out of big personnel packages and big personnel plays out of spread packages.
KU also had three or four different formations of the wildcat play after running it out of the same formation all season.
"Seems like everyone's throwing the kitchen sink at us," Pelini said. "The guys are kind of used to it now."
KU also mustered just 15 passing yards, the least for an NU opponent since Nicholls State had no passing yards on Sept. 9, 2006.
"We were spot-on today," Pelini said. "I can't think of a mistake we made."