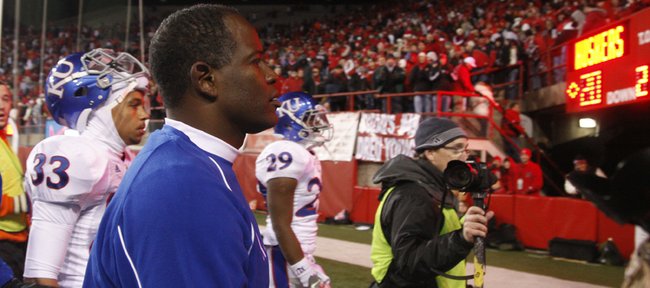 Kansas vs. Nebraska
Podcast episode
Kansas coach Turner Gill talks to reporters following the Jayhawks' 20-3 loss to Nebraska on Nov. 13, 2010.
Happy Homecoming?
Quiet for most of the week about his returning to the place he spent so many years as a successful player and coach, Kansas University coach Turner Gill finally gave a glimpse of what Saturday's game at Nebraska meant to him.
"I've been here many, many years," Gill said. "And being on the other side definitely feels awkward."
Though his Jayhawks gave a strong effort, the potential storybook ending never came true. Instead, Gill, who is 109-10 as a player and coach at the historic venue, is 0-1 as an opponent.
"We came into the stadium about 11 o'clock this morning and there was a little bit of awkwardness for me to come in on the other side," Gill said.
Nebraska athletic director Tom Osborne, Gill's former coach, tried twice to catch him before the game but never did. Gill and Osborne did speak on the phone briefly.
"He just wished me success today," Gill said. "And (he told me to) keep on moving forward. He's there for me."
Earlier this week, Osborne was open about the fact that he wasn't looking forward to facing Gill as an adversary. Osborne even said he was glad to be heading to the Big Ten so that he wouldn't have to go through it again.
"I would agree with that," Gill said.
As for Gill's players, they said they noticed no difference in their coach as he attempted to take down his alma mater.
"Cool coach Gill," wideout Bradley McDougald said. "He was flat-lined. Never high, never low, he just always stays in the middle. Matter of fact, I don't even know if he came to the stadium earlier today when we came to check it out. I think he stayed at the hotel, so that lets you know a little bit."
Why throw it?
Despite having the game well in hand, Nebraska elected to throw two passes in the final minute of Saturday's 20-3 victory. One was a completion to Niles Paul and the other, out of the shotgun, fell incomplete.
Asked if he was trying to run up the score, NU coach Bo Pelini said: "No, I don't care about that. I didn't like how we played at times offensively in the game. I didn't like our execution. That just gave us more reps to keep working and getting better. I don't care about BCS. I could care less about the BCS, I could care less about anything else. It's about getting your football team better, and at that point, I wasn't very happy about how we played offensively, so we're going to keep playing and get the reps we need to get."
Wildcat somewhat effective
Speaking of McDougald, the sophomore took a handful of snaps in KU's "wildcat" offense Saturday night, one on the game's first drive and a couple more late. McDougald carried four times for 27 yards out of the set. That total represented roughly one-third of KU's offensive output for the game.
"I felt pretty good running it," McDougald said. "We practiced it all week and I'm just happy coach (Chuck) Long dialed it up in the course of the game. It gave us a chance to make some plays out there and try some new things."