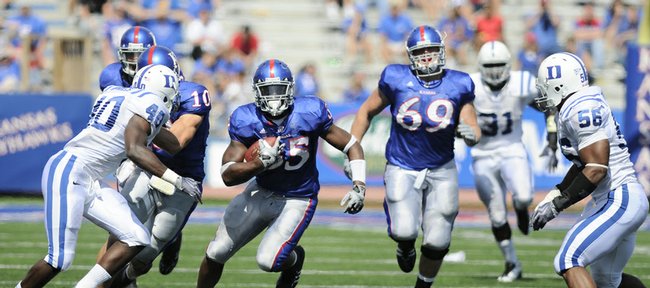 3:40 p.m.
Here's a quick update on Jake Sharp's status.
"Jake was injured in basically a non-contact drill this week, " KU coach Mark Mangino said after the game. "It's just a strange occurrence. We thought he'd be OK. When he went out in the pregame to cut, he didn't feel good. He just didn't have that explosion, that spring in his step."
Mangino said later that he didn't believe that this would be a long-term injury for Sharp and that hopefully the senior would be back for next week's game against Southern Miss.
"All I know is that he couldn't move around well in the pre-game," Mangino said. "We tried to play him a little bit, and the trainers said we had to shut him down."
FINAL: KU defeats Duke, 44-16
Steven Johnson adds his first sack of the game. The next play, Lewis hits the umpire in the head with his throw.
Patterson intercepts a pass in the end zone on the game's final play, closing out the Jayhawks' 44-16 victory.
KU 37/Duke 16 — 3:09 left in 4th quarter
Chris Harris goes down after making a tackle on a running play. It looks like some sort of a leg inury for him.
Justin Springer comes charging up the middle to sack Lewis. That's KU's fourth sack of the day.
Duke can't convert on third down and is forced to punt it away.
Following a short kick, Patterson runs up toward the football though he had no business being around it. Let's just say Mangino wasn't happy, and the two had a nice discussion when Patterson returned to the sideline.
KU 37/Duke 16 — 6:01 left in 4th quarter
Opurum continues to show that he can be a weapon used in the passing game, as he brings in a screen pass and scampers down the right sideline for a 30-yard gain.
Briscoe drops a short third-down pass over the middle that most likely would have went for a touchdown. Mangino elects to punt from the Duke 35, and Rojas' putn sails into the end zone.
KU 37/Duke 16 — 9:22 left in 4th quarter
Duke puts together an extended drive that ends with an 11-yard TD pass from Renfree to Varner. The drive covered 74 yards on 16 plays and took 5:55 off the clock. Duke will go for two, and KU takes timeout to set up for the play.
Lewis' pass on the two-point conversion bounces off the chest of KU's Calvin Rubles. I don't think he could have taken it the distance, but it's probably still a catch he should have had. Regardless, the Blue Devils' conversion attempt is no good.
KU 37/Duke 10 — End of 3rd quarter
The Jayhawks offense is back in rhythm now. An 18-yard pass to Meier is followed by an eight-yard toss to Briscoe.
Opurum follows with his most impressive highlight as a Jayhawk, jumping high to bring in a screen pass with one hand before taking it for 17 yards on a fourth-and-three.
A holding call moves KU back, but Branstetter still completes the drive with a 31-yard field goal.
KU 34/Duke 10 — 7:30 left in 3rd quarter
KU's fast-break football offense strikes again. Opurum finishes the drive with a four-yard TD run, but credit the offensive line for this score. Opurum wasn't touched until he reached the end zone on his run, and Reesing benefited earlier on a third-and-six from great blocking. After surveying the field, Reesing scrambled away from pressure, putting his hand on the ground to keep himself up. With his linemen still blocking, Reesing bolted up the middle for 17 yards and an easy first down.
Eight plays, 70 yards in 3:46. KU's offense is making it look easy now.
Attendance is 50,101, in case you were wondering.
KU 27/Duke 10 — 11:00 left in 3rd quarter
Duke's two scoring possessions have come on quick scoring drives. Williams brings in an 18-yard reception, Lewis rushes for 15 more and Donovan Varner brings in a 16-yard pass on consecutive plays as Duke moves it inside the 20.
The Jayhawks gamble with an all-out blitz on third-and-11, and Lewis' pass to an open Varner is overthrown by a step.
Will Snyderwine knocks through a 37-yard field-goal attempt, and Duke cuts the lead to 17.
KU 27/Duke 7 — 12:58 left in 3rd quarter
Arist Wright is down for KU after a Duke running play. He walked off under his own power, and from the way he's walking, it might be a stinger.
KU continues its mastery on defense of third-and-long, as Lewis delivers a third-and-6 pass right into the chest of Maxwell Onyegbule. The KU defensive lineman rumbles 47 yards untouched down the sideline for a TD, holding the ball out towards the fans for the final 10 yards. Branstetter adds the PAT, and the Jayhawks' defense has added to KU's lead.
Halftime stats of note
• KU quietly has gained 271 yards. Duke has 145.
• Here's a significant one: Duke is 0-for-7 on third-down conversions and 0-for-1 on fourth-down conversions. KU is 5-for-10 on third downs.
• It was a relatively clean half for both sides. KU had two penalties for 20 yards; Duke had one flag for 10 yards.
• Dezmon Briscoe has four catches for 106 yards and a TD. Reesing is 17-for-27 for 210 yards and three scores.
• KU's rushing isn't as impressive. Sharp has five carries for 13 yards, and Opurum has seven carries for 22 yards.
Halftime thoughts
• Not a super-impressive first half for KU, but Jayhawk fans can't complain about the score. This is the second straight week, though, that KU's offense has struggled in its first possessions.
• The biggest positive for KU is that last week's defensive effort doesn't look like a mirage. The Jayhawks have three sacks and have forced three-and-outs on five of Duke's last six possessions. KU looks especially strong whenever it forces a third-and-long.
• Dezmon Briscoe continues to add to his collegiate highlight film. He already has a pair of catches on deep balls, and he shows how receivers should go after the ball with their hands. Don't be surprised if he gets to 200 receiving yards today.
KU 20/Duke 7 — Halftime
The Blue Devils are content to run out the clock in the final minute, and Mangino decides to let them instead of taking timeouts.
KU takes a 13-point lead into the break.
KU 20/Duke 7 — 1:16 left in 2nd quarter
KU's defense forces another three-and-out (how many is that?), but this time, it was more Lewis' inaccuracy that caused the short drive. Lewis missed open receivers on both second and third downs, and I'm guessing we'll see Renfree again on the next drive.
Reesing once again goes to Briscoe when he needs a big play. The QB throws one deep, and Briscoe once again attacks the ball to make a hands catch for a 39-yard gain.
The Jayhawks go back to the hurry-up, and finally, the running game opens up a bit. Opurum takes an option right and runs for 10 yards, and Reesing follows with consecutive six-yard carries.
Kerry Meier shows great hands to end the drive, diving across the middle of the end zone to bring in a six-yard TD catch. Branstetter adds the extra point, and KU has some breathing room.
KU 13/Duke 7 — 4:59 left in 2nd quarter
A nice open-field tackle by Justin Thornton keeps Johnny Williams to a three-yard gain on a third-and-4. KU's defense has certainly done its part in the first half.
The Jayhawks finally get the big play they've been looking for, as Reesing rolls right and finds Briscoe for a 45-yard reception down the field. Briscoe did a great job of going up and getting the ball over the defender.
Sharp completes the drive, banging his way into the end zone on a seven-yard screen pass. He doesn't look well, as it took him a few seconds to get up after getting hit.
The extra-point was blocked, and Kerry Meier does a great job of saving the Jayhawks two more points, as he chases down Patrick Kurunwune at the KU 30 to push him out of bounds before Kurunwune could make it to the end zone for two points.
Duke 7/KU 7 — 8:01 left in 2nd quarter
Jake Sharp returns for KU, so it's tough to know what's going on with him.
KU appears to have a big play on a deep ball down the middle, but Johnathan Wilson drops a ball that was placed perfectly in his hands 40 yards downfield. Reesing puts both hands on his helmet. That could have been the big play that started KU's offense, but Wilson continues his problem of drops this season.
Reesing's third-down pass is batted down, and Alonso Rojas comes out again. A nice special teams play be KU downs it at the Duke 4, so the Blue Devils will be backed up on their next drive.
Duke 7/KU 7 — 9:00 left in 2nd quarter
The stadium has filled in nicely. Even the northeast corner has filled in to the top. It should be an attendance of over 50,000 again.
A great read by KU's Jeff Wheeler on a screen pass. He noticed that he wasn't being blocked, so he immediately retreated and found the Duke running back on a screen pass. A three-yard loss forces a third-and-10.
As we know, the Jayhawks have been spectacular on third-and-long in the last two weeks, and it continues here. Maxwell Onyegbule runs right through a potential blocker to sack new Duke QB Sean Renfree.
Patterson helps KU with a nice punt return, taking it back 23 yards down the left sideline. The Jayhawks will have it at their own 45 after the break.
Duke 7/KU 7 — 11:58 left in 2nd quarter
KU once again is forced to punt it away after a three-and-out. The Jayhawks are really missing Sharp right now. KU appears to be attacking the outside (probably because of Oghobaase in the middle), but Opurum just looks a step slow on those outside runs.
Duke 7/KU 7 — 13:23 left in 2nd quarter
KU elects to go for it on fourth down (not much faith in Branstetter; that decision surprises me somewhat) and Reesing is sacked when he tries to step up in the pocket. Duke takes over.
KU's defense forces yet another three-and-out, though, and Drew Dudley comes up with the big play, sacking Lewis for KU's second sack of the day.
A 57-yard punt by Kevin Jones backs KU back to its own 18.
Duke 7/KU 7 — End of 1st quarter
A good sign for KU: Patterson does indeed go forward on his punt return, and after juking the first man, he falls forward for an 11-yard return.
KU once again goes to the hurry-up, but following a short completion to Toben Opurum, the Jayhawks face a fourth-and-4 at the Duke 25. It is worth noting that Jake Sharp hasn't been in the lineup in a while. Don't know if he's shaken up or not, but a lot of KU players have been having trouble with the flu.
Duke 7/KU 7 — 0:41 left in 1st quarter
Duke decides to go for it, and Arist Wright comes up with the huge play, batting up Lewis' intended pass over the middle. KU takes over on downs.
KU's offense can't take advantage, though, going three-and-out. On third-and-9, Reesing had excellent blocking with tons of time to throw, but his pass was knocked away by Leon Wright, who was a half-step away from an interception.
Wright is having a great game so far, adding a tackle-for-loss to his stat line, dropping Re'Quan Boyette for a two-yard loss on second-and-8. Jake Laptad provides the pressure on third down, knocking the ball away from Lewis before Duke quickly falls on the loose ball. That's one sack for Laptad, and KU will take over with good field position.
Duke 7/KU 7 — 4:23 left in 1st quarter
Duke is running a hurry-up offense of its own with some good success. Lewis throws consecutive nine-yard passes, and the Blue Devils move forward for a pair of first downs.
KU's defense holds on third-and-2 from the Jayhawks' 37, though, as good coverage forces an incompletion from Lewis. Duke takes timeout to figure out what it wants to do in No-Man's Land.
Duke 7/KU 7 — 7:04 left in 1st quarter
Dezmon Briscoe runs through a huge hole up the middle on the kickoff return, bringing it up to the KU 40. If he could have shaken the Duke kicker, Briscoe probably would have went for a touchdown.
The Jayhawks are working in an extreme hurry-up offense, which isn't allowing the Duke defense to make substitutions. The quicker pace seems to be working, as McDougald brings in a 10-yard reception and Johnathan Wilson turns upfield for a 27-yard catch before the play is brought back 15 yards because of a facemask on Wilson.
Reesing comes through on a third-and-3 from the Duke 14, waiting patientely for Briscoe to break open over the middle before getting him the ball. Briscoe did the rest, turning upfield and bulling his way into the end zone for a 14-yard score. Jacob Branstetter's point-after ties the score and ends KU's seven-play, 60-yard drive.
Duke 7/KU 0 — 9:46 left in 1st quarter
On a simple quarterback draw, Thad Lewis completes the drive, taking the ball 21 yards into the end zone for the score. That's two plays, 87 yards for anyone keeping track at home. Following the extra point, the Jayhawks face their first deficit of the season.
KU 0/Duke 0 — 9:52 left in 1st quarter
Duke strikes with the first big play, as Austin Kelly turns a short pass over the middle up the left sideline for a 66-yard gain. Patterson finally catches him deep down the sideline to save a touchdown. The Blue Devils use their first timeout to set up their next play, a first-and-10 on the KU 21.
KU 0/Duke 0 — 10:21 left in 1st quarter
KU has tinkered with the offense again, using Bradley Dedeaux in quite a few sets in the earlygoing. We haven't seen too many formations with the tight end in there during the first two weeks.
The Jayhawks get one more first down on a 12-yard pass from Reesing to Kerry Meier, but the offense stalls after that, hurt by a false-start penalty.
Following a punt, Duke will take over at its own 13.
KU 0/Duke 0 — 11:50 left in 1st quarter
KU seems to be committed to running the ball in the early going, but the huge holes haven't been there so far. Jake Sharp does gain seven on an option left to move the chains on a third-and-2, but after two more runs go for a combined two yards, KU calls timeout facing a third-and-8.
11:06 a.m.
KU wins the toss and will receive.
11:02 a.m.
I've been told we should be close to a sellout here today. The northeast corner looks like the biggest obstacle today, but we'll see if it fills in during the next few minutes.
No surprises in the starting lineup. It looks like KU should be close to full strength for today's game.
10:45 a.m.
KU is wearing its blue uniforms today, though I know there was some speculation that the Jayhawks would wear red today.
10:36 a.m.
Wow, what a gorgeous day walking up the stadium. Temperatures in the upper-60s with plenty of sun and no wind to speak of. I'm not sure you could ask for a nicer day for football.
One thing I'll be interested to watch is Daymond Patterson on punt returns. Patterson broke a big return last week against UTEP, but a few other times, he ran backwards before running forward on his return.
I asked KU coach Mark Mangino on Wednesday if he was OK with Patterson running backwards on returns to try to spring a big play.
"No," the coach said. "He understands what he has to do. He's anxious to make some plays. He'll be OK. He'll be all right. As you can see, he can do some good things with the ball, but we have to play smart with the ball, too."
In other words, I think we'll see Patterson running more towards the opposition's end zone rather than his own end zone today.
9:13 a.m.
Welcome back to the Newell Post Live, coming to you from Lawrence where the Kansas Jayhawks are getting set to take on the Duke Blue Devils. In football.
Last year, we started most of the football games with some true/false, fill-in-the-blank questions, and we're going to start today's blog with that as well. Feel free to post your own answers in the comments section below.
True or False: KU will rush for 200 yards against Duke.
False. Hey, I think if the Jayhawks wanted to, they could. The Blue Devils didn't exactly stop Army's rushing game last week, as the Black Knights rushed 57 times for 266 yards, which averages out to a respectable 4.7 yards per carry. If the Jayhawks do want to run, they would be better served to pick on the outsides of the field, as Duke defensive tackle Vince Oghobaase is known as a run-stopper, and some projections have him as a first-round pick in the 2010 NFL Draft.
But doesn't it seem like whenever you think KU is going to zig, offensive coordinator Ed Warinner zags? For some reason, I could just see him scripting out 10 passing plays in a row to start today's game.
Todd Reesing needs to gain some confidence back. Heck, some of KU's receivers need to gain confidence back.
After rushing so well in the first two weeks, I wouldn't be surprised at all if Warinner threw another curveball and decided to try to get his passing game back on track.
True or false: Duke starter Thad Lewis will be in more snaps than Sean Renfree.
False. After watching tape, Renfree is simply the better QB. Last week, Lewis was 5-for-16 for 60 yards. The redshirt freshman Renfree, who was a top-10 QB in his class coming out of high school, came in and was 7-for-8 with 106 yards and two TDs. The issue here is accuracy. Lewis was not accurate with his throws, and it cost the Blue Devils multiple opportunities for first downs. Renfree doesn't look as good coming off the bus as Lewis, but he put the ball exactly where it needed to be against Army. We'll see how much patience Duke coach David Cutcliffe has with starter in this game. I'm going to guess not much at all.
True or false: KU will have at least three sacks against Duke today.
True. Hey, the numbers look great so far for the Blue Devils. Duke has only allowed two sacks all season, which is tied for 26th nationally.
Unfortunately, that stat only covers up what was an ugly problem for the Blue Devils last week.
In short, Duke was dominated up front. The Blue Devils avoided sacks, though, by throwing quick patterns and using lots of three-step drops. Even then, Lewis was getting a lot of heat and was throwing many times while he was getting hit.
The Blue Devils shouldn't be as fortunate against KU, especially if Renfree is in for an extended amount of time. The Jayhawks' pass rush mustered six sacks last week, and I'll say they dominate a weak offensive line for the second straight game. Mark me down for two sacks from Jake Laptad.
If KU wins, it will be because ...
it doesn't turn the ball over. There isn't much doubt that KU is the better team in today's game, but what might make it a little scary for KU fans is that the Blue Devils have some playmakers on defense. Oghobaase is an NFL talent in the middle of the line, and at 6-foot-5, 305 pounds, he's not a guy you can ignore. On the outside, Leon Wright jumped two routes last week and had interception returns for TDs of 51 and 33 yards on consecutive plays. He also scooped up a fumble and nearly took it all the way back. Reesing will have to be especially aware of where Wright is on the field, as the last thing KU's offense needs to do is set up Duke in good field position for easy points.
If Duke wins, it will be because ...
the Blue Devils are successful passing the football. Duke had 32 rushes for 70 yards last week (2.2 average), and with its offensive line problems, I don't expect the Blue Devils' woes to magically disappear in one week. This means, to move the football, Duke will have to have stellar quarterback play from whomever is in there. Renfree was the spark plug a week ago, and I expect he'll get an early chance against KU. The first few possessions with him on the field will be crucial for KU's defense. If the freshman is able to make some throws and build some confidence, Duke might be able to hang within striking distance of KU well into the second half. If he makes a few mistakes, though, or gets hit quite a bit, the Blue Devils' quarterback shuffle could turn into the kind of disaster we've seen in the past when KU had multiple quarterbacks being subbed in.
Prediction: KU 38, Duke 20
If you watched this week's GameDay Cram Session, you know that I justified my pick by saying, well, that I had no justification for my pick. On paper, KU should dominate this one and easily move to 3-0. But on paper, KU should have romped Iowa State last year in Ames. And on paper, Missouri probably should have beaten KU by two touchdowns last year at Arrowhead.
I just have a weird feeling about this one. Everyone says it's going to be a blowout. Everyone thinks KU's going to roll. I'll go the other way.
I'll say KU struggles early to put some things together offensively (the Jayhawks weren't very good in the first quarter offensively against UTEP) and that Duke uses a turnover to get some easy points.
Sure, the Jayhawks will still win comfortably, but maybe not as easily as everyone thought. KU doesn't cover the spread, but the 'Hawks still get a much-needed victory heading into next week's big game against Southern Miss.